Federer, Nadal, Djokovic and Miami Tennis: Who Has the Strongest Mental Drive?
March 21, 2012

The ATP world tour shifts to Miami as tennis stars Roger Federer, Rafael Nadal and Novak Djokovic prepare for Grand Slam supremacy. Each champion carries his own talent, forged through pressure and adversity.
Yet, each of the big three operates at his optimum when his confidence converges with his commitment. Mental strength cannot cheat, else the deadly sins destroy his gift.
Miami will be the next examination of which superstar possesses the mental fortitude to overcome his rivals. Which of the big three has the strongest will to compete?

Novak Djokovic: Patience vs. Wrath
Two years ago, Djokovic's road to the top was deterred by his own emotions and impatience. He knew his talent but was unable to realize his destiny, like a young Anakin Skywalker trying to master the force of his amazing skills.
Now, few would question Djokovic's talent and heart. His 2012 Australian Open victory over Nadal will inspire eulogies and post-commercial replays every January for decades to come.
Djokovic's recent dominance has reflected his composure and control. He can navigate the ups and downs in a match, riding out the storms of frustration and retaliating with greater competitive fire. He has harnessed patience with his talent and has become the best player in the world.
Djokovic is usually so mentally tough that it was a conundrum to see him confused at the Indian Wells semifinals against John Isner. He was uncharacteristically passive, almost too patient with his strokes, and he lacked his usual aggressiveness to control the match.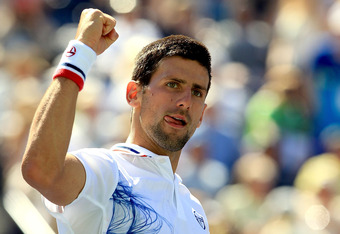 Matthew Stockman/Getty Images
He plays his best tennis when he turns his match into a street fight, when he talks to himself and pumps his fist. He loves to compete.
Tennis fans want to see how Djokovic will respond in Miami. Will he continue to be patient while playing with aggression?
Djokovic has a rare tennis gift and has become a champion with great mental strength. He will be looking to win every challenge and hoist the Sony Ericsson Open trophy. 
Rafael Nadal: Diligence vs. Sloth
Hard work and persistence have been synonymous with Nadal. They've become the most oft-repeated explanations of his intensity to win, to the point that tennis fans seldom question if Nadal isn't giving his maximum effort.
The whispers are coming, and they're getting louder.
Should Nadal have taken his post-Australian six-week siesta? Shouldn't he be in the gym pounding canvas bags as if preparing to battle Clubber Lang?
If he had won the BNP Paribas Open title, it would be approved as a smart move, but such is the Faustian bargain made by millionaire athletes who may appear to be conserving their best efforts.
Yes, that Federer guy is pretty good, but Nadal's effort was grumpy. His countenance expressed annoyance, and it seemed he would rather be anywhere than slapping tennis balls through gusty winds and scattered showers.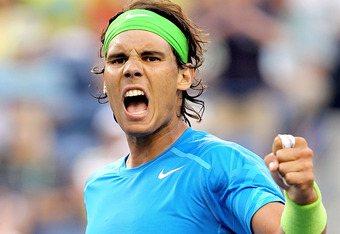 Matthew Stockman/Getty Images
Nadal was lost.
By the time the impostor was removed and the real Nadal rallied, they were already engraving Federer's name onto the BNP trophy (no offense to Isner).
Suppose the weight of losing his No. 1 dominance has made it more difficult or discouraging to fight.
Isn't this what happened in Rocky III, when the hero had to train for a rematch with Clubber Lang? He went through the motions of training, but the fear of losing had rendered him impotent.
Nadal is a great champion, perhaps the only player in tennis history who can transform a match from tennis into boxing. He has earned this reputation on the strength of seven great years and 10 Grand Slam titles.
He has always put his heart and passion into his game, which is what endears him to his fans. Last weekend will likely be a blip on the road back to Paris.
But Nadal will only return to the top with the kind of effort and fire that turned him into an unconventional legend.
Expect nothing less than fierce diligence. Nadal has no leeway for anything less if he is to return to the top. He does not want his career to disintegrate into apathy.
Nadal will be ready to fight at the courts of Miami. Ringside seats may no longer be available.
Roger Federer: Humility vs. Pride
Federer has the career that has launched a thousand articles. His legacy leaves nothing left to prove, except to himself.
His long-term dominance is over, but he knows he can still taste Grand Slam victory a few more times. He knows the journey and its demands, and that his mental commitment must drive him to a career renaissance.
Federer knows to avoid the vanities of his great achievements. They will not serve him in winning his next title and conquering his two great rivals. There is no place for arrogance, even though he once brought the sport to its knees. Even the mighty Roger cannot outlast the game.
Instead, he has turned to a peaceful commitment in his efforts. He has appreciated his success with self-stated confidence, not demanding or expecting the tennis gods to entitle him with undeserved victory.
He is playing tennis with the humility of a wise champion. He respects the time he has to play now, and he will prepare himself to be worthy of every challenge.
Federer is playing excellent tennis, but there is something different about his confidence. It's as apparent as the upgrade to his efficient backhand.
He is still the master, with his variegated array of shots and angles, and his court sense and acumen has not diminished a whit.
His aura sparkles with each crisp forehand, and there is an unshakable undertone and belief to his game.
Springtime has arrived in Miami, and Federer's game may signal a rebirth of another glorious tennis season for the maestro. Whether he seizes this title or not, he is ready to battle with a sense of pride and strength that has always characterized the great ones.