Cincinnati vs. Ohio State: Previewing Huge 2012 NCAA Tournament Contest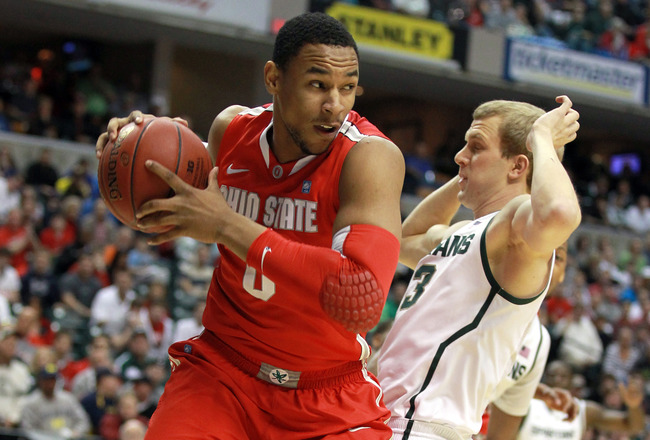 Andy Lyons/Getty Images
It's been 50 years since Ohio State and Cincinnati last met in NCAA tournament play, but their rivalry has more than geography to recommend it. Both previous postseason meetings between these two schools came in the national title game (won by the Bearcats both times).
This year's edition is for slightly lower stakes but features some post players who would do their predecessors proud. The Buckeyes' Jared Sullinger is a consensus All-American, but he'll still get a run for his money from Cincinnati standout Yancy Gates, the hero of the team's second-round win over Texas.
Read on for a look at which of the two great defenses has the edge in this game, plus a position-by-position breakdown of the matchups that will determine who heads back to Ohio and who moves on to the Elite Eight.
Point Guard: Cashmere Wright vs. Aaron Craft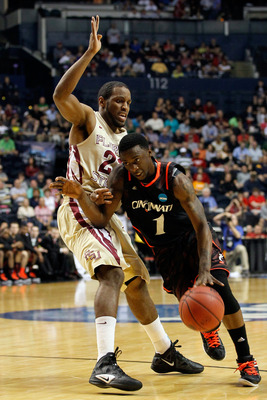 Kevin C. Cox/Getty Images
Although he's just 6'0", 175 lbs, Cashmere Wright is a physical defender who averages 2.1 steals and 3.8 rebounds a night. He's not half bad on the offensive end either, scoring 10.7 points per game to go with his 4.6 assists.
Aaron Craft stands two inches taller than Wright, but he's an extremely similar player otherwise, right down to a nearly identical assist average at 4.7 per game.
Craft gets a few more steals and not quite as many rebounds, but the biggest difference is that he's not as dangerous a scorer (he was brilliant against Gonzaga his last time out, but those 17 points tied a season high).
Advantage: Cincinnati
Shooting Guard: Sean Kilpatrick vs. William Buford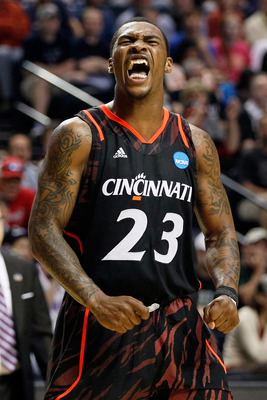 Kevin C. Cox/Getty Images
Another of the Bearcats' corps of intimidating perimeter defenders, Sean Kilpatrick's 6'4" frame is a big factor in his 1.4 steals per contest.
He's even tougher to deal with on offense, scoring 14.3 points a night (a team high) and hitting .376 from beyond the arc.
William Buford knows a thing or two about long-range shooting himself, and his 57 treys (on .354 shooting) do a lot to boost his 14.7 point-per-game average.
Buford doesn't force as many turnovers as Kilpatrick, but he's an even tougher physical presence at 6'6", 220 lbs.
Advantage: Cincinnati
Guard: Dion Dixon vs. Lenzelle Smith Jr.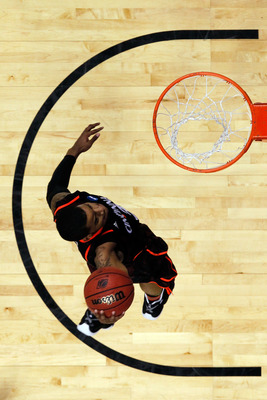 Kevin C. Cox/Getty Images
One of just two seniors on the Cincinnati roster, Dion Dixon is the Bearcat most likely to bust out a highlight-reel dunk.
Cincy's second-leading scorer (13.1 points a night) isn't just an offensive weapon, as he's also contributing 1.6 steals per contest on the other end of the floor.
Something of a forgotten man in Ohio State's imposing starting five, Lenzelle Smith Jr. hasn't done a lot of scoring this season. He's a solid defender, though, and at 6'4", he does yeoman's work on the glass, pulling in 4.6 boards a night.
Advantage: Cincinnati
Swingman: Jaquon Parker vs. Deshaun Thomas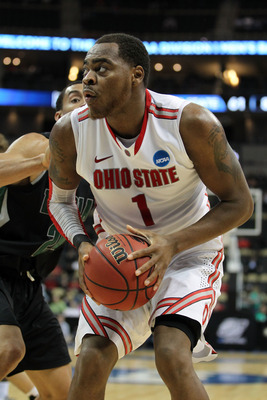 Gregory Shamus/Getty Images
After barely leaving the bench in 2010-11, Jaquon Parker has come into his own as a starter in Mick Cronin's revamped four-guard attack. He's not a world-beating offensive weapon, but he's an outstanding rebounder at 6'3", pulling in 5.6 boards per contest.
Deshaun Thomas has had an outstanding year in general—he's only second-best player on his own team, but he's still scoring 15.9 points a night—and has absolutely blown up during the tournament.
The 6'7" Thomas demolished overmatched Loyola for 31 points and 12 boards, then came back to pile up 18 points and seven rebounds (including a dozen OSU points in a row at one stretch) in beating Gonzaga.
Advantage: Ohio State
Power Forward: Yancy Gates vs. Jared Sullinger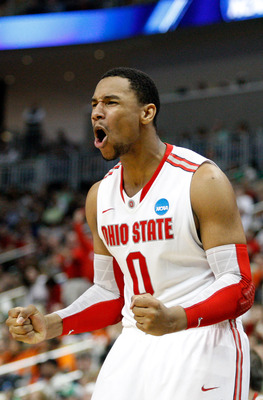 Jared Wickerham/Getty Images
The lone post threat for the Bearcats, Yancy Gates has put in a superior season highlighted by 9.1 rebounds a night. He's a willing defender (three blocks against Texas in the second round) and a serious physical presence inside at 6'9", 260 lbs.
That description applies just as well to his opponent, the similarly-built Jared Sullinger. What has made Sullinger an All-American, though, is his brilliant post scoring touch (17.6 points a game) on top of rebounding and defensive abilities to rival Gates'.
Advantage: Ohio State
Sixth Man: F Justin Jackson vs. G Shannon Scott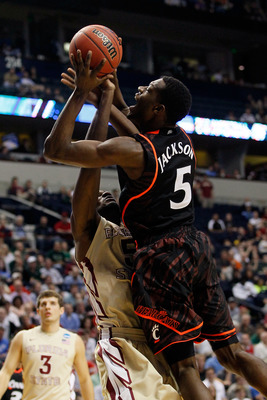 Kevin C. Cox/Getty Images
Having only one genuine forward in the starting lineup puts a lot of pressure on Cincinnati's primary frontcourt option off the bench, Justin Jackson.
The 6'8" sophomore has risen to the challenge, grabbing 4.3 rebounds per game and leading the team in blocked shots (1.6 a night).
None of Ohio State's bench players gets much playing time in the normal course of events, but Shannon Scott has been seeing the most minutes lately for Thad Matta.
Scott has done a respectable job taking some of the ballhandling burden off Aaron Craft—the freshman is averaging 1.7 assists a game—but he's not ready to contribute much against a Sweet 16-caliber foe.
Advantage: Cincinnati
Cincinnati on Offense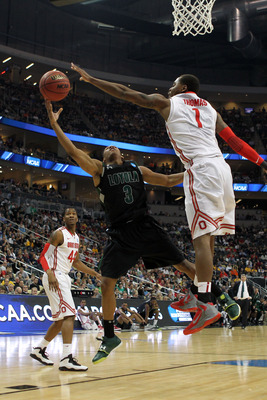 Gregory Shamus/Getty Images
A major factor in the outcome of this game will be whether Cincinnati's perimeter shooters can find a rhythm early.
The Bearcats don't have the size to establish a consistent post-up game, and penetrating against a bigger, stronger opponent will only get them so far.
The Buckeyes don't rack up gaudy numbers on D, but opponents shoot just 40.4 percent against them.
If the Bearcats are knocking down jumpshots, there will be openings, but if they have to get to the rim in order to score, it will be a long night for Mick Cronin's squad.
Advantage: Ohio State
Ohio State on Offense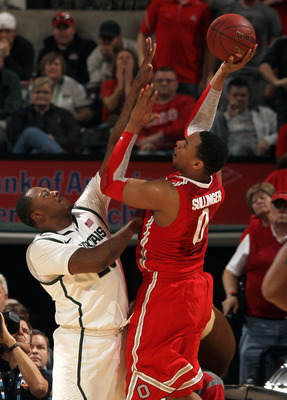 Jonathan Daniel/Getty Images
It goes without saying that OSU will pound the ball to Jared Sullinger early and often. Even so, Deshaun Thomas' contribution could be even bigger, as he'll have (at minimum) a three-inch height advantage depending on how the Bearcats opt to match up.
Cincinnati can pressure the ball and play passing lanes effectively, so Aaron Craft will need to be on his game, as he was in the win over Gonzaga.
Still, fatigue could become a factor for a thin backcourt if the Bearcats can create a few turnovers early.
Advantage: Ohio State
Prediction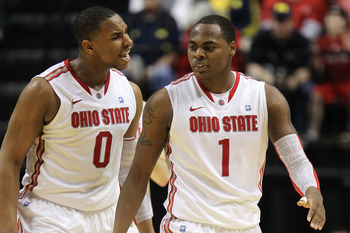 Andy Lyons/Getty Images
Cincinnati is the deeper team, but a star at the level of Jared Sullinger (which the Bearcats lack) goes a long way in tournament play.
Although both teams have been erratic over the course of the year, that bug has bitten Cincinnati harder and more often, leading to dreadful losses such as Presbyterian and St. John's (both in Cincinnati).
If the Bearcats are playing at the top of their game, Cincinnati has too many scoring options for OSU to match.
More likely, though, is that Dion Dixon or Cashmere Wright will start bricking jump shots and the Buckeyes' superior muscle will take its toll in a come-from-behind Ohio State victory.
Winner: Ohio State
Keep Reading

Ohio State Basketball: Like this team?