The Biggest Expiring Contract on Each NBA Team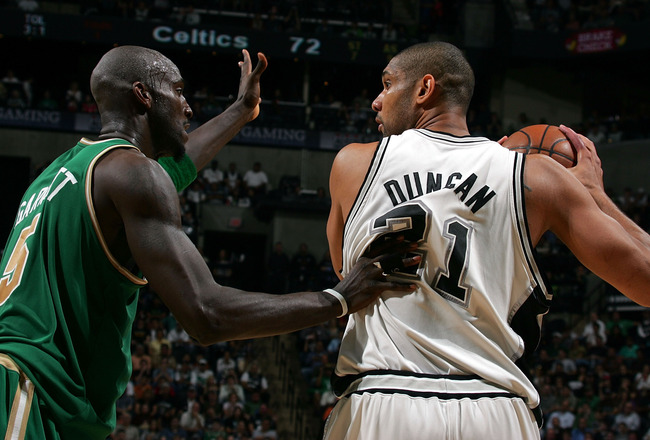 Ronald Martinez/Getty Images
Some teams have almost everybody coming off the books, and some teams have literally nobody. In some cases, the biggest contract coming off the books is that player who is obviously not going to pick up their option *cough, cough, Deron Williams*. In detailing the expiring contracts in the league, we can see who really deserved their money and who was just uselessly eating up their team's salary cap.
Philadelphia 76ers: Andres Nocioni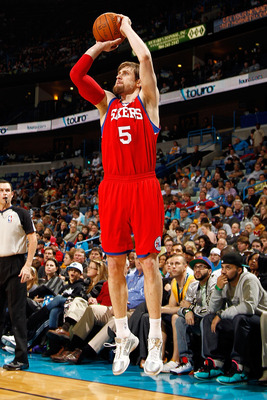 Chris Graythen/Getty Images
Size of contract: $6,650,000
Nocioni has officially been waived, but it doesn't look like his option is going to be picked up. Obviously, he is not part of their plans going forward. He's only played 56 minutes all season, anyways.
Charlotte Bobcats: Boris Diaw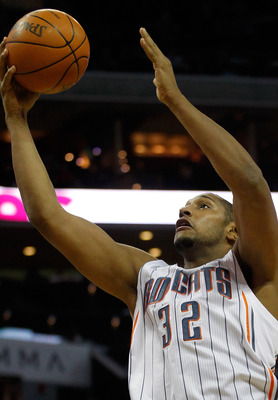 Streeter Lecka/Getty Images
Size of contract: $9,000,000
Diaw is being bought out by the Bobcats, and the Spurs are likely to pick him up.
Milwaukee Bucks: Kwame Brown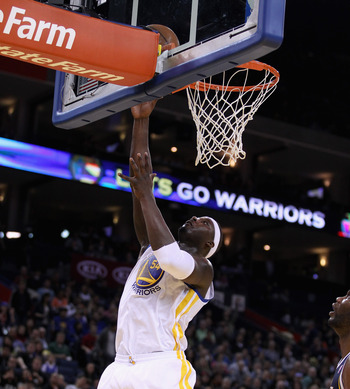 Ezra Shaw/Getty Images
Size of contract: $7,000,000
Kwame Brown will sit out the rest of the year with the injury that happened after only nine games with the Golden State Warriors. As for now, he's just an expiring contract. However, he played relatively well in those nine games, averaging 6.3 points and rebounds per game in only 21 minutes, while showing the willingness to be a rough and tough inside presence. The Bucks could definitely use some size for next year, and there is a chance they'll make hi man offer. Still, he shouldn't expect to sign for anything close to that.
Chicago Bulls: Keith Bogans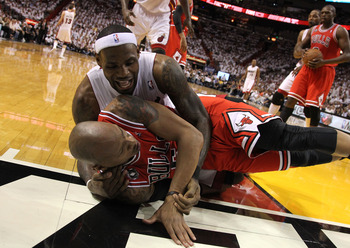 ???
Mike Ehrmann/Getty Images
Size of contract: $1,728,000
Not a whole lot of money there. While his contract is still partially with the Bulls, he technically plays for the Nets. Well, at least he did for five games before suffering a season-ending ankle injury. With Anthony Morrow and Marshon Brooks, they really will not need him for next year, so I doubt they'll keep him.
Cleveland Cavaliers: Antawn Jamison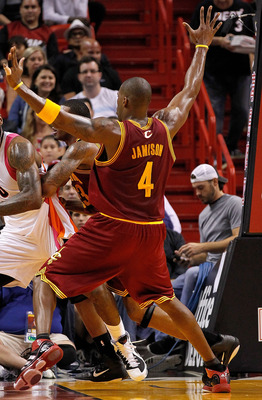 Mike Ehrmann/Getty Images
Size of contract: $15,076,715
That is a hefty sum. He is putting up 18.6 points every night, but he should not be earning eight figures next year. Still, I like him for this team. He's a versatile scorer, and besides Kyrie Irving, the Cavaliers don't have any scoring signed for next year. Expect him to re-sign with the Cavaliers for a less hefty sum.
Boston Celtics: Kevin Garnett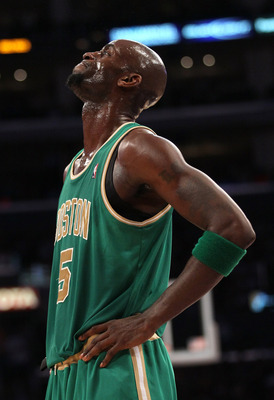 Stephen Dunn/Getty Images
Size of contract: $21,200,000
That's a good deal of money, seeing how KG is not far above an average player.
He has noticeably declined since last year, and I expect him to do the same for next year. If he was the starting power forward again next year, I'd expect about 28 minutes, 13 points, and seven rebounds again, albeit with great defense.
There is a good chance that this is Garnett's last year in the league. He has said he'd like to retire a Celtic, and I think the Celtics will do the right thing by re-signing him as a role player. That's assuming that he's willing to re-sign for beans for the sake of the Celtics.
Los Angeles Clippers: Randy Foye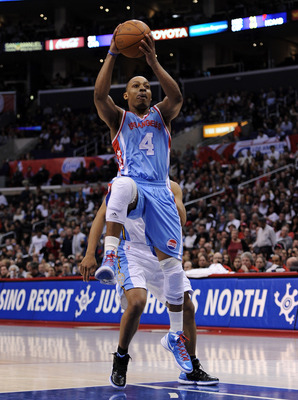 Harry How/Getty Images
Size of contract: $4,250,000
I don't think people realize this, but the Clippers have almost nobody besides their core coming back next year. Chauncey Billups isn't signed. Nick Young also isn't, although I expect that he'll come back. There is no guarantee that Mo Williams will waive his early termination option.
Assuming that Nick Young successfully assimilates the starting role and holds on to it for the rest of the year, he will be starting again next year. If Randy Foye is willing to be his backup, than sure, he might re-sign. But if he wants to avoid being further labeled as a bust, he might sign with another team that will give him more opportunity.
Memphis Grizzlies: None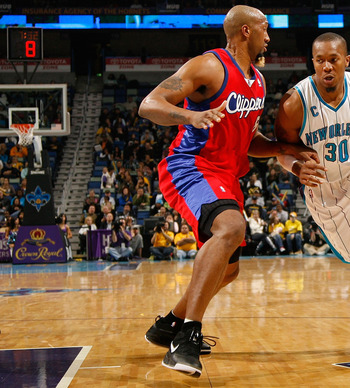 Chris Graythen/Getty Images
The Grizzlies are keeping the team together next year, although technically Brian Skinner has been waived. So, they don't have any real expiring contracts.
Atlanta Hawks: Kirk Hinrich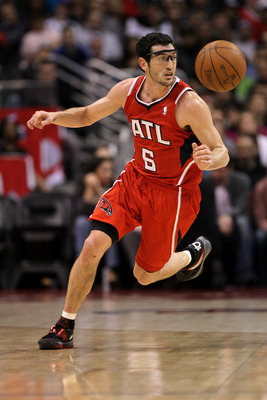 Stephen Dunn/Getty Images
Size of contract: $8,000,000
Since returning from his injury, Kirk Hinrich has been alright as a sixth man for the Hawks. He brings defensive prowess into the Hawks' backcourt, so I could see him re-signing, just not for $8 million (then again, this is the Atlanta Hawks we're dealing with).
Miami Heat: Eddie House and Zydrunas Ilgauskas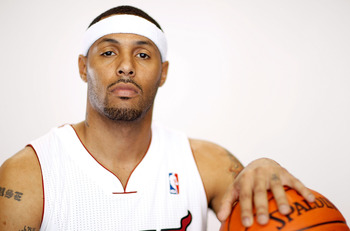 Mike Ehrmann/Getty Images
Size of contracts: $1,399,507
Big Z retired and Eddie House got waived. There's a good chance that neither will play another game.
New Orleans Hornets: Chris Kaman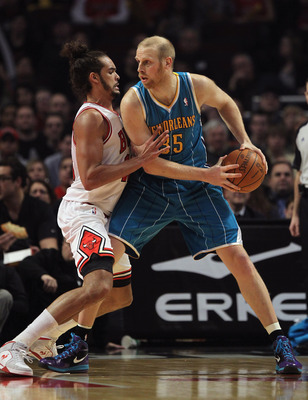 Jonathan Daniel/Getty Images
Size of contract: $14,030,000
With Emeka Okafor around, there is no way Chris Kaman is getting an offer. Look for him to be one of the more highly coveted free agents, as he is fully capable of being a quality starting center.
Utah Jazz: C.J. Miles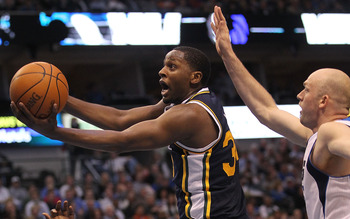 Ronald Martinez/Getty Images
Size of contract: $3,700,000
My guess is that the Jazz don't have it in them to gamble on C.J. Miles anymore. Look for him to sign with a team in the rebuilding stage, looking for a potential start, but willing to pay the price for whatever happens.
Sacramento Kings: Terrence Williams
Jim McIsaac/Getty Images
Williams is the only expiring contract on the Kings, but he was just signed to a 10-day contract. If Sacramento doesn't work out for him, I'm sure somebody will be happy to take him.
New York Knicks: Baron Davis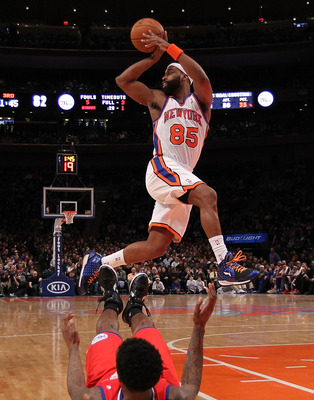 Nick Laham/Getty Images
Size of contract: $1,352,181
While he hasn't stayed healthy much this year, Baron Davis is averaging over 10 points and assists per 36 minutes as a Knicks. He could end up anywhere next year.
Los Angeles Lakers: Matt Barnes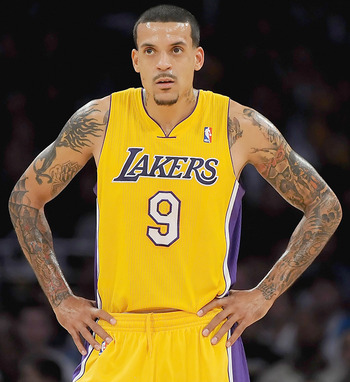 Size of contract: $1,900,000
Matt Barnes has been the only consistent role player for the Lakers this year. He brings hustle and athleticism that this team generally lacks. I think they like him enough to re-sign him to a solid deal.
Orlando Magic: Daniel Orton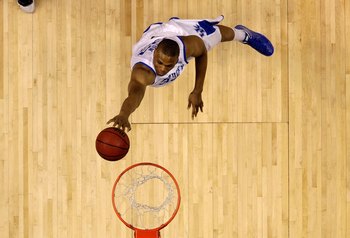 Andy Lyons/Getty Images
Size of contract: $1,105,560
He's only played four games. Ever. He hasn't proven that he can stay healthy. But, he actually has a pretty strong upside, and I bet the Magic know that more than anybody.
Dallas Mavericks: Jason Terry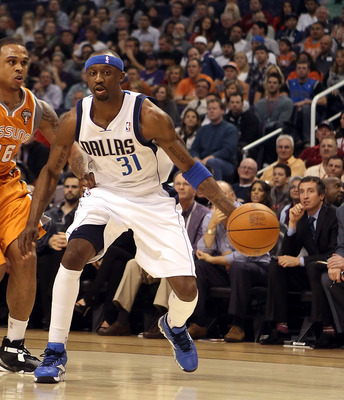 Christian Petersen/Getty Images
Size of contract: $11,437,500
The Jet isn't too far removed from his prime. But, both he and the Mavericks know that he isn't worth eight digits. They'll sign him again, just for less.
New Jersey Nets: Kris Humphries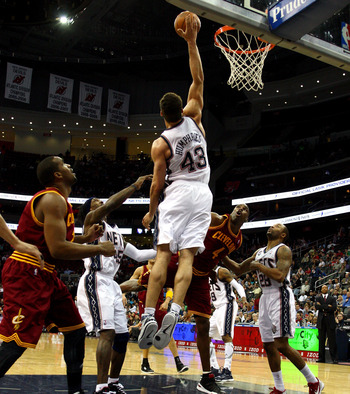 Chris Chambers/Getty Images
Size of contract: $8,000,000
With both Deron Williams and Gerald Wallace having team options for next year, this team's future is actually frighteningly up-in-the-air. What they do with him really depends on what they do with everyone else. If they somehow bring back who they want, they'll likely re-sign him for about what he's getting now. Otherwise, he'll be shipped out for prospects and/or draft picks.
Denver Nuggets: Andre Miller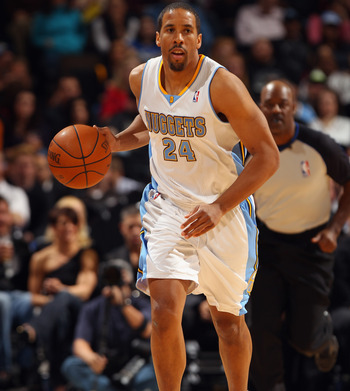 Doug Pensinger/Getty Images
Size of contract: $7,807,728
Andre Miller has done his job this year as a sixth man for the Nuggets. Usually, I'd expect him to come back next year in a similar situation, although he's having trouble accepting that he deserves no more than that. If he comes to terms with his decline, expect him to return at a similar price.
Indiana Pacers: Leandro Barbosa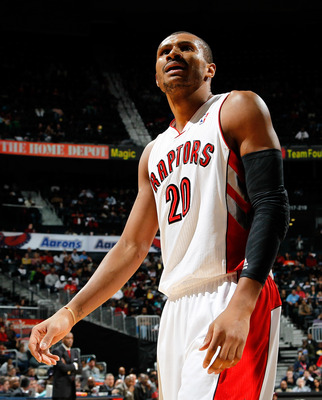 Kevin C. Cox/Getty Images
Size of contract: $7,600,000
Barbosa has really only been brought in by the Pacers to show Darren Collison and George Hill that they expect more out of them. All we know for sure is that he's not coming back to Indiana for that much money, if at all.
Detroit Pistons: Ben Wallace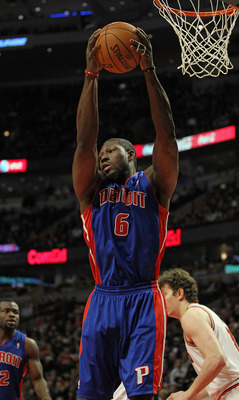 Jonathan Daniel/Getty Images
Size of contract: $2,246,400
Although that is a fair price for a solid back up big, he sure isn't getting any younger. But they need to get rid of him for other reasons. Symbolically, this team needs to let him go, as they've been refusing to let go of their past and just rebuild. If he's open to it, I'm sure somebody else will come knocking.
Toronto Raptors: Jamaal Magloire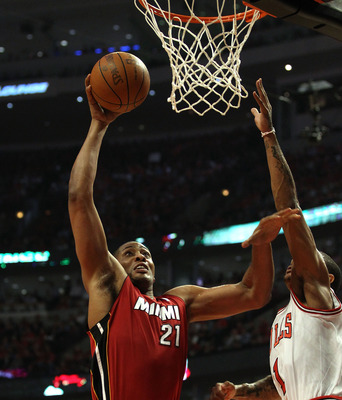 Jonathan Daniel/Getty Images
Size of contract: $1,352,181
Jamaal Magloire is still a great rebounder. Unfortunately, he can only play for 10 minutes per game. If anybody needs solid rebounding for five-ten minutes per game, please inform Jamaal and he'll get back to you.
Houston Rockets: Marcus Camby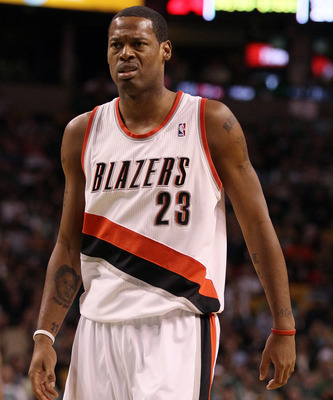 Elsa/Getty Images
Size of contract: $9,256,500
Marcus Camby is averaging well over 14 rebounds and two blocks per 36 minutes. The problem is that he's struggling to play 22 minutes per game. Thus, Marcus Camby should be signed, possibly by the Rockets, as a sixth man for a little bit less than what he's already making.
San Antonio Spurs: Tim Duncan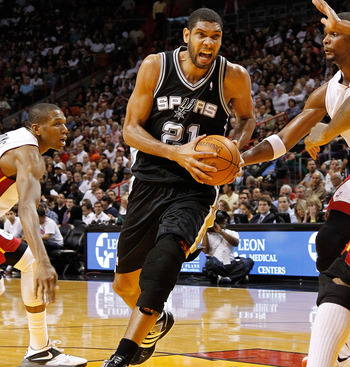 Mike Ehrmann/Getty Images
Size of contract: $21,300,000
This makes Tim Duncan the owner of the biggest expiring contract in the NBA. Does he deserve that much money? He did when he signed it, but not now. Don't think he'll get that money again. Unless he retires, he's re-signing with the Spurs. Will he be willing to take less to help the team? They better hope so if they don't want a dramatic fallout.
Phoenix Suns: Steve Nash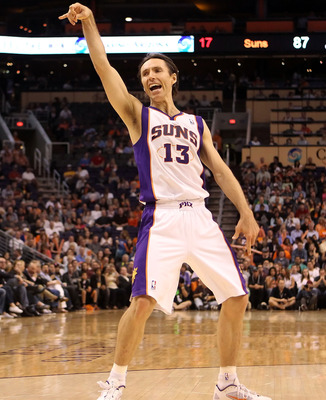 Christian Petersen/Getty Images
Size of contract: $11,689,062
And Steve Nash deserves every bit of it. I think there's a chance that out of respect for him, they may sign-and-trade him to a contender. Otherwise, he'll be pressing them to sign him to the veteran's minimum, for the sake of the team. Because, that's just the kind of guy he is.
Oklahoma City Thunder: Nate Robinson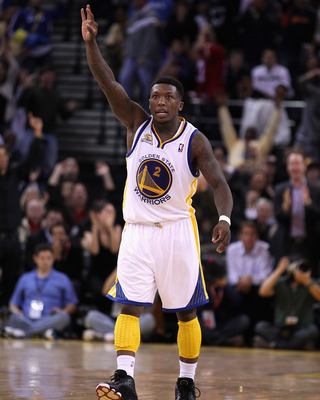 Ezra Shaw/Getty Images
Size of contract: $4,500,000
Due to the weird nuances of NBA waiver rules, Nate Robinson is OKC's biggest expiring contract, despite the fact that he plays for the Warriors.
Perhaps the Dubs will re-sign him. He's done a good job with them this year, especially as of late. I think that right now, he has the chance to prove that he is a legitimate NBA player, and not just a crowd-pleaser who can't focus.
Minnesota Timberwolves: Anthony Tolliver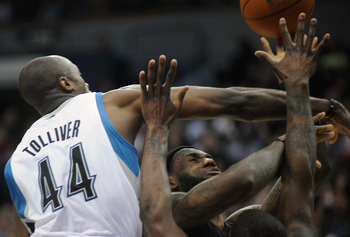 Hannah Foslien/Getty Images
Size of contract: $2,050,000
Anthony Tolliver is not even earning that small contract. Still, he has shown flashes of high potential throughout his career, and if somebody has picked up on that, he may find another team and another salary.
Portland Trail Blazers: Mehmet Okur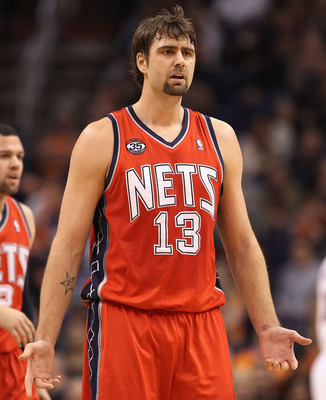 Christian Petersen/Getty Images
Size of contract: $10,890,000
Mehmet Okur is one of the biggest injury problems in the NBA. However, when he's healthy, there is a lot he can bring to a team. If he can get healthy, he might find a starting role next year. I just don't think it'll be with the Trail Blazers, as Portland is highly unlikely to take a chance on yet another injury-riddled center.
Golden State Warriors: T.J. Ford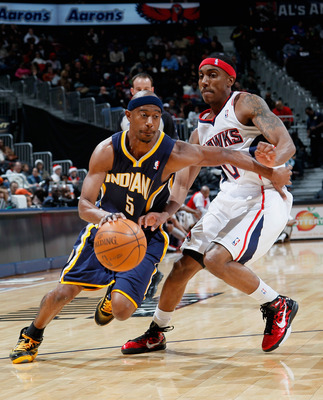 Kevin C. Cox/Getty Images
Size of contract: $1,146,337
It's a shame, but T.J. Ford has retired, and never saw action as a Warrior. There's not a whole lot Golden State can do with that.
Washington Wizards: Brian Cook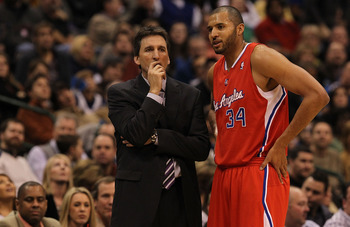 Ronald Martinez/Getty Images
Size of contract: $1,265,976
I'd be shocked if the Wizards re-signed anybody at this point for any real money. Unless they have a particular liking for Cook and they're willing to offer him about this same amount of money, he'll hit the open market.
Keep Reading