2012 NFL Mock Draft: Clearing Up Common Misconceptions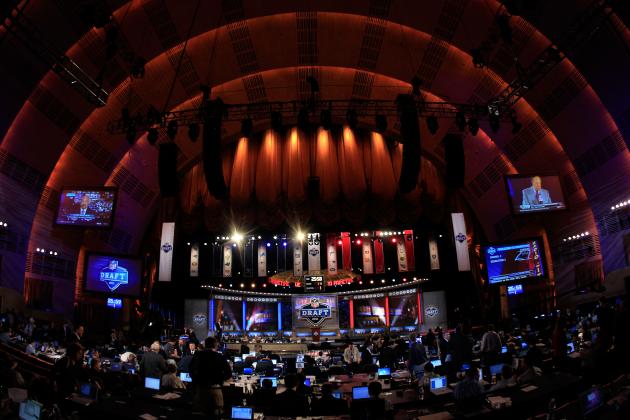 Chris Trotman/Getty Images
The NFL Draft draws near which means time for another Mock Draft.
Two weeks ago, I did a Mock Draft in which I predicted every pick in the top two rounds. As a testament to how quickly things move in the Draft world, things have already changed quite significantly.
Back then I was not necessarily convinced that the Redskins would pull the trigger on a trade up for Robert Griffin. I underestimated Daniel Snyder. After watching Mike Shanahan misguidedly tab John Beck as his great white hope in 2011, understandably Snyder was a little less inclined to be passive this year.
The good news is the trade provides a little more clarity into how the top 10 will pan out. In this Draft, I hope to hone in a little more closely on what will happen come April, but I also focus specifically on the common misconceptions I see about some Draft prospects.
Let's begin.
Begin Slideshow

»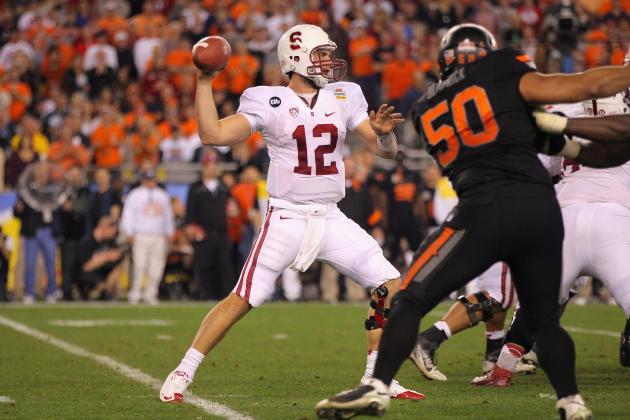 Doug Pensinger/Getty Images
Does Andrew Luck have a stronger arm than given credit for?
The most common misconception out there about Andrew Luck is that he possesses a weak arm for an NFL starter.
This is just not the case.
I do a lot of work on average velocity of various quarterback throws. I've been doing it for nine years and so my techniques developed from "hack 'n slash" estimates to a lot more accurate "nip 'n tuck" estimates. A lot of people have trouble understanding how I do what I do and so naturally they're a little skeptical. That's fine. I do it more for me than I do for them.
I try and stick with throws of between 60 and 100 feet in distance, as well as ones that did not really require a whole lot of touch. What I found is that Andrew's arm strength is a lot better than many people believe.
He generated velocity that was consistently better than both Robert Griffin and Ryan Tannehill. He could not catch Brandon Weeden's velocity, but then I haven't found a quarterback in college this year who could.
Why does he get a reputation for not having as strong of an arm? Part of it is an optical illusion based on typical Pac-12 camera work, believe it or not. Many Pac-12 games have their cameras zoomed in a little closer to the players on the field, to where there is a lot more camera panning during throws as the camera tries to keep up with the football.
Wider camera angles that involve less movement to follow the football give the viewer a sense of the football traveling over space better, and it gives the illusion of velocity. This same effect also has people's perceptions of USC quarterback Matt Barkley's arm strength a little off.
Luck's pure averages rank well above what Peyton Manning regularly did in the NFL early in 2010, prior to all his 2011 surgeries. However, it's the full arm strength profile that makes Luck's throwing ability so interesting.
Believe it or not, Andrew Luck's feet and hip rotation are not as sharp as can be. He does not get the torque of a Matt Barkley or Brandon Weeden. Andrew Luck's throwing is more pure arm.
Because of this, you find that he is able to generate consistent velocity regardless of platform or leverage. He can throw the ball at a dead roll just as fast as if he were setting up in the pocket. He can generate the exact same velocity even completely off his feet, dropping to his knees.
ESPN's Sports Science crew did a good run down on Luck's physical skill set.
About 1:40 into the video you'll see exactly what I am talking about with Andrew's arm. With his feet completely out from under him, going to his knees, the ball flew off his hand red hot and went 50+ yards through the air into a small gap between defenders.
I saw the same thing happen during the USC game except this time he was rolling to his left, going to his knees and still generated B+ velocity (relative to NFL starters).
The scary part is this means there is upside to Andrew's game as his throwing from the feet-up continues to mature with age and experience. Hip rotation and footwork is where you really see a lot of improvement from professional quarterbacks as they mature.
Five years from now, the people who questioned Andrew Luck's arm strength are going to end up looking as silly and off-base as the people that questioned Aaron Rodgers' deep arm as he came out of Cal. You won't find those people popping their heads up nowadays and admitting their crimes, but it happened.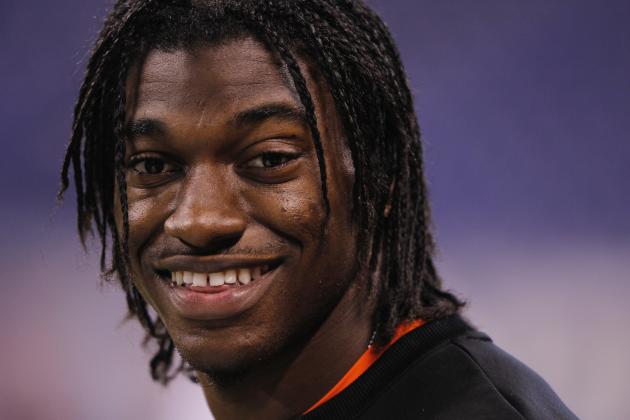 Joe Robbins/Getty Images
Robert Griffin is now a lock to be the second player taken in the NFL Draft.
For a long time, the most common misconception about Robert Griffin was his height. Many thought he was going to measure up at the NFL Scouting Combine barely above 6 feet.
That misconception has since been cleared up, as he measured in a good bit above 6'2" in height.
At first, I also wondered about his height. The fact of the matter is, he looks small in the pocket. Eventually, I realized that the perception of his size was related to three things:
1. I saw him too often not seeing the field properly from behind the line;
2. He has a very thin base;
3. He often operated from inside the pocket with a wide stance and low posture.
Some of these issues are fixable. Some issues will continue to lead to problems in the NFL. Either way, the Washington Redskins have put everything on the line for the right to find out.
Griffin's feet should provide Mike Shanahan with the kind turbo-charged ground attack that Shanahan grew used to in Denver with Alex Gibbs coaching the ground game.
There are synergies between a mobile quarterback and a zone ground attack. Griffin's feet should give linebackers a lot to think about, which leads to slow reactions and less aggressive styles.
As much as they hate it, Mike and Kyle Shanahan will live with Griffin's freelancing style because he brings a lot more to the table.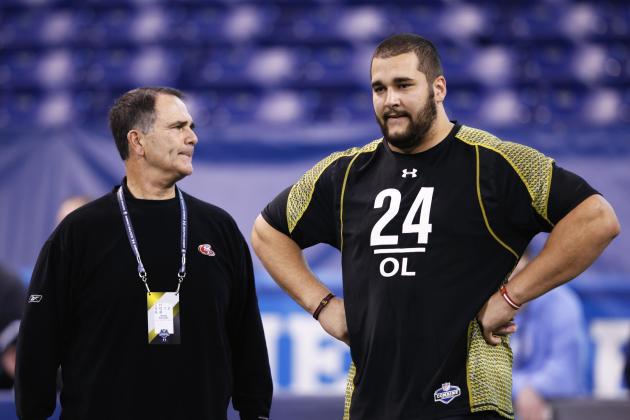 Joe Robbins/Getty Images
Matt Kalil should remain penciled in for the Minnesota Vikings #3 overall pick.
I do not find very many misconceptions in Matt Kalil's game, however one that bugged me a little bit prior to the NFL Combine was the perception that Matt Kalil was not necessarily a very strong player.
That is not what I saw. I saw a player who could hit you hard and get you moving with brute strength. I thought strength concerns had more to do with technique because he could give up his inside post leg in pass protection, which sometimes makes a guy come off looking weak in the upper body.
At the NFL Scouting Combine, he showed some of the doubters with 30 repetitions on the bench press, despite really long arms.
I had originally thought the Minnesota Vikings would steer toward a defensive player at this pick. The defense was awful in 2011, especially the secondary. Even at times when the offense was putting up 20+ points a game, the defense ensured that Minnesota would continue losing.
However, I think Rick Spielman is in a tough position with respect to the quarterback he selected in the 2011 NFL Draft, Christian Ponder of Florida State. The consensus at the time was that Minnesota took Christian much higher than he should have gone.
I have heard Spielman talk about Christian's season, and I thought he hit the nail on the head when he said that Christian came out of the gates slinging the ball with reckless abandon and actually succeeding, simply because he didn't know any better.
As the season wore on, Christian started to get a little beat up, and that is when he started to go into a shell.
The pressure will be on Spielman to make Christian Ponder comfortable enough to succeed, because if he doesn't, then Rick is probably out of a job. When I hear Spielman talk specifically about Ponder getting hit a lot and this being the direct cause of him going into a shell, to me that signals the strategy.
Ronald Martinez/Getty Images
Will Trent Richardson go in the top 5 of this year's NFL Draft?
The common misconception that bugs me sometimes about Trent Richardson is that the tailback position is not very important in the National Football League and therefore taking Richardson high would be a fool's errand.
That's really not accurate. Elite tailbacks in this league still touch the ball between 20 and 30 times a game, and are therefore second only to quarterbacks in how much impact they can have on a football game.
The value is absolutely there at the position. However, what makes it difficult to take a tailback with a really valuable pick is the lack of visibility. The simple fact of the matter is, guys that look elite in college and have elite measurables do not necessarily become elite NFL players.
On the other hand, guys you least expected end up tremendous ground gainers. For whatever reason, the NFL has just not figured this position out very well, yet.
However, I think there are exceptions. Anyone with eyes should have seen Adrian Peterson coming a mile away. I believe Trent Richardson is an exception, much as Adrian Peterson was. He is not a Mark Ingram.
Even when Ingram was well on his way to a Heisman Trophy year as a tailback, people who followed Alabama closely knew that he probably was the second-best tailback on the Alabama roster and that Trent Richardson was better.
In the past we have seen guys like Ronnie Brown, Cadillac Williams, Cedric Benson, Darren McFadden, C.J. Spiller and Reggie Bush go in the top 10 of the NFL Draft. Trent Richardson is legitimately more deserving of that honor than any of the above players were, even taking hindsight out of the equation.
Now that the rookie wage scale is in place, it becomes even easier to take a Trent Richardson in the top 5 of the Draft. Two years ago, the Cleveland Browns would have had to pay Trent Richardson a six-year, $60 million contract. Now, they would be able to give Richardson a four-year, $19.6 million contract.
The salary cap figure has been cut in half. The good old Draft Trade Chart says that the No. 4 overall pick is worth 1800 "points." If you would have waited until the No. 10 to 18 area to take a Trent Richardson before, you clearly are going to be more comfortable with taking him even as high as No. 4 overall now.
Joe Robbins/Getty Images
Morris Claiborne of LSU remains in the top 5 of the NFL Draft on a sheer talent basis.
While I do not have any bones to pick about misconceptions related to Morris Claiborne, this was still a difficult pick to put in place.
A big part of me wants to put defensive tackle Dontari Poe at this spot, as the Buccaneers could decide they would like to get back to true Buc Ball where the defensive tackles wreck the offensive line and the rest of the defense flows off the strength of that pair, much as it did back when Warren Sapp and Booger McFarland were working together.
However, talent is talent, and Morris Claiborne is too talented to pass up. Ronde Barber either will retire or should retire, and the team has to be uncomfortable with trying to build a future with the troublesome Aqib Talib. The team's secondary coverage was not good in 2011.
New Head Coach Greg Schiano once coached the McCourty brothers at Rutgers, and he has a background as a secondary coach. He should recognize the best defensive player in the draft when he sees him.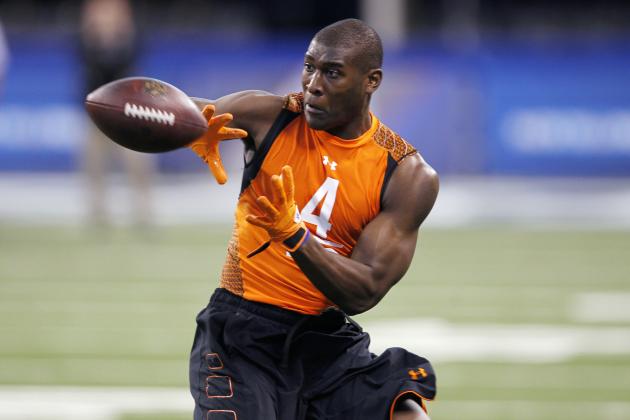 Joe Robbins/Getty Images
Justin Blackmon should have solidified his Draft standing with a solid Pro Day.
There are several misconceptions about wide receiver Justin Blackmon.
One was that he was a very big receiver. Blackmon played big because of his fantastic body control and an excellent physique, however his 6'1" and 207-pound measurements at the Combine were not at all surprising to me.
Another misconception was that he could jump a mile in the air and should compete for the top vertical jump in Indianapolis. Again, this is not the case. His 35-inch vertical at his Pro Day was exactly what I expected, to the inch.
It isn't his pure jumping ability that makes him so dangerous with the ball in the air, it is his ability to spot the ball early and get his feet in position to maximize his explosive potential.
As another example of what I am talking about, you will never see tight end Dwayne Allen of Clemson out-jump tight end Ladarius Green of Louisiana-Lafayette on vertex equipment, but you will rarely see Ladarius Green go higher for the ball than Dwayne Allen on a football field.
The Rams have yet to really address the wide receiver position in free agency. This is not that surprising. Between players such as Greg Salas, Danny Amendola and Danario Alexander, the Rams have some talent they can develop in a better offensive system.
However, they still lack true play making in their receivers unit. That is where Blackmon comes in. The Rams have long been rumored to covet Blackmon, and by trading down with the Redskins they have given themselves the ability to take him without feeling they had to reach in order to do it.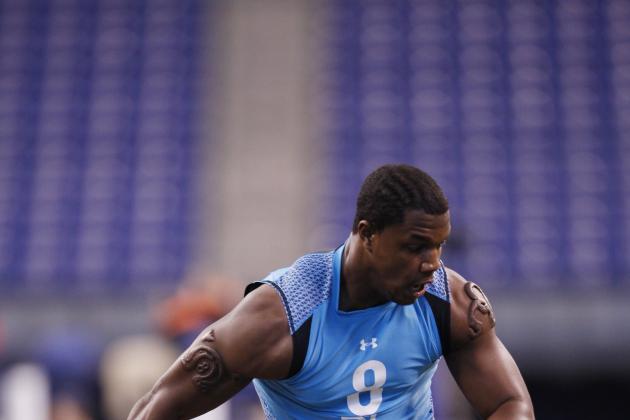 Joe Robbins/Getty Images
A big misconception about Quinton Coples is that he is a high risk, high reward player.
The biggest misconception about Quinton Coples as a Draft prospect is by far his being characterized as a typical "boom or bust" or "high risk, high reward" player.
This could not be further from the truth.
Anyone who pops on the tape of Quinton Coples will see a very strong, very lengthy and active run stopper who seems capable of more pass-rush production than he put up in 2011. For a defensive end, that is not the profile of a "boom or bust" player.
A "boom or bust" player as a defensive end is a one-dimensional pass rusher. It is very difficult to rush the passer effectively in the National Football League. If you take a one-dimensional pass rusher out of college and he cannot rush the passer effectively in the NFL, he will never see the field, ever.
When guys like Vernon Gholston and Aaron Maybin became complete busts relative to their Draft standing, this is how that happened.
On the other hand, a guy like Coples that has extreme size, length and strength, with an active run stopping mentality, will never truly be a bust. At No. 7 overall the Jacksonville Jaguars will pay Coples between $3 million and $4 million a year, which is what you could find yourself paying a one-dimensional run stopper to come on the field and play only 1st and 2nd down.
Of course, I believe Coples is much more than that. I see a lot of upside to his pass rush if you were to get creative with him and pull him into wider 7- and 9-technique splits, and/or pull him out into an up position as a linebacker.
It sounds crazy since he is such a big player, but he has the athletic ability and movement skills to do that.To me, if you want to increase his pass rush potential, that is how you do it.
In the meantime, on first and second down, you can have him focus on more 5-technique and shaded 4-technique, in order to take advantage of his ability to physically dominate the run game.
Bob Levey/Getty Images
The Miami Dolphins will try and re-unite quarterback Ryan Tannehill with his college coach Mike Sherman in Miami.
I do not know if I have a specific misconception that I would exorcise on behalf of Ryan Tannehill, but I do find him to generally underrated.
I have some different priorities when it comes to the quarterback position than many people. One of the things I look for is guys with fast learning curves, guys who come a long way in a very short amount of time.
Considering Ryan Tannehill spent most of his first 3.5 years at Texas A&M practicing and playing wide receiver, I found it pretty remarkable that he came in at quarterback and showed the pure skill set he able to show.
His arm is live and I believe he has the quickest release in the Draft with the possible exception of Andrew Luck. He's studying to be an orthopedic surgeon and has a tremendous G.P.A. He has the feet of a team-leading receiver, and is well-versed in a pro style West Coast offense.
His arm is live, though I think he is sometimes given more credit in the arm-strength department than he truly deserves, and his accuracy is such that he completed 62 percent of his passes despite his receivers dropping the football at literally twice the NFL average rate.
If his receivers dropped passes at the NFL average rate, he would have achieved over 67 percent completion in a pro style West Coast offense coached by a once-and-future NFL coach.
The Dolphins failed to land Peyton Manning and failed to offer enough money to tempt Matt Flynn away from Seattle.
Signing David Garrard does not change their priorities, which will likely be to draft Ryan Tannehill at No. 8 overall, or Oklahoma State's Brandon Weeden in a trade down.
The Dolphins may even be able to trade down from No. 8 overall to either No. 15, 17 or 18 overall, and still pick up Ryan Tannehill.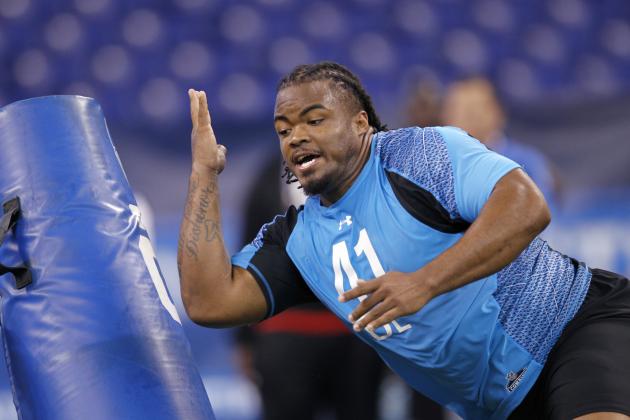 Joe Robbins/Getty Images
Dontari Poe's unique blend of size, strength, athleticisim and explosion will see him going in the top 10.
In my original mock drafts, I had Dontari Poe going to the Panthers here at pick No. 9 overall. In my mock draft previous to this one, I switched that up and had Poe going as high as No. 5 overall to the Tampa Bay Buccaneers. I think perhaps I may have overdone that.
Yet, the need for a defensive tackle is very strong for the Carolina Panthers. The Panthers struggled all year on defense when they tried to pair rookie defensive tackles Sione Fua and Terrell McClain.
The defense did not solidify until those two were taken off the field. It might already be time to go back to the drawing board and pick up a legitimately premium talent to man the middle of the defensive line.
Dontari Poe will give the Panthers a true Planet Theory player to stick in the middle of that defensive line, and he could make an impact on the play of the entire defense.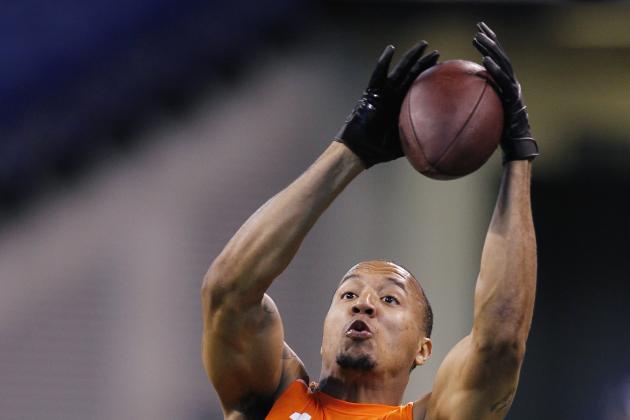 Joe Robbins/Getty Images
Michael Floyd's alcohol-related issues in the past may have dropped him more if not for the rookie wage scale.
With the re-signing of wide receiver Stevie Johnson and the signing of Mario Williams to a mega-deal, not to mention the hard pursuit of defensive end Mark Anderson, I sense an urgency and aggression in the Buffalo Bills that seems highly uncommon for that team.
The team could go with a defensive back like Dre Kirkpatrick or Alabama, or a middle linebacker like Luke Kuechly of Boston College. They could attempt to firm up the offensive line by reaching for a Jonathan Martin of Stanford or Riley Reiff of Iowa.
However, none of that really speaks to me with the same level of urgency and aggression that I see in the Bills this off season. A year ago, Stevie Johnson was the Bills' lone respectable wide receiver.
Chan Gailey's offense is very receiver-oriented and I believe he will look at a big, physical specimen like Michael Floyd and see the kind of impact Gailey had at Georgia Tech with Calvin Johnson.
Floyd is not that caliber player, but he is a natural pass catcher with speed, explosiveness, size and run-after-catch ability.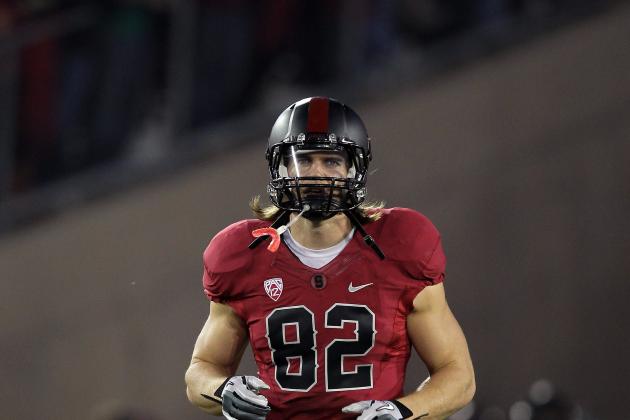 Ezra Shaw/Getty Images
A common misconception about Coby Fleener is that he can't block.
Even though it is a highly controversial pick, I continue to keep Coby Fleener here at No. 11 overall to the Kansas City Chiefs.
One very common misconception about Fleener is that he cannot block. I found the opposite to be the case. He has tremendous size and pure strength, and when he lines up in an on-the-line position, he can get square and really drive-block defensive linemen.
In the UCLA game, I saw him put several defensive ends on the ground. He struggles a little blocking in space, which should be a developmental issue.
This pick is just a hunch. I see a roster that has enough bases covered that an aggressive, impact-based pick like this could work, and General Manager Scott Pioli has a history valuing the tight-end position far more than most.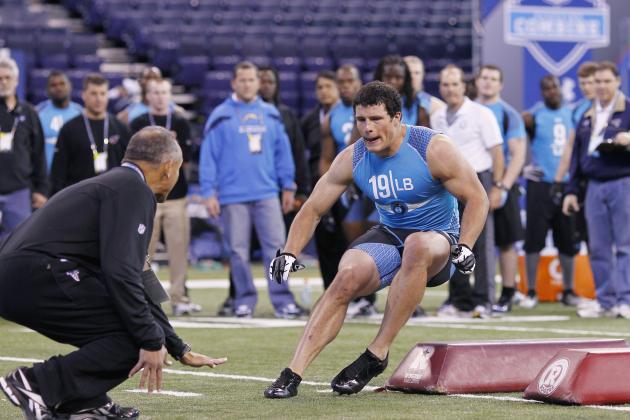 Joe Robbins/Getty Images
A very common misconception about Luke Kuechly prior to the Combine was that he was not athletic.
A very common misconception about Luke Kuechly, especially prior to the NFL Scouting Combine, was that he is not a very athletic player. There were times you would be left wondering exactly how fast he was, however in general the more I looked into him, the more I had to disagree with this.
He showed his athleticism in ways that were not as obvious. In the passing game, he would close on the check down options with extreme burst.
Against the Miami Hurricanes, he stayed deep down the middle with Tommy Streeter on one play, and on another slipped under a pass for an interception, then returned it 50 yards with the 4.3 speedster Travis Benjamin unsuccessfully nipping at Kuechly's heels the whole way. Those plays showed extreme athletic ability.
The Seattle Seahawks appear prepared to allow middle linebacker David Hawthorne to walk in free agency. There have been whispers of them being unhappy with Hawthorne's durability and athletic ability. They see him as more of a two-down run defender.
No matter what you think of Luke Kuechly, he is not a two-down run defender, and he showed in Indianapolis that he is a lot faster than many thought. The way I interpret the Seahawks' letting Hawthorne walk, I think they want a player like Kuechly who can make more of an impact against the passing game.
Pete Carroll recruited and put out a lot of really good linebackers at USC. I could see him steering toward Kuechly come April.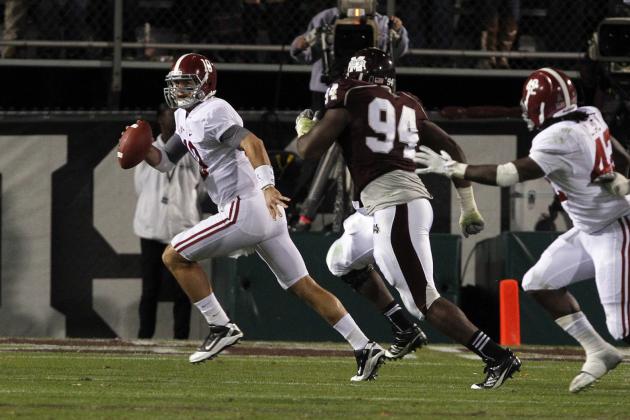 Butch Dill/Getty Images
Fletcher Cox is a very fast-rising defensive player in the Draft.
13. Arizona Cardinals: OG David DeCastro, Stanford

A common misconception involves the disbelief that an interior offensive lineman should go this high in the Draft. A couple of years ago, you would not be able to look at picking a David DeCastro this high simply because of the contract you would be forced to give him. The rookie wage scale has changed that.
14. Dallas Cowboys: DE Fletcher Cox, Mississippi State
Fletcher Cox has a rare combination of ability that will intrigue any team that plays a 3-4 front, like the Cowboys. He has the strength and ability to engage in solid run defense, but he also has the ability to be dynamic as a pass rusher.
My previous mock draft had Kendall Reyes at this spot, but in this one, I have Fletcher Cox falling far enough to make this an easy decision for Jerry Jones.
15. Philadelphia Eagles: WR Kendall Wright, Baylor

DeSean Jackson is still in Philadelphia on a recently signed long term deal; however, I have a gut feeling the team does not plan on honoring the full length of that deal. The Eagles do not have any receivers to speak of behind DeSean and Maclin.
There is a misconception about a misconception involving Kendall Wright. Some folks think that his "official" time in the 4.6's proves that Wright's speed was a misconception. This in itself is a misconception, because his 40-yard dash in Indianapolis was actually closer to the 4.45 range as per my own re-timing.
16. New York Jets: LB Melvin Ingram, South Carolina
I am on the ropes a little bit with this pick. The Jets still covet a pass rusher in the worst way, but Rex Ryan likes lengthy pass rushers more than guys built like Ingram.
The team could steer toward a Whitney Mercilus instead, but I think Mercilus will raise too many alarms considering the team's bad experience with Vernon Gholston.
17. Cincinnati Bengals: DT Michael Brockers, LSU

I originally had Brockers going to the Bengals with the second of their first-round selections. The team would probably very much like to trade up high enough to take tailback Trent Richardson; however, I think the Cleveland Browns could surprise them by taking him in the top 5.
Brockers is perceived to be a top-notch prospect who is slipping because of a poor Combine showing. Mike Brown is a guy that loves to pick up players that are perceived to be better than they're rated, but slipping due to some single issue.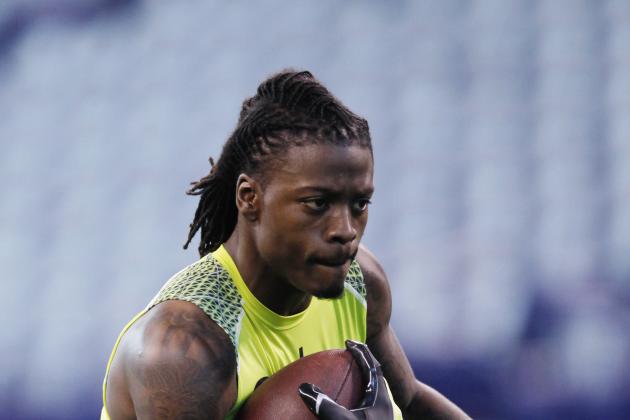 Joe Robbins/Getty Images
Dre Kirkpatrick's stock may be falling, but he should still end up in the mid-first round.
18. San Diego Chargers: CB/S Dre Kirkpatrick, Alabama

Kirkpatrick could eventually end up a safety, but on the Chargers, he might first be tried out at corner to give some competition to Quentin Jammer and Dante Hughes.
19. Chicago Bears: DT Devon Still, Penn State

The Chicago Bears run a defensive scheme that Still should be comfortable transitioning to from his gap-penetrating scheme at Penn State.
20. Tennessee Titans: LB Bobby Wagner, Utah State

I have a hunch that they will see Wagner as their next Keith Bulluck, even if I do not necessarily believe it myself. Wagner is rising up the boards, and the Titans could use a replacement for Barrett Ruud.
21. Cincinnati Bengals: DE Nick Perry, USC

The value for a receiver or tailback just is not there yet, and the defense needs a player who can replace Michael Johnson. In Mike Zimmer's scheme, the position is similar to how Perry played at USC.
22. Cleveland Browns: QB Brandon Weeden, Oklahoma State

The Browns passed on Ryan Tannehill at No. 4 overall so that they could focus on getting Brandon Weeden at No. 22 overall. There are a lot of misconceptions about Brandon Weeden.
The first is that he tore his labrum and/or rotator cuff and had to quit baseball because of that. That is, simply put, not true. He suffered tendinitis in the shoulder from pitching a baseball, but the motion involved in throwing a football has never inflicted pain.
Another misconception out there is that Weeden's age will significantly hurt him in the Draft. The feedback he has been getting from teams is that they do not care about his age.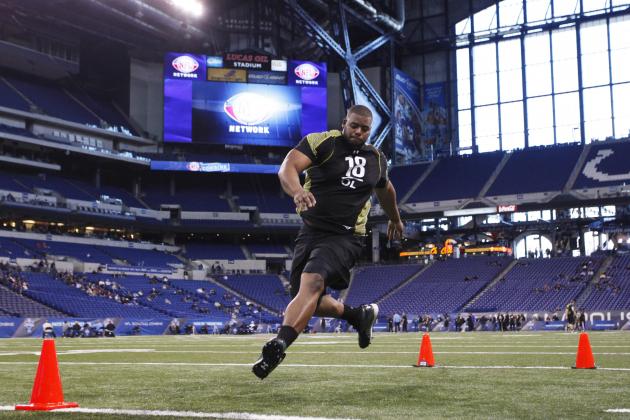 Joe Robbins/Getty Images
Cordy Glenn likely cemented his place in the first round at the NFL Combine.
23. Detroit Lions: G/T Cordy Glenn, Georgia
Cordy Glenn showed up at the Senior Bowl and really caught some eyes, then followed up with an excellent Combine. The Detroit Lions will need some help on the offensive line, as Jeff Backus seems likely to leave. It isn't even outside the realm of possibility for Cordy to end up the starter at left tackle.
24. Pittsburgh Steelers: OT Riley Reiff, Iowa

The Pittsburgh Steelers always seem to struggle protecting Ben Roethlisberger. The team announced that they will be moving right tackle Marcus Gilbert over to Starks' left tackle spot. That leaves an opening for Riley Reiff at right tackle.
25. Denver Broncos: CB Stephon Gilmore, South Carolina
The Broncos will want some immediate impact from the Draft with Peyton Manning in the fold, and they need to start looking at replacements for Andre Goodman.
26. Houston Texans: WR Stephen Hill, Georgia Tech

No team in the NFL was in 3-Tight End sets more often than the Houston Texans. They would like to change that by getting someone better to play opposite Andre Johnson. Hill is the real deal.
27. New England Patriots: CB Janoris Jenkins, North Alabama

Bill Belichick needs the help in his defensive secondary badly, and has a history of taking players from Urban Meyer's program. Janoris Jenkins has serious talent, but his off-field issues have also been serious.
28. Green Bay Packers: LB Courtney Upshaw, Alabama
The Packers have had trouble finding a pass-rush presence to play opposite Clay Matthews in their 3-4 defense. I believe Courtney Upshaw would be perfect for that job because of his being a well-rounded run stopper as well as pass rusher.
29. Baltimore Ravens: OT Jonathan Martin, Stanford

The combination of Michael Oher at right tackle and Bryant McKinnie at left tackle were not cutting it in 2011. Joe Flacco is not great under pressure, so the team will need to make sure they get as good tackle play as they can.
30. San Francisco 49ers: DT Alamaeda Ta'amu, Washington

Harbaugh will be familiar with Ta'amu from coaching against Washington at Stanford. Ta'amu should be able to train on as Isaac Sopoaga's eventual replacement at nose tackle.
31. New England Patriots: DE Vinny Curry, Marshall

The Patriots seem set to lose Mark Anderson via free agency, and may lose Andre Carter as well. Both players rushed the passer well in 2011. Rumors have Vinny rising up into the first round.
32. New York Giants: G Kevin Zeitler, Wisconsin
The Giants are another team that need help along the offensive line. They would prefer to get a strong tackle here but none available, including the overrated Mike Adams of Ohio State, grade this high. When all is said and done, Kevin Zeitler should be regarded as a first rounder.