NCAA Bracket 2012: 5 Biggest Questions Entering the Sweet 16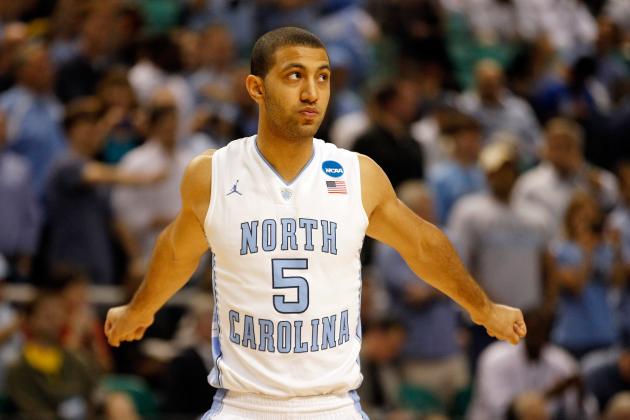 Streeter Lecka/Getty Images
Kendall Marshall
Now that the beginning rounds of the NCAA tournament are over, it's time to get to work. No more Cinderella's getting lucky. Teams must prove their mettle in this Sweet 16 as the field whittles down to eight.
Injuries and suspensions have dominated the headlines, and have been either a blessing or a curse depending on the side that you're rooting for.
But these stories haven't broken through entirely. If not for the Kendall Marshall injury or the Fab Melo suspension, it would be hard for most people to know exactly what is going on in the tournament. After all, the only things being broadcast for the past week seem to be stories about Peyton Manning and Tim Tebow.
I'm here to get you up to speed on the big story lines heading into Thursday's games.
Let's start the show.
Begin Slideshow

»
Streeter Lecka/Getty Images

North Carolina has already weathered the storm of losing guards Dexter Strickland and Leslie McDonald to knee injuries for the season, and have played without defensive mastermind John Henson due to a wrist injury.
Now star guard Kendall Marshall has broken a bone in his wrist. There is no word on the status of Marshall playing, but if he doesn't, freshman Stilman White is his likely replacement.
North Carolina is good enough to beat Ohio without Marshall, but then it gets iffy. A potential matchup with Kansas could bring a great season for the Tar Heels to a depressing close.
Marshall has already had surgery to repair the bone, but even if he is ready, the wrist probably won't be. Marshall is a dynamic, left-handed guard with an injury to his right wrist. Taking away one hand from any guard not named Jordan or Magic means that dribbling effectiveness goes out the window. Only using one hand will turn Marshall from a feared guard to a batting practice pitcher.
This does not bode well for Carolina.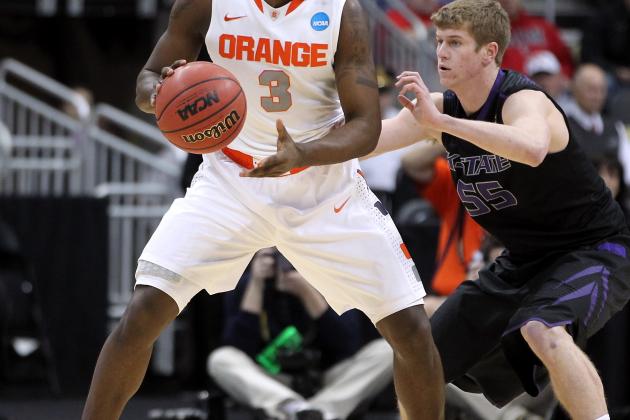 Gregory Shamus/Getty Images

The opening two rounds for the Syracuse Orange read like a two-act play in which the hero makes a tragic error, only to redeem himself triumphantly in the end.
The tournament started with the news that Fab Melo had once again been suspended due to academic issues. The Orange played without Melo in January and found themselves leaving South Bend with their first and only loss of the regular season. Syracuse recovered to win out the season but never regained the form it created in its run to open 20-0.
Syracuse opened the NCAA tournament by playing lethargic and uninspired basketball against UNC-Asheville and barely escaped becoming the first No. 1 seed to lose to a 16-seed in tournament history.
In the next round, the Orange players broke out of their funk and handled Kansas State 75-59.
This was a refreshing return to form for the Orange, who had struggled to reach the 70-point mark in the past month after averaging over 75 points per game this season.
Which team is the real Syracuse?
In my opinion, both.
Syracuse is built to have players stay fresh and wear opponents down. In theory, they should be able to inject a hot hand when needed, but sometimes a cold hand makes its way through the team first and they struggle to score baskets.
Luckily for the Orange, they play superior defense and can withstand a bad offensive night. A possible matchup with Ohio State will create problems if they go cold. They will have their hands full trying to keep Jared Sullinger off the boards and can ill afford to have any other deficiencies.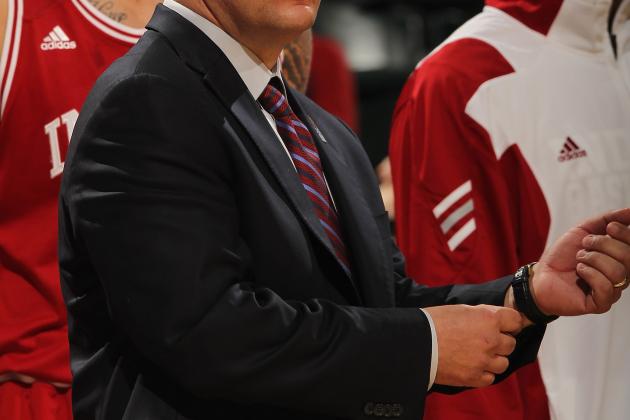 Jonathan Daniel/Getty Images
Indiana's Tom Crean
Indiana has managed to pull off one of the rarest of rare feats this season by beating the No. 1 and No. 2 schools in the country with the buzzer-beating thriller against top-ranked Kentucky and the 74-70 win against second-ranked Ohio State.
In games in which Indiana played an opponent more than once, only Wisconsin has managed to defeat Indiana twice, once in the regular season and once in the Big Ten tournament.
It is worth noting that Ohio State, Michigan and Iowa all lost in the first meeting but adjusted and took out the Hoosiers in the second meeting.
Does this mean that opposing coaches have Indiana figured out?
Only time will tell, but Kentucky's December 10th loss was the only blemish in their regular season and John Calipari should have a sound plan for the rematch.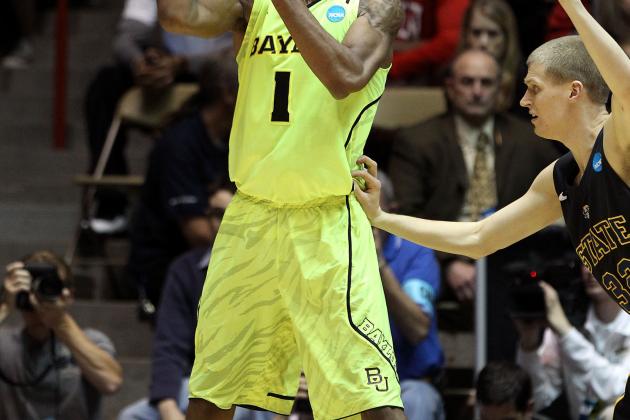 Christian Petersen/Getty Images
Perry Jones III
Before addressing Perry Jones III, there are two other questions that need to be asked first.
What's with those terrible uniforms?
Has Xavier finally recovered from the Cincinnati fight?
Only God knows, and yes.
Back to Mr. Jones.
Jones, a 6'11" sophomore, has averaged a team-leading 14 points and 7.7 rebounds per game during the regular season.
He managed 11 rebounds in the opener of the tournament against South Dakota State but only scored two points in the eight-point win.
He followed that game up with only four rebounds and seven points against Colorado in the next round.
Jones needs to get involved in the game against Xavier, where Baylor's length will give them the advantage. Nine points on a combined 4-of-14 shooting just won't cut it.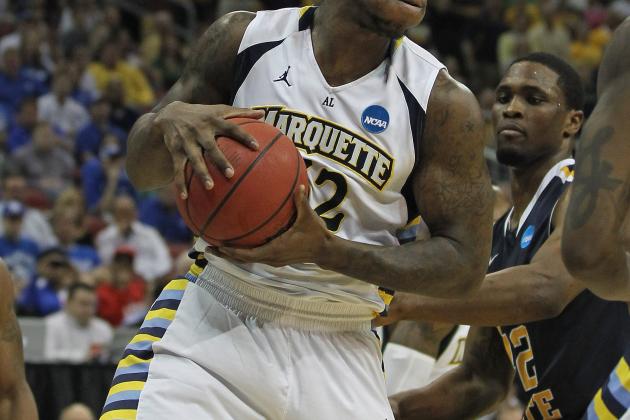 Jonathan Daniel/Getty Images
Jae Crowder
Against Murray State and BYU, Marquette looked to be the most physical team to come out of the Big East.
Coach Buzz Williams' Golden Eagles don't play dirty, but somehow their games look like a street fight.
Marquette matches up with Florida, a team that lives and dies by the three. Will Florida's guard play be a foil for Marquette's smash-mouth style?
That depends on how well Florida shoots. Marquette can get out in transition with any team in America, so it has no reason to fear the speed of Florida. But if the Gators can shoot at a high percentage, they could take Marquette out of its game.
And for the record, Jae Crowder is a beast.