Kentucky vs. Indiana: 3 Reasons Kentucky Will Annihilate Indiana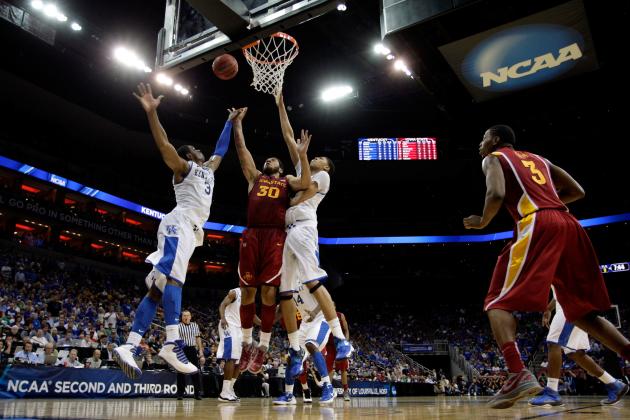 Andy Lyons/Getty Images

Anthony Davis alone makes Kentucky an extremely long team, so everyone else is icing on the cake for the Wildcats.
Just look at the starting lineup of Marquis Teague, Doron Lamb, Michael Kidd-Gilchrist, Terrence Jones and Anthony Davis. The only teams still in the tournament that can match that kind of length are North Carolina and maybe Kansas.
Now you may be asking yourself, Why is length so important? Well, for starters it allows you to play bigger than you really are. Anthony Davis is listed at 6'10" but has a 7'4" wingspan. That's about a half foot of extra space he occupies.
This comes in to play on everything from rebounding to defensive hedging to getting one's shot off easier. Once you consider four of the five starters for Kentucky have a wingspan over 7'0" (Marquis Teague is the exception), it's easy to see how they benefit from their length.
Their length will aid them when Kentucky needs a key bucket, defensive stop, offensive rebound or hustle play against the Hoosiers.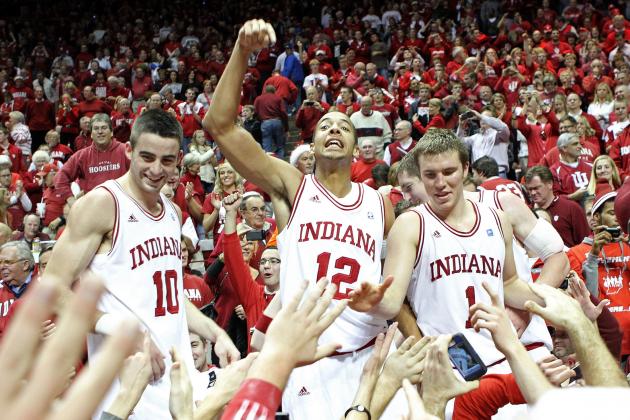 Andy Lyons/Getty Images

You can't tell me the Wildcats didn't put a target on Indiana's back after they lost in Assembly Hall. That kind of motivation can be more powerful than any pregame speech or bulletin board comment ever can be.
I guarantee you coach John Calipari is showing his team the footage of that game and giving them a reminder of how crazy that fan base was after beating the Wildcats—making sure he points out exactly what went wrong in that game and how it can be fixed.
If the Kentucky players cannot use that game as motivation to win this matchup, then something is seriously wrong with their competitive juices.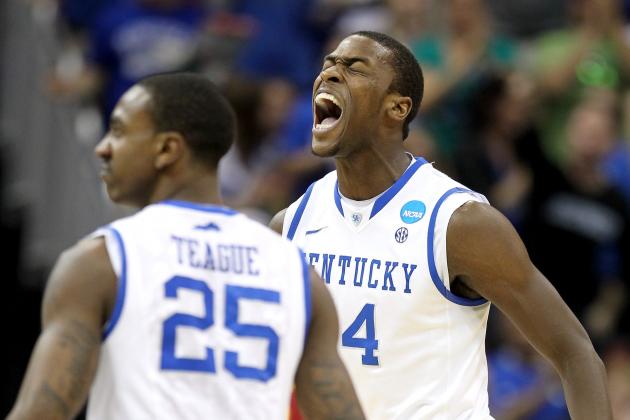 Andy Lyons/Getty Images

Look, this Kentucky team is one of the most talented teams in the past couple years. There's no denying that. Considering it took a buzzer-beating shot to beat them the last time these two matched up, I can't see Indiana winning again.
When all five of your starters, and even your sixth man, have a legitimate chance to be drafted in the first round of the 2012 NBA Draft, you can pretty much handle any team in the country.
Anthony Davis, Micheal Kidd-Gilchrist, Terrence Jones, Doron Lamb, Marquis Teague and Darius Miller will simply be too much to handle for Cody Zeller, Christian Watford and Co.
Barring an incredible game from Indiana, the Wildcats will advance to the Elite 8 in impressive fashion en route to a matchup with either the Baylor Bears or Xavier Musketeers.