WrestleMania 28: Why Fans Have Lost Interest in the Rock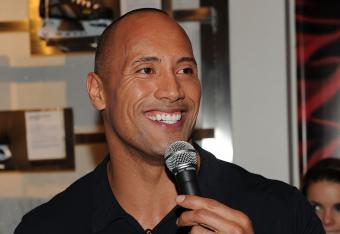 Stephen Lovekin/Getty Images
The Rock is undoubtedly one of the best entertainers in WWE history. Professional wrestling was in his blood, being passed down from his grandfather Peter Maivia, down to his father Rocky Johnson, down to the Great One himself.
The Rock has called himself the "Most Electrifying Man in Sports Entertainment" (among many other things) but has recently been lackluster, boring and upstaged by his counterpart John Cena. What is it? Why does the Great One seem really just mediocre as of late?
For starters, his electrifying voice and personality have been low voltage, to say the least. The Rock has been out-promoed by Cena for the past month on Raw, something I as a Rock fan, thought I would never see. His voice is missing that pop and power that it had during the attitude era. The Rock used to "layeth the smacketh down" not only with his moves, but also his voice. If you don't believe me, just listen to his next "Finally..." line.
Compare that to when the Rock came back to the WWF. Since his return he sounds more like an actor. He seems like he is more concerned about trending worldwide than he is about showing up his opponent on the mic—which brings me to my next point: Where are the catchphrases?
I'm sorry, but "Trending Worldwide" can't compete with the Rock's ridiculous repertoire of run-on sentences and one-liners that we heard every time he grabbed the mic. Since his return, he has hardly used his classic catchphrases. He has only suggested that the Fruity Pebbles frontman turn a few objects sideways and stick them in some uncomfortable places a couple of times.
The same can be said for a lot of his other famous phrases. Where are "It Doesn't Matter What You Think," his continuous pastry references and directions to the SmackDown hotel? He has lost almost all of these in an attempt to enter the world of hash-tags and likes.
Why has this happened? What changed? As a Rock fan, I find it hard to believe that the Rock just isn't feeling it any more. The Rock I know and love wouldn't lose a promo battle to anyone, especially John Cena (who, as much as it hurts me to say, has been money on the mic recently).
It seems clear to me that the Rock is not immune from the WWE's attempt to appeal to the PG crowd and put Cena over even more (if that's possible). This has "post-match handshake" written all over it. The crowd has been down on Cena, and what better way to convince the fans that he is the face of the business than a shining endorsement from the Great One? Cena has out-promoed the Rock a few times on the Road to WrestleMania and, sadly, will take him down at Mania.
Don't get me wrong, I'm certainly enjoying the return of the Rock. Even though he isn't all that he used to be, the dude is made for this business. He's still better on the mic than anyone in the locker room, and I'm sure he will not disappoint in the ring. Whether you like his movies or not, who can blame the guy for going all out to do something he enjoys?
The Rock will always be one of the best, if not the best, guys to lace up the boots and step into the squared circle, but for now, it's Cena's turn to take over.
What do you think? Am I way off? Does the Rock still have it or is something missing? If so, what do you think it is? Let me know!
As a bonus, for any of you who, like me, prefer to remember the old Rock, here you go. Enjoy!
This article is
What is the duplicate article?
Why is this article offensive?
Where is this article plagiarized from?
Why is this article poorly edited?