Tim Tebow Trade Rumors: Why the Denver Broncos Must Keep Him
March 21, 2012

Jeff Gross/Getty Images
In the wake of the Denver Broncos signing of Peyton Manning earlier today, talk and speculation has been flying about as to where Tim Tebow could potentially be traded.  While the Broncos have said they are open to the possibility of trading him, my contention is that ultimately, the Broncos will keep Tim Tebow and make him Peyton Manning's backup.
Despite the common perception by most pundits that Manning arrival must signal Tebow's departure from Denver, allow me to discredit some of the most common arguments that have been purported along that line of thinking:
 #1. "Tebow won't want to be a backup QB". 
Of course Tebow doesn't want to be a backup QB.  He's Tim Tebow.  All his life he has dreamed of being a starting NFL QB - even in the face of a nation of people telling him he couldn't possibly be one - only to get a small but successful taste of it last year, and to now be relegated to backup duties.  Of course he wouldn't want that.  Tebow is one of the most intense competitors I've ever seen.  Of course he wants to be the starter.
But Tebow is also one of the most positive individuals I have ever seen. And he is very team oriented. In a way in which only Tebow could do, he will find the silver lining.  He will take the tutelage he receives under Manning as a positive and view it as another opportunity to improve himself and make himself a better QB.  
Given Tebow's propensity to extreme positivity, he will likely even convince himself that he is "competing" with Peyton Manning on a daily basis, pushing himself even harder. (Incidentally, I am giddy to think of the positive effect this will have on Manning - to have someone as young as Tebow and as decorated working so hard right beneath him.  I have to imagine it will only fuel Manning's competitive nature all the more.)
#2. "There are several teams interested in Tim Tebow."  
Aside from Jacksonville, I really don't believe this is the case.  And Jacksonville would only want him for ticket sales - still believing in Blaine Gabbert, but also signing Chad Henne away from the Dolphins.  In reality, the Jags do not have the coaching creativity or ingenuity to design an offense around Tebow the way the Broncos were able to (on the fly, mind you) last season.
Miami? No. Still having Matt Moore on the roster, they signed David Gerard today. They obviously aren't looking to obtain Tebow.
Buffalo? Cleveland? No. I just don't see it.
I've even heard that New England and/or Green Bay would want him to run a supplemental package of plays.  But if that's the case, that he would just be a backup wherever he lands, then why leave? And for the Broncos, why give up his talents for other teams to use in exactly the same way that could benefit them?  It just makes no sense.
#3. "Tebow's value will never be higher than it is right now."
This may be true, and while I hope (and truly believe) that Tebow will not be moved, I also believe that Elway would pull the trigger if the price was right, and I can think of two scenarios. 1) For a first round draft pick, the same round in which he was selected by the Broncos. Any takers? Jacksonville? Wanna give up the #7 pick in the draft? I didn't think so. Or 2) In exchange for what we gave up in order to draft Tebow, a 2nd, a 3rd and a 4th round draft pick.  Anybody? No? Hmm...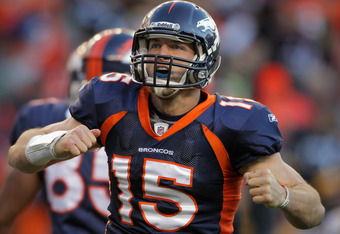 Doug Pensinger/Getty Images
Other than that, the Broncos are not just going to give him away.  Certainly not for a 2014 conditional pick. Besides his immense popularity and the devotion that he creates in fans and the inspiration that he gives to his teammates, the Broncos recognize that he possesses unique intangible skills which make him very valuable - to the Denver Broncos, if no one else.  At the very least, as an insurance policy to Peyton Manning.
Should the worst-case scenario occur, and Manning is injured, who would you rather go with: Andrew Weber? Chad Henne? Brandon Weeden? Or a quarterback who, if nothing else, has already proven that he can win football games, has already won a division Championship and a first-round playoff game?
I've even heard one pundit speculate that the Broncos should release him outright.  Ridiculous!
#4 "If Manning's play is sub-par, the fans will clamor for Tebow and you will have the same QB controversy that you had with Orton."
Seriously? I've actually heard this thrown out there as reason why the Broncos should unload Tebow.  Nothing could be more ludicrous (except maybe releasing Tebow outright). Comparing Manning to Orton in this situation is like night and day.  Manning is one of the greatest QBs of all time.  Orton is, at best, a suitable backup, but who as a starter plunged this team into obscurity, only to have the season rescued by Tebow last year.
Furthermore, as of today, Peyton Manning at QB is the bed the Broncos have made, and they intend to lie in it. As Elway said in the press conference (hilariously), "Plan B? There is no plan B. We're gonna go with Plan A!"  Regardless of performance, regardless of whatever competition Tebow may pretend is going on, there is no competition.  Manning is the QB, barring injury, for better or worse.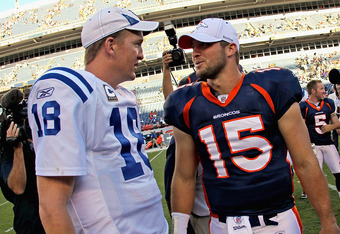 Doug Pensinger/Getty Images
All of that said, because the Broncos will be unable to get a large haul back for Tebow, because they realize he has value for the organization, both on the field, as a leader in the locker room and community, and most importantly because he is a viable insurance policy should Peyton Manning get hurt, the Broncos can, and, in my humble opinion, will retain Tim Tebow.  After all, he is under contract until 2015.  
Were he about to become a free agent, the situation might be different. But it's not. He's locked up. Plus, the performance accelerators in Tebow's contract, that if he takes 55% of the snaps in his first three seasons his contract balloons from $11 million to $33 million, are now in serious jeopardy.  
One could feasibly look at it from the perspective that keeping Tebow as Manning's backup will effectively save the Broncos $22 million. And Tebow would undoubtedly benefit by learning from one of the best ever of all time. Do not move him to WR. Do not move him to TE.
Allow him to play QB, to learn and to develop. Then, if in three to five years, whenever Peyton hangs it up, Tebow is able to fuse his intangible qualities and supreme athletic abilities with the knowledge of the position and the offensive prowess of Peyton Manning, he could potentially finally be the QB of the future we all dreamed (or never dreamed) he might become.
A long understudy seems to have worked well in Green Bay for Aaron Rodgers.  And if, at that time, Tebow is still unable to rise to the level of an elite QB, then the Broncos will have ample time to draw up a different strategy.
But in the meantime, it is imperative for the Broncos to keep Tim Tebow!