Jaguars, Dolphins and Browns Take Heed: Tim Tebow Will Succeed as a Quarterback
March 21, 2012

Doug Pensinger/Getty Images
When you think of NFL quarterbacks you think of guys like Peyton Manning and Aaron Rodgers. Players with 6'4'', 225 pound frames who throw rockets and pick defenses apart. The desperation for guys like that in today's NFL is so extreme that the price of one at age 36, coming off of four neck surgeries, is 96 million dollars.
But why do quarterbacks have to look a certain way? Why do their playing styles have to match their predecessors? What's so wrong with being different? 
Teams were worried about Philip Rivers in 2004 because he threw funny. The Chargers took a chance on him and it seems to have paid off. The player Rivers replaced in San Diego, Drew Brees, was passed over in round one because he was too short. 
In 1987, the 49ers took a chance on an unconventional left handed quarterback. Despite being able to scamper around the field like Fran Tarkenton, he was labeled a bust after a few middling years with a bad team. 
That guy was named Steve Young. 
If you asked the Chargers, Saints and 49ers how they feel about their defective quarterbacks, I bet they'd say they're pretty happy they took those risks. 
Which brings us to Tim Tebow. When it comes to defects, you name it and Tebow has it. He's built like a linebacker, plays like a fullback and has a wind up longer than Hideo Nomo. He's a left handed future preacher that completes passes at a lower rate than Shaq hits free throws. If you're looking for a golden boy Elway-type quarterback, you won't find that in Tebow.
But none of that matters. His throwing motion, his lack of accuracy, his seeming determination to get himself killed by linebackers, all of that is fixable.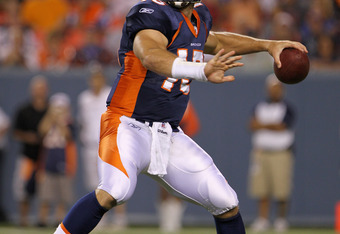 Doug Pensinger/Getty Images
What Tebow has is something you can't give other players. He has the intelligence, the drive, the polarizing spirit and the heart that it takes to be great. When Tim Tebow steps on the field you know your team is being led by a guy who would give his life for an extra yard. He's the kind of guy his teammates, his coaches, and his city can believe in.
You don't think that matters? Ask the Chargers if they wish they could have a do over on the Ryan Leaf pick. Colts fans would say the same about Jeff George. Every year we see teams waste high draft picks on conventional quarterbacks who don't have what Tebow has. Every year we see teams missing the entire purpose of the quarterback position. First and foremost, you have to be able to lead your team. 
This isn't a revelation. Tom Brady was drafted in the sixth round because he was too slow and didn't have the arm strength to be an NFL quarterback. Bet Mel Kiper wants a mulligan on that one, right? Joe Montana went in round three for many of the same reasons. Teams continuously go for physical attributes over intangibles, and they continuously get it wrong. 
You think his accuracy will keep him from succeeding? Well in 10 starts last year he completed 46.5% of his passes. In Eli Manning's rookie year he completed 48.2% of his passes in nine starts. Eli's big brother Peyton threw 28 interceptions as a rookie. Yet, both have won ings.
You think his throwing motion is broken beyond repair? Tell that to Rivers, who, if not for the colossal ineptitude of Norv Turner would probably have a Super Bowl Ring right now. Bernie Kosar made an entire career of throwing side armed. So did Ken Stabler. 
All of these things that experts claim are wrong with Tebow are fixable and/or irrelevant. Tim Tebow has played two years in the NFL, started in less than half of his games, has had two head coaches, two offensive coordinators, no pro bowl receivers or running backs, and only one offseason. And you're writing him off already? 
Accuracy takes time. It's as much chemistry and repetition as it is skill. Why then, are experts so quick to write him off when he didn't have an offseason last year and had almost no time to mesh with his below average receivers? If Tebow finds himself in a situation with a stable coaching staff and solid receivers that he can develop chemistry with, I have no doubt his completion percentage will improve by leaps and bounds.
At the end of the day, the point of playing quarterback in the NFL isn't to score 40 points. It's not to throw for 500 yards or six touchdowns. It's to win. Tim Tebow may never be able to do the things that Peyton Manning or Aaron Rodgers do, but he will win. If he's not winning, he'll work harder than any player in the league to make sure that eventually he does. 
I hope you're listening in Miami, Cleveland, Jacksonville and any other quarterback needy city. If you want a guy who will throw darts and does nothing else, by all means spend a high first round pick on Ryan Tannehill. If you want a guy who will do everything in his power to make sure that your team wins games, then trade for Tebow. I'd bet the farm on one of those two guys making it in the NFL, and it's not Tannehill.