Ron Brace, Jermaine Cunningham on the Edge of the Patriots Roster
March 21, 2012

Jonathan Daniel/Getty Images
They're sweating it out. Draft-eligible players are working out for teams across the country. Sometimes they pay the franchise an in-person visit. It could be genuine interest or a smoke screen.
New England is no exception. They are putting prospects through the paces. How fast can he run? Can he change direction quickly? What is his functional strength? He's everything we could hope for physically, but is he smart?
While the prospects make their case to be Patriots, linebacker Jermaine Cunningham and defensive tackle Ron Brace have to prove worthy of remaining with the team. Selected in the second round of consecutive drafts, they're facing possibly their last chance to remain in New England.
The signs are obvious. Reports came out that the Patriots were very interested in signing Red Bryant before the massive run-stuffing defensive tackle re-signed with Seattle. New England rebounded quickly and signed Cincinnati's Jonathan Fanene and Chicago's Marcus Harrison.
Cunningham was behind DE Andre Carter and Mark Anderson last year as the bookends that had 10 sacks apiece. Now with former Raider DE/OLB Trevor Scott in the fold, Cunningham could be further back.
Injuries have hurt the progress of Brace and Cunningham. Brace started 2011 on the physically unable to perform list and didn't get on the field until Week 9. Cunningham's career got off to a slow start, as he struggled with injuries of his own. This year he finished the season on injured reserve.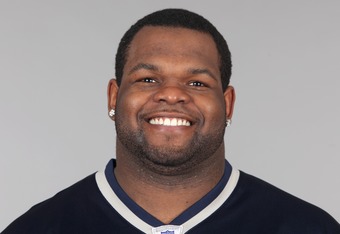 Handout/Getty Images
Their inability to stay on the field is disappointing because they've shown signs of potential. The trio of Brace, Vince Wilfork and Brandon Deaderick were a good run-defending unit in 2010. This past December, Brace added a critical forced fumble against Denver in Week 15 action. The turnover led to a field goal and a lead the Patriots never surrendered.
Cunningham is credited with a quarterback pressure on then-Indianapolis QB Peyton Manning in the 2010 edition of the rivalry. That pressure led to the James Sanders interception that sealed the win for New England.
But that's not enough in their short careers. Besides being out-played by Carter and Anderson, Cunningham fell behind Rob Ninkovich. Brace, meanwhile, fell behind Deaderick, Myron Pryor, Kyle Love and Gerard Warren. Including the playoff run, Brace was deactivated in four of the last five games.
The comparison with their peers make Brace and Cunningham look even worse. Brace was one of four second-rounders out of the 2009 draft along with S Patrick Chung, CB Darius Butler and OT Sebastian Vollmer. Chung and Vollmer have become starters quickly in their careers.
Cunningham was a 2010 second-rounder with TE Rob Gronkowski and ILB Brandon Spikes. Spikes is building a reputation as a hard-hitting, instinctive playmaker, while Gronkowski was the best tight end in the NFL in 2011.
Unless they're traded, Cunningham and Brace will stay on the roster heading into training camp. But they won't be comfortable. Through free agency and the draft, New England will bring in players that will threaten their places on the depth chart.
Questions? Comments? Send to talktome@randolphc.com.