New Orleans Saints Free Agency: Why Ben Grubbs to Saints Is an Overrated Signing
March 21, 2012

Larry French/Getty Images
Ben Grubbs is a darn good football player; he's clearly one of the best offensive guards in football. At 6'3" and 310 pounds, Grubbs is a remarkably similar player to the one the Saints just lost to the Tampa Bay Buccaneers—Carl Nicks. He will step in and play left guard, and it's quite possible the New Orleans Saints will feel no ill effects.
But no such guarantee can be made. The former Auburn Tiger played on a Baltimore Raven offensive line which was largely overrated. In 2010, the unit was 25th in adjusted sack rate, giving up 40 sacks on the season. Ben Grubbs played and started all 16 games at right guard that season.
In the same season, they were the ninth-best offensive line in adjusted running game statistics. But they were 24th in power running situations, which is primarily a function of an under-performing offensive line. Yes, the Ravens were a better rushing team when they ran to the right side—but those were mostly on outside runs.
In 2011, the unit improved as a whole, despite its best guard, Ben Grubbs, missing six games. The group became the sixth best rushing team using the adjusted statistics. And Grubbs—when in the lineup—moved to left guard.
The offense became exceptional when running outside to the left, and since the Ravens mostly ran man-blocking schemes, it's fair to assume Grubbs was pulling and/or kicking out on many of those outside running plays.
But, disturbingly, in both seasons, the inside running game was mostly pathetic. The guards always play a key role in that area of an offense, regardless of which side the team runs a particular play towards.
Of course one of the great and disturbing parts of football is that an offensive lineman cannot be fairly judged based simply on statistics. Even in today's modern world, statistics only go so far. One cannot deny the Ravens were one of the most physical units in all of football last year, two years ago, and going back to Grubbs' rookie season in 2007.
And that physicality is a trait the New Orleans Saints are always in need of, given their predominantly finesse-based personnel and scheme. But that is why the fit is a bit questionable.
With Grubbs playing in just 10 games in 2011, the Ravens' adjusted sack rate improved by seven total sacks, ranking them at No. 12. They jumped 13 spots in the rankings when one of their best players missed three-eighths of the season.
And that player is replacing a player primarily responsible for making New Orleans the third-best team in adjusted sack rate in 2011. It makes me think Grubbs is a mauler (a positive trait), but not a technician (which Nicks was). How he fits in the New Orleans' pass-heavy, finesse offense is open for debate.
In fact, it simply doesn't make sense. If the New Orleans Saints had elected to keep Robert Meachem instead of Marques Colston, it would have been obvious they were becoming a more run-dependent offense. In that case, signing Grubbs instead of keeping Nicks makes sense.
Instead, the Saints appear to be contradicting themselves bringing in Grubbs, the best pass protector at the guard spot in the entire league (and a more run-friendly guard than Nicks), while keeping Colston, who was brought back to maintain a high-level passing game.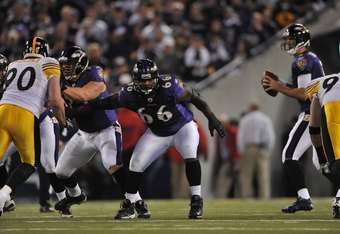 Larry French/Getty Images
The deal, $36 million over five years ($16 million guaranteed), would not have kept Nicks, but was quite rich for a player with one year's experience at a spot he'll be playing in New Orleans as a questionable fit. Maybe it's simply because I prefer building through the draft, or believed in Matt Tenant.
I do not approve of the Saints' allocation of funds towards Grubbs when Tennant could have been coached up and replaced Nicks just as well as Grubbs. Not to mention the continuity and chemistry Tennant already shares with the remainder of the Saints offensive line.
That money could have been better used on Drew Brees, or an elite ball-hawking defender. Instead it was used on a slightly better-than-average left guard who really doesn't fit the Saints roster.
That said, I totally hope I am wrong. I hope Ben Grubbs is a great fit at left guard for the Saints. 
All offensive line statistics courtesy of FootballOutsiders.com.