Men's Tennis: John Isner Is Every Tennis Player's Nightmare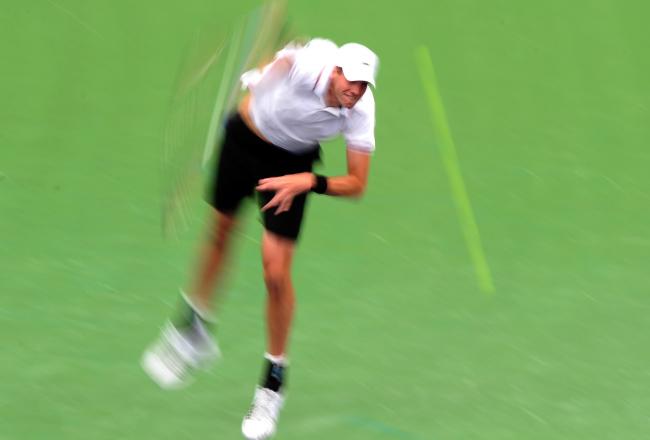 Harry How/Getty Images
Logic would say that, as a professional tennis player, you would want to avoid facing the big names of the game—such as Novak Djokovic, Rafael Nadal, Roger Federer and Andy Murray—on early rounds of a tournament, in order to have a shot at advancing in the draw.
There is, however, a type of player that makes opponents run away as fast as if the devil was chasing them. They are usually extremely tall, serve big, hit the ball hard and like to finish points in two or three shots maximum.
They are players like Ivo Karlovic, Kevin Anderson, the retired Goran Ivanisevic and Slobodan Zivojinovic, and of course the current sensation John Isner.
The 6'9", 245-pound American player has been causing a fuss in this 2012 season, having beaten Roger Federer in Switzerand, on a first-round Davis Cup tie won by the US. He also beat Novak Djokovic in the semifinal of Indian Wells, cracking the top 10 for the first time in his career.
Isner's weapons are so powerful and so big that he can break any game plan established by opponents, simply by not allowing them to touch the ball.
As we saw in Indian Wells last week, the best returner in the world, Novak Djokovic, was not able to handle John's 145 mph serve and succumbed at the end of the semifinal match.
It is not rare to hear a player say, after a loss, that he played well and, although outperformed by his opponent, he feels he did his best and doesn't feel totally disappointed.
Well, you will never hear that from someone who just lost to John Isner. The feeling is that you got hit by a train and still can't figure out where you are.
Do you think John Isner will ever win a major event?
The former Bulldog gives no rhythm to his opponents. If they are able to return his serve, point will be over one or two shots later. Players never get the feel for the ball, for their own strokes or for the match at all.
The number of real opportunities a player gets against John Isner, like a break point for instance, could be just a big as the number of times he touches the ball. It is definitely one of the most frustrating experiences a tennis player can have.
And even if you do beat the big man, you better get your butt out on the practice courts before the next round and fine tune your strokes again, because he will destroy them.
John Isner is emerging as a major contender in men's tennis and as long as his confidence continues to grow, he can do even more damage.
It will take a bit more work for him to become a major champion, but no work is required for him to be what he already is: every tennis player's nightmare.
This article is
What is the duplicate article?
Why is this article offensive?
Where is this article plagiarized from?
Why is this article poorly edited?