Tim Tebow: Setting the New Standard in Denver Broncos Logic and Fairness
Jeff Gross/Getty Images
As Peyton Manning segues into the twilight of his magnificent career, two things are apparent. Life is not fair, and the Denver Broncos have a very short memory. Granted, the former was already common knowledge, but the Broncos have just set a new standard in the Unfairness Department.
I'm not here to chastise Manning for taking his talents to South Park. At least half of the teams in the NFL would have been better off with Manning at quarterback, even with him on the shelf for a year and counting.
He had his reasons for opting to sign with Denver, and who am I to question them. However, since the Broncos first showed an interest in the future Hall of Famer, the question I had—and still have—is why Manning was even an option for them in the first place.

It's natural to upgrade. People eventually buy bigger houses and better cars to keep up with the Joneses. In sports, it's crucial to upgrade to keep up with the competition.
I'm not about to argue that Tim Tebow is a better quarterback than Manning right now. What I might suggest, however, is that Tebow could be a better option in three years.
As much as I love Manning, I can't help but wonder if the Broncos traded in their 2012 Fiat 500 for a 1965 Corvette Sting Ray. Sure, the Sting Ray looks infinitely better on the highway, but which one will be the more dependable vehicle three years down the road? I recently drove a 2012 Fiat 500 as a rental. It far exceeded my expectations, not unlike the 2011 Broncos.
Tebow is not the ideal quarterback. That's the understatement of the year. How many great NFL signal-callers are ideal? Joe Namath had the knees of a 60-year-old. Joe Montana only possessed average arm strength. Steve Young was the original left-handed "glorified running back." All three are Hall of Famers. Tom Brady was a sixth-round pick who once sat behind Michael Bishop as a fourth-stringer—hardly an ideal situation.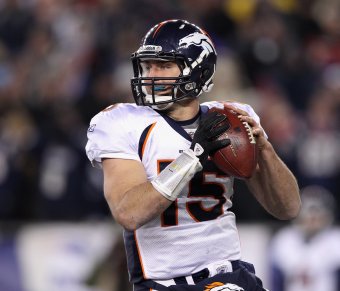 Elsa/Getty Images
For every great, unconventional player, there's a Ryan Leaf or a Todd Marinovich with picture-perfect form, the desire of a door knob, the leadership skills of a lint brush and the mental capacity of a mop.
Last year, Tebow proved he had everything it takes to be a winner except a conventional throwing arm. It's not as if Tebow isn't going to put in the long hours and hard work to develop a capable arm.
Sure, Manning is the rare player with all of the aforementioned qualities. At least, he was before the multiple neck surgeries.
What if Manning is not the player that he once was? Do the Broncos eat Manning's five-year, $96 million contract and go after Drew Brees for 2013? How much money does Brees get? Where does it end?
Even if he still is the Manning of old, what kind of a message are the Broncos sending to everyone who tries their hardest, gives their very best, and defies the odds?
This isn't even a "What have you done for me lately?" kind of move because Manning did nothing last year and Tebow played in the AFC Divisional Playoffs.
Prior to the AFC Wild Card playoff game against the Pittsburgh Steelers, John Elway made it a point to encourage Tebow to "pull the trigger." He did exactly that when it mattered the most.
Now, Elway rewards Tebow's best efforts by casting him off. It's like begging Mick Jagger to take over for Keith Richards as lead guitarist for a show at Bonnaroo, and then bringing in Jimmy Page to play Bumbershoot when Jagger struggles yet leaves the stage to a standing ovation.
Elway comes across as a giant hypocrite to me. He's usually first in line to criticize Tebow. He clearly doesn't remember how terrible he was in his 1983 rookie season. He stunk up the field and that's putting it mildly. Elway's completion percentage was a dismal 47.5, which is comparable to Tebow's 46.5 last year. If anything, Elway should have felt empathy for his young leader. He probably didn't remember that he threw twice as many interceptions (14) as touchdowns (seven), whereas Tebow threw 12 touchdowns and six interceptions.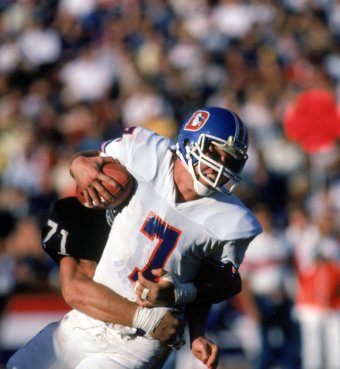 George Rose/Getty Images
The saddest part of all is that Tebow would have been out as the starter regardless. If he had tanked, they might have been in the hunt for Andrew Luck or Robert Griffin III, and Manning would not have been on their radar.
It shows that even if you give your best and succeed beyond anyone's realistic expectations, in the end, you still fail and we will replace you. That's the message the Denver Broncos are sending to the world.
Yes, Denver is a Super Bowl front-runner with Manning. Who's to say they wouldn't have been in the hunt with Tebow? Who's to say they will win it all with Manning? The NFL is a "win now" league.
It seems like all Tebow did last year was win. He won football games. He won over the media and the fans. He made the Broncos relevant again. To many, the move from Tebow to Manning makes all the sense in the world.
To me, it defies logic.
Whoever decides to employ Tebow next will get everything we saw in 2011, and a whole lot more. They will get a quarterback who is full of ability, strong in faith and hell bent on vindication. They will get a 2012 Fiat 500 they can be proud to drive for years to come.
This article is
What is the duplicate article?
Why is this article offensive?
Where is this article plagiarized from?
Why is this article poorly edited?

Denver Broncos: Like this team?