Los Angeles Dodgers: 5 Most Critical Issues Heading into the 2012 MLB Season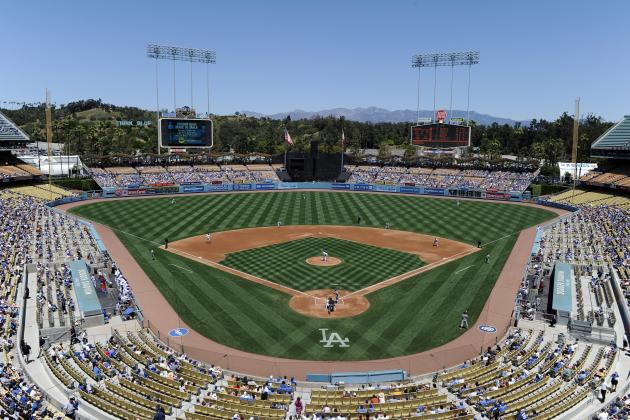 Harry How/Getty Images

The Los Angeles Dodgers are one of MLB's premier franchises and one of two located in the country's second largest market. As such, its viability should be important to Bud Selig. However, it is clearly not a healthy franchise at this point, and it can point to a number of factors.
Begin Slideshow

»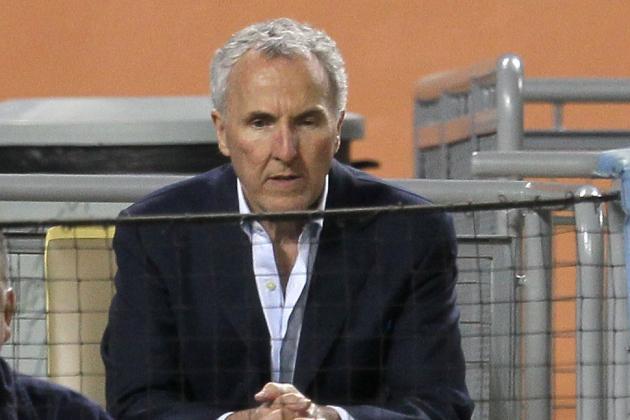 Stephen Dunn/Getty Images
McCourt
This has been well-documented and is the most obvious. Frank McCourt split the different aspects of the team—the team, the stadium, the parking lots, etc—into several companies, thus enabling him to hide what exactly he was doing with the team's money.
When the front office cannot spend the same amount of money that other big market teams' front offices can, the Dodgers are at a clear disadvantage. This issue appears to be almost over, but if McCourt can somehow hold on to the Dodger Stadium parking lots, Dodger fans will be unhappy regardless of who the new owner is.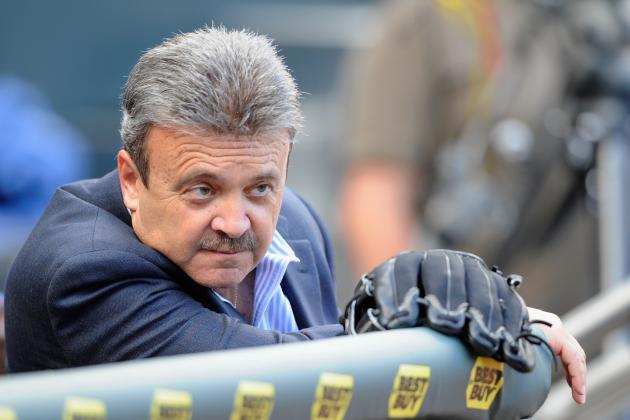 Hannah Foslien/Getty Images
Colletti
Ned Colletti has not gotten enough blame for the direction the team has gone. The Manny Ramirez trade really just fell into his lap, and his best deals after that have been re-signings or utility men (such as Jamey Carroll). He whiffed on several big-money acquisitions, namely Jason Schmidt and Andruw Jones.
More significantly, he gutted what was a promising farm system by trading high-ceiling prospects for aging veterans or low-upside minor leaguers—Trayvon Robinson for Tim Federowicz, Lucas May for Scott Podsednik, and Carlos Santana for Casey Blake. More recently, he has inked below-average major leaguers such as Juan Uribe, Mark Ellis and Aaron Harang to multi-year deals when young players on rookie contracts such as Ivan DeJesus would have been cheaper and have higher upside.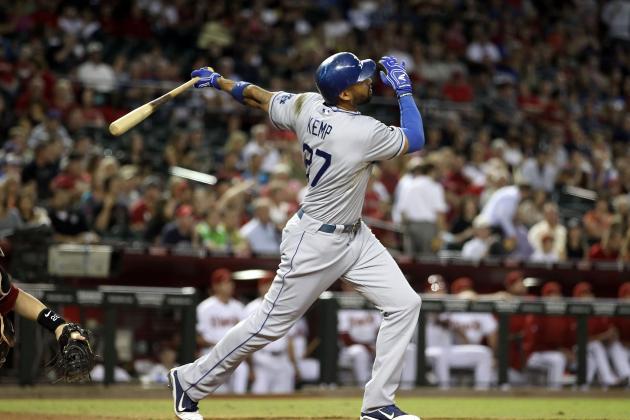 Christian Petersen/Getty Images
Kemp
The Dodgers do have several high-upside young pitchers in Zach Lee and Ethan Martin, but they lack any position players that are close to big-league ready. The graduation of Matt Kemp and Clayton Kershaw to stardom is a testament to the abilities of their scouting department, but a lack of resources has cost them the ability to go over slots in the draft and hamstrung their attempts to bring in high-upside Latin players.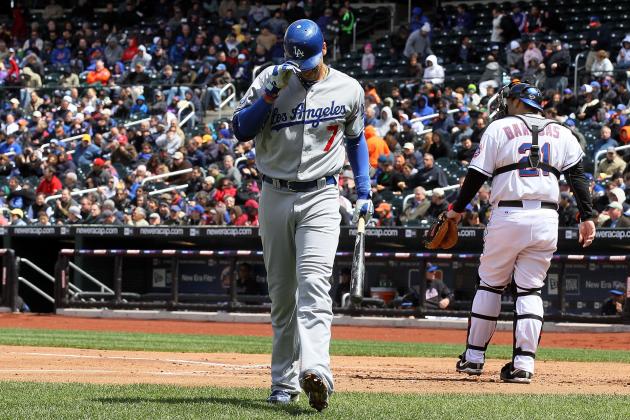 Jim McIsaac/Getty Images
Loney
Somehow, a team with the NL Cy Young Winner and MVP runner-up finished last season with only 82 wins. The major league team is completely bereft of above-average regulars after Kemp and Kershaw, with the only player close to that label being Andre Ethier.
In recent years, the farm system has stopped producing big league talent, and after James Loney, Jonathan Broxton and Russell Martin failed to reach their potential, the Dodgers have been forced to field a team of average to below-average players. With Colletti signing several aging veterans to two-year contracts instead of allowing young guys like Justin Sellers or Nate Eovaldi to win starting jobs, the future does not look bright either.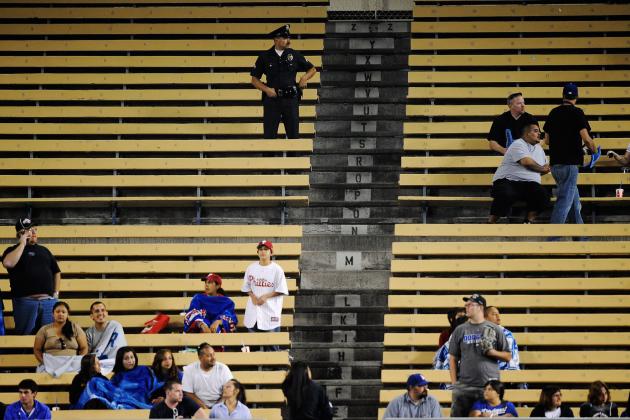 Kevork Djansezian/Getty Images
Dodger Stadium Bleachers
Dodger fans are so unhappy with Frank McCourt's ownership reign that they have stopped turning out to games. Between 2010 and 2011, attendance at Dodger games dropped by an average of 7,743 people per game, which was the largest in baseball by over 3,500. In a county of nearly ten million, this is unacceptable. Dodger fans will continue not supporting the team until the organization proves that it is going in a different direction than it is currently traveling. That begins with ownership, but it does not end there.