Minnesota Vikings Mock Draft: Rating DraftTek's Latest Mock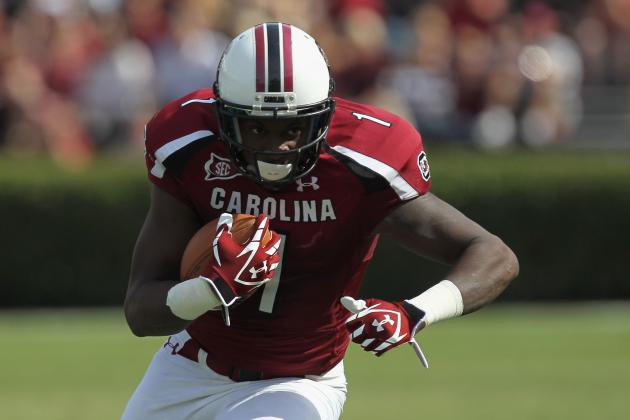 Streeter Lecka/Getty Images

We're narrowing in on the 2012 NFL Draft and it's now just over a month away. With another week, it's time for another mock draft and that means it's time for fans to either praise them or tear them apart.
This analysis will be on DraftTek.com's latest mock draft that was published on March 19th. The link for the mock can be found here.
Keep in mind that these mock drafts do not account for compensatory picks, so that means two of the Vikings' picks (probably both will be fourth-rounders) will not be included in their assessment.
I'm not going to give a letter grade on these picks, but I'll analyze the pick and suggest an alternate if I deem necessary.
Hope you enjoy.
Begin Slideshow

»
Jeff Golden/Getty Images

Player Name: Matt Kalil
School: University of Southern California
Position: Offensive Tackle
Height/Weight: 6'7", 295 lbs
I think this is just about the safest pick in the draft at this point. Andrew Luck and Robert Griffin III are pretty much locks to go No. 1 and No. 2 respectively, which means the Vikings will have their pick of the best non-QB prospect in the draft.
Speculation has surfaced that the Vikings may go with CB Morris Claiborne, but no matter how much they improve their defense, it will not matter if they can't keep Christian Ponder upright.
Drafting Kalil would help the Vikings fortify their offensive line and then focus on putting weapons around Ponder.
I could not be happier with this pick.
Joe Robbins/Getty Images

Player Name: Alfonzo Dennard
School: University of Nebraska
Position: Cornerback
Height/Weight: 5'10", 205 lbs
I love this selection, but my only reservation would be that Dennard might not be available by this time in the draft.
After selecting Matt Kalil in the first round, depending on who's available, the Vikings should either select a wide receiver or a defensive back. If Dennard is there, they definitely need to take him.
Now that the Vikings will have Chris Cook back, selecting Dennard to put across from him would allow Antoine Winfield and Asher Allen to split time in the slot and hopefully provide a big improvement to a secondary that couldn't catch a cold in 2011.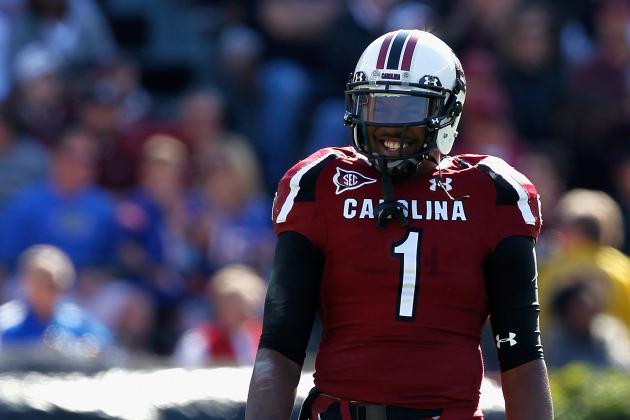 Streeter Lecka/Getty Images

Player Name: Alshon Jeffery
School: University of South Carolina
Position: Wide Receiver
Height/Weight: 6'3", 216 lbs
I would literally choke on my own spit out of excitement if this mocked pick became a reality. That being said, I highly doubt that this once Top-10 projection falls into the third round—no matter how bad his 40-time was.
By now, the Vikings should definitely consider drafting a wide receiver, especially if they do not select one in the second round. I highly doubt that Jeffery would still be available, but I definitely think they should go with a wideout at this point in the draft.
On the off chance that this pick becomes reality, it would be a tremendous steal for the Vikings and would give them some much needed height in their receiving corps. Pairing Jeffery with Percy Harvin would be a dream for Vikings fans.
Jonathan Daniel/Getty Images

Player Name: Jerel Worthy
School: Michigan State University
Position: Defensive Tackle
Height/Weight: 6'3", 310 lbs
Surprisingly, I'm not fond of this pick. Earlier in the offseason, I would have definitely advocated for selecting a defensive tackle to play opposite Kevin Williams. But after the Vikings re-signed Letroy Guion and Fred Evans, I see Remi Ayodele being replaced by one of those two.
With Christian Ballard and the versatile Everson Griffen to fill in on the defensive line, I just don't see the Vikings selecting a defensive tackle this early in the draft.
On the other hand, I would like to see them take a linebacker because they have not made any progress signing anyone to replace the Henderson brothers, leaving a major hole over the middle of the field.
OLB Sean Spence is still available is DraftTek's mock at this point and I think the Vikings could still find a starter-quality player in a guy like him at this point.
Drafting for depth in the fourth round might be the right move for a team that is still a competitor, but the Vikings don't have that luxury and still need to find starter-caliber players in the middle rounds of the draft.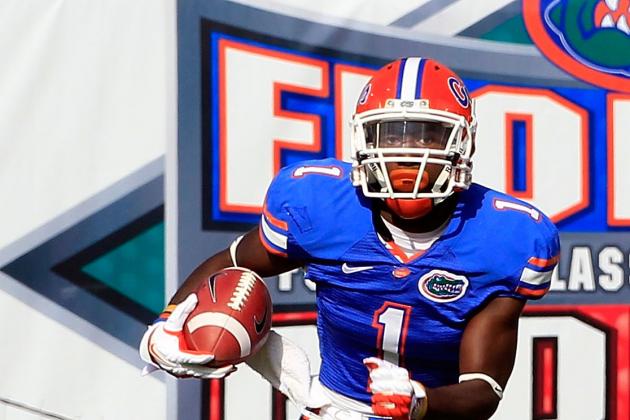 Sam Greenwood/Getty Images

Player Name: Chris Rainey
School: University of Florida
Position: Running Back
Height/Weight: 5'9", 174 lbs
I like the idea of adding a third-down back at some point in the draft, but I am really not fond of this pick.
I think the Vikings may use one of their compensatory picks on a running back, someone with the talent level to get the bulk of the carries in case Adrian Peterson is not ready to go Week 1, and if Toby Gerhart is not at 100 percent yet.
That being said, I just don't see Rainey being the guy they need.
On the other hand, WR Tommy Streeter from Miami is still available in DraftTek's mock and it might be a good idea to add another tall, speedy wideout to stretch the field and become another weapon for Christian Ponder.
I don't care for Streeter as a third-round prospect, but I would love him if he fell to the fifth round.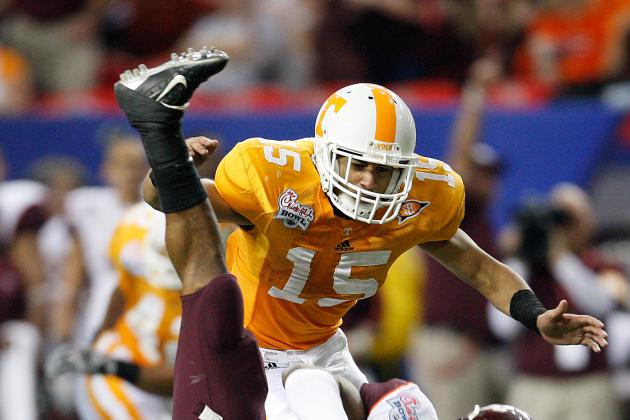 Mike Zarrilli/Getty Images

Player Name: Janzen Jackson
School: McNeese State University, Formerly of the University of Tennessee
Position: Free Safety
Height/Weight: 6'1", 190 lbs
I like the idea of taking another defensive back at this point in the draft, and Janzen Jackson could be a steal. However, with the Vikings trying to re-sign Husain Abdullah and develop 2011 pick Mistral Raymond, I could certainly see them selecting another corner or a strong safety instead.
I think now that the Vikings have found a starter in Dennard (as suggested by the mock), they would want to add some depth because, as we saw in 2011, you can never have too much depth in your secondary. After Cook and Winfield, the Vikings only have Asher Allen and Marcus Sherels as depth, and I would not be okay with that if I were them.
DraftTek still has CB Charles Brown from North Carolina available. I don't necessarily think he's a better prospect than Jackson, but he could be a better fit for the Vikings at this point in the draft.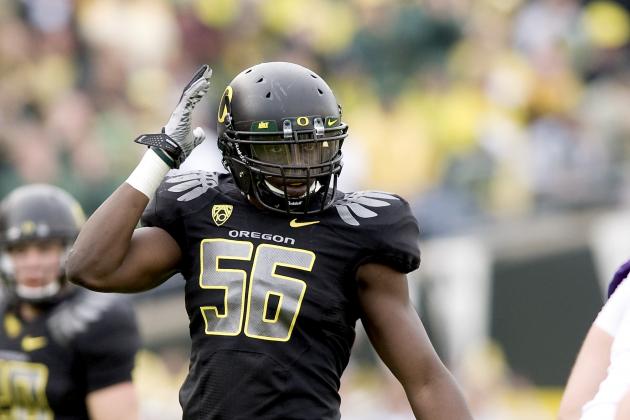 Steve Dykes/Getty Images

Player Name: Josh Kaddu
School: University of Oregon
Position: Outside Linebacker
Height/Weight: 6'3", 230 lbs
I definitely like the idea of adding another linebacker for depth, but DraftTek has Brian Quick going one spot earlier to the Rams.
I'm not saying trade up in the seventh round by any means, but I've been obsessed with selecting Brian Quick since the Senior Bowl. If Quick slides that far into the seventh round, I would absolutely love to see the Vikings take him.
Otherwise, adding a linebacker is a great option here. The Vikings are staring at a massive hole in their depth chart, and that needs to be addressed in multiple phases of the draft.
Kaddu could be a solid pick right here.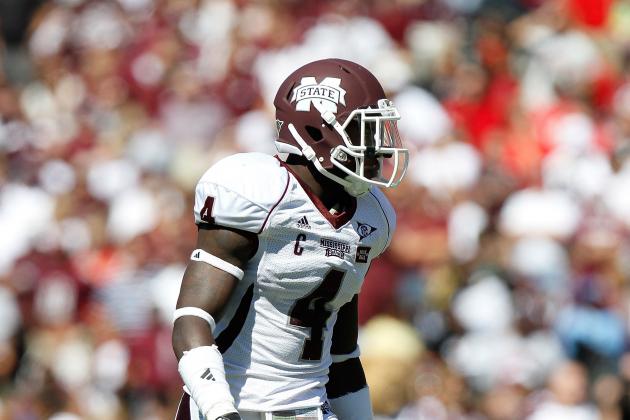 Kevin C. Cox/Getty Images

Player Name: Charles Mitchell
School: Mississippi State University
Position: Strong Safety
Height/Weight: 5'11", 205 lbs
I have no problem with this pick at all. I think SS is an area of need for the Vikings and I'd like to see it addressed at some point in the draft. Mitchell is a bit undersized for my liking, but I see no reason why he couldn't be a serviceable backup or at the very least a contributor on special teams.
I think its worth mentioning that the Vikings might also consider adding another QB (in the late rounds of course) or offensive line depth as well.
Either way, I like this pick.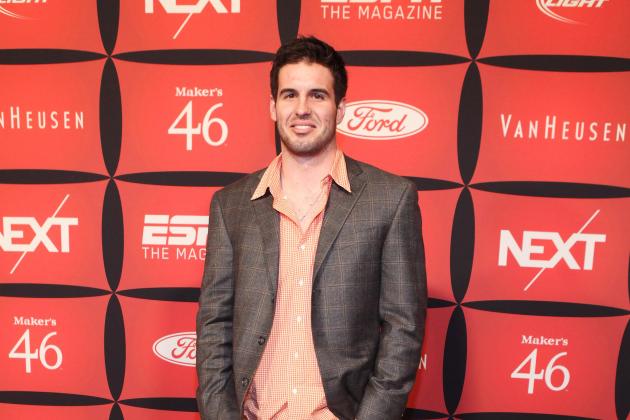 Robin Marchant/Getty Images

Overall, I would love it if the Vikings' draft actually ended up like this, but ultimately I feel like DraftTek's latest mock is a bit unrealistic in the early rounds.
If the Vikings could actually get the first three rounds to go that way, they could honestly get back to relevancy faster than people expect. But again, that seems like a bit of a stretch to me.
The 2012 season is going to be about making Christian Ponder successful. That means that Matt Kalil will be the No. 3 overall pick. After that, I see WRs and DBs being selected early and often to not only ensure that Ponder has weapons, but to attempt to take away Rodgers', Cutler's and Stafford's weapons as well.
Let me know what you guys think.
Thanks for reading.
Follow me on Twitter @McAndrewsSports