NBA Finals 2012: Why King James Will Finally Gets His Crown
June 12, 2012

Mike Ehrmann/Getty Images
LeBron James isn't the king he was once proclaimed to be. He has no crown—no kingdom to speak of—and in the state of Ohio, where he was once a boy playing pick-up games beneath flickering lights, they curse his name and demure his legacy.
The venom Dan Gilbert used to poison his public image lingers in the city of Cleveland and in the blood of its citizens. Forbes has listed James as one of the top-10 most hated athletes in the nation, alongside Kobe Bryant, an alleged rapist, Plaxico Burress, a gun-wielding lunatic, and Tiger Woods, a philandering lecher.
Michael Vick, the dog butcher, is nipping at his heels.
James is now the Judas of Akron, the Brutus of the Bible Belt, and the Whore of the Heartland, but for what atrocity does he pay this price? What sin does he suffer year after year while he continues to shatter records and obsessively push himself as an athlete and a man?
In a word: Failure.
It is his demon, the voice in the back of his mind, calling over and over like Poe's raven, "Nevermore! Nevermore!" with every dribble and every drive. He dreams of last year's final and sees Dirk Nowitzki with glowing red eyes, smiling a devilish smile as he hits it from the post over and over again. And every time it drops, James feels it slipping away one more time.
He talked about it openly on Monday:
"I didn't play well. I didn't make enough game-changing plays that I know I'm capable of making. I feel like I let my teammates down."
And the truth is, he did.
The Heat's appearance in last year's finals was the culmination of a plan that Chris Bosh, Dwyane Wade and James dreamed up sometime in 2005. It wasn't coaches and it wasn't management. They entered the league together in 2003 and there's something about that process, going through the draft together, experiencing the same fear of the unknown, wondering whether or not you will be able to live up to the expectations that a million strangers have carelessly placed on you, that brought them together.
In 2006 James signed a contract extension that allowed him, while leaving some money on the table, to become an unrestricted free agent prior to the 2010 season. Bosh and Wade made similar moves. What we now know as "The Decision" was a complete sham.
It should've been called "The Conspiracy."
James hammed it up for the cameras and gave the media the sort of drama that they crave ceaselessly because he had to and it was good television. It's also hard, when you stop and consider the amount of money that was raised for charity, to hold the charade against him. But a charade it was, and the certainty the Heat's Big Three must have felt the day they made their secret pact evaporated at the end of last season.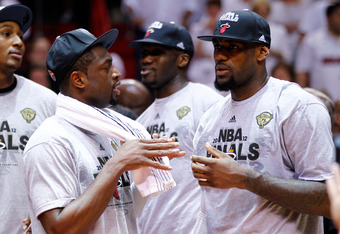 Mike Ehrmann/Getty Images
When James left the Cavaliers, he suffered an onslaught of criticism the likes of which no professional athlete has ever experienced. Grown men debased themselves on a grand scale, pining like 16-year-old girls who got dumped by the captain of the varsity basketball squad, yet hoped beyond hopes that he would come back.
It was a city seized with jealousy.
It was a riot of love.
But when you get down to the grit of it all, you realize that Cavs fans aren't angry about James' decision because they felt betrayed. They're angry because he doesn't have a ring.
What Kevin Garnett's move to the Celtics proved, beyond a shadow of a doubt, is that in the NBA the end ultimately justifies the mean. Apparently, the only thing people hate more than rapists and lechers and lunatics is unfulfilled potential. James did the only thing a person can do after a bad breakup. He moved on. And when he finally grasps that ring, like Garnett before him, all his failures will be forgiven.
Cue the Thunder.  
I certainly do not envy James for the task that lays ahead of him. The Oklahoma City Thunder, after dismantling the San Antonio Spurs and winning four straight, look downright Olympian. They are like some mythological, multi-headed beast, snarling and snapping and devouring every bit of flesh and meat that is thrown their way. It isn't their heart or their resolve that has carried them this far, it's their lust for blood. They don't want to win, they want to decimate. I'm reminded of Prometheus, the half-man, half-Titan that stole fire from the Gods and gave it to mankind.
James, in order to steal the fire from basketball's new Olympians, will have to be nothing short of a Titan.
And it all starts tonight.
After dispatching the Boston Celtics in Game 6 with one of the most brilliant performances in the history of the NBA, James is once again poised to fulfill his potential.
But something happened in that game against the Celtics that cannot be ignored. James' demeanor was drastically altered. With his back against the wall, yet again, that boyish grin that we've all come to expect from him vanished. Instead, we saw the face of a warrior, cut of stone. Unbreakable.
At the end of this series there will be but one name on our tongues.
The King will get his crown.
Heat in seven.