Los Angeles Kings: The Non-Original Six Team with a Perfect Jersey Bloodline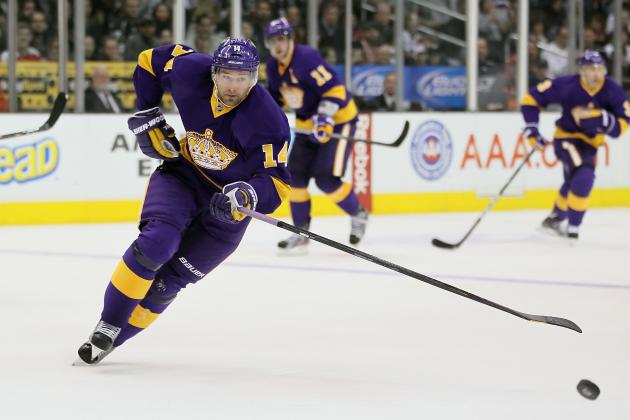 Jeff Gross/Getty Images

There is a reason that Original Six teams have rarely ever made any changes to their jerseys: they are perfect. There is not one hockey fan that does not like red sweaters of Detroit, Chicago, and Montreal; the blue sweaters of Toronto and New York; or the black and gold of the Boston Bruins.
However, there is another team in the NHL that has been around for over forty years with jerseys so unique and original yet still good-looking, that they also deserve to be mentioned.
The Los Angeles Kings have made several significant changes to their jerseys in their forty-four years in hockey, but every single one seems to be near perfect.
Let's take a look at the Kings' magnificent jersey timeline.
Begin Slideshow

»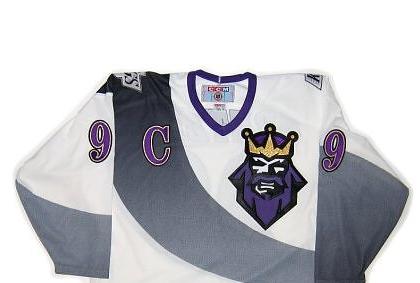 Photo courtesy of: Third String Goalie Blog
This "Burger King" jersey is the exception—nobody liked it, and it was retired after just one season...thank goodness.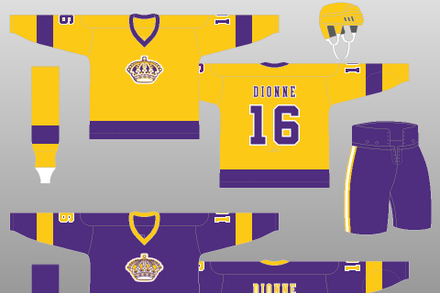 Photo courtesy of: nhluniforms.com
Who couldn't love this combination of purple and gold?—especially when the gold jersey is used instead of a white jersey.
The uniqueness yet simplicity of this jersey make it a classic, and it was great to see the purple one resurrected as a throwback in 2010.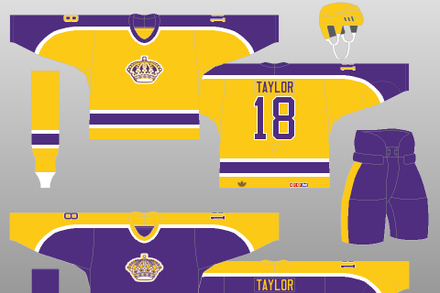 Photo courtesy of: nhluniforms.com
This is probably my least favorite set of Kings jerseys.
I'm not a huge fan of the design, but nevertheless, the colors are great and unique, and they still have that vintage touch to them.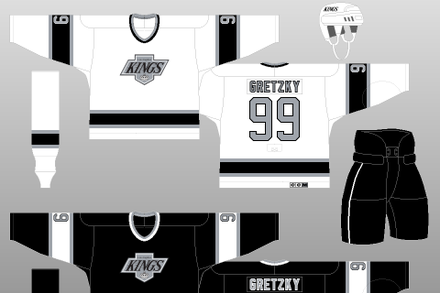 Photo courtesy of: nhluniforms.com
The Kings dramatically switched their colors the year that Wayne Gretzky arrived, but these jerseys are classics.
Leave it to the Kings to make an almost colorless jersey one of the best in the league.
(As a side note, the format of the numbers and letters changed several times between 1988 to 1998, but the rest of the jersey remained the same.)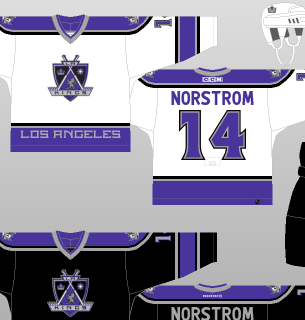 Photo courtesy of: nhluniforms.com
In 1998, the Kings added purple back into their color palette, albeit a different shade.
These jerseys are terrific. Black and purple is a great combination of colors on a hockey jersey, and the shield logo is very creative.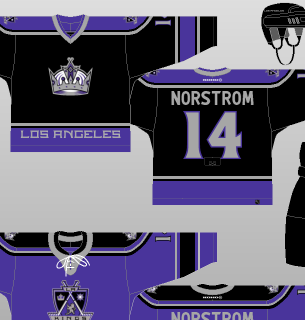 Photo courtesy of: nhluniforms.com
These are the same jerseys with flip-flopped logos. I'm not really sure which logos I like better on which jerseys, but both look great nevertheless.
(As another side note, I actually own one of these purple third jerseys.)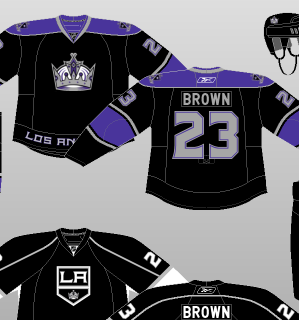 Photo courtesy of: nhluniforms.com
The switch to Reebok Edge caused the Kings to make small changes to their jerseys, most notably getting rid of the purple hemline. Otherwise, they remained the same.
A black and silver third jersey, reminiscent of the Gretzky era, was introduced for the 2008-09 season and was worn at home in the 2010 and 2011 playoffs.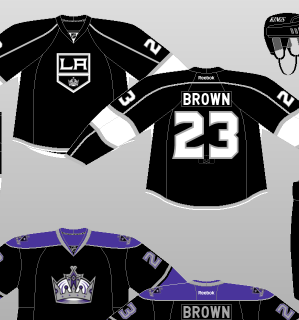 Photo courtesy of: nhluniforms.com
Before this season, the Kings upgraded their black third jerseys to home jerseys and created a white version for the away jersey. The black and purple jersey became the new alternate.
Also, the purple jersey from 1967-1980 was introduced as a throwback, worn three times a year for the 2010-11 and 2011-12 seasons.
I am a huge fan of all four jerseys currently on the Kings' template, and think they have easily one of the top sets in hockey.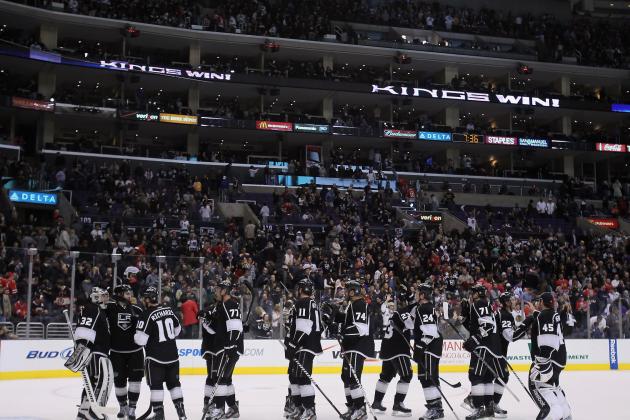 Jeff Gross/Getty Images

Special thanks to NHLuniforms.com for pictures of the jerseys. It is a very well-done site where you can spend hours looking at every jersey of any NHL team in history.
The site icethetics.info is a very interesting blog also done by the same person, and it is chock full of NHL jersey information, concepts and rumors.
Also, thanks to Third String Goalie for the picture of the infamous "Burger King" jersey.