Juventus vs. AC Milan: Juventus Claim Win in Extra Time in TIM Cup Semifinals
March 20, 2012

Claudio Villa/Getty Images
The last time that Juventus and A.C. Milan met, both sides walked away frustrated from a 1-1 draw. There was violent play from both sides. Arturo Vidal earned a red card, and Phillipe Mexes was later suspended three matches for punching Marco Borriello in the ribs. Several of the most blatant fouls were not even called.
Of course, there were also goals disallowed for both sides. Neither call was correct, both goals should have stood. Regardless, the official scoreline was 1-1, and neither side was happy. And that match was only a league one. The controversial scoreline wouldn't affect today's match, but all the aggression and anger from both sides was still there.
Each team have had slightly different journeys since then, but on the whole Milan have been more successful. They advanced to the next round of the Champions League, and have earned consecutive victories over Serie A opponents. Juventus struggled for a short while, drawing several mediocre teams.
Then, on Sunday, Juventus thrashed Fiorentina 5-0. They had revitalized their season, and several players whose form had been on mid-term declines scored. Perhaps most importantly, Mirko Vucinic continued his recent good form, building on it to score the first goal and have an all-around great match.
Mirko's good form continued in Tuesday's match, but it still took 120 minutes to decide the aggregate winner in the Coppa Italia semifinal.
Unlike on Sunday, it was not Mirko who scored the first goal. Rather, club captain and legend Alessandro Del Piero, who started today, scored the first goal. Stephan Lichsteiner and Andrea Pirlo both deserve credit for their passing to help create the goal.
Claudio Villa/Getty Images
Pirlo played a long ball to Lichtsteiner, who passed sideways to Del Piero. Del Piero got around the goalkeeper and slid the ball into the net. Just like that, Juventus had a 1-0 lead for the day and a 3-1 aggregate lead. Remember, Juventus scored two away goals in the first leg, so they had a nice pad there.
As Juventus fans would suspect, Del Piero remained a force for the rest of his time on the field. His constant dribbling and fine touch allowed him to get past multiple defenders at times, and provided a nice outlet for Juve's attacking movements. It was exactly the sort of play that Juventus lacked in their previous draws to provincial sides.
Perhaps Ale's performance today will encourage manager Antonio Conte to play him more often.
Juventus threatened several other times during the first half, and some of that credit should go to Emanuele Giaccherini. He started the game in central midfield, playing in Marchisio's spot.
He managed to repeatedly find himself with decent amounts of space. Pirlo was the architect of most of these movements, as his passing created basically all of Juve's forward play.
Still, Giaccherini himself performed very well today. His most impressive feat came late in the match, when he was cornered by two Milan players. He managed to dribble out of trouble and relayed a pass off to a teammate.
Once, Del Piero got fouled at the halfway line, and Giaccherini took possession from there. He ran the ball all the way into Milan's final third before crossing it into the box. A Milan defender weakly headed the ball away, and then Mexes weakly cleared it, allowing Vucinic to get possession. Vucinic attempted a chip shot, but Milan keeper Marco Amelia saved it.
Vucinic then got himself involved into some drama. Ex-Juve loan man Alberto Aquilani fouled him—after Mirko had beaten Aquilani for a ball—and Vucinic hit his head on the protective wall as he fell down. Mirko stayed down for a few moments, but was then okay. The referee called a drop ball, and Mirko was furious.
He began to argue with the referee, and Del Piero had to pull him away to settle it.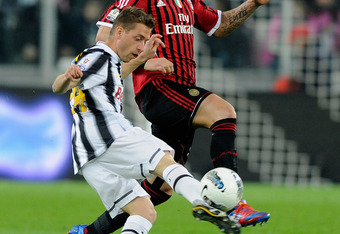 Claudio Villa/Getty Images
Moments later, Mirko was booked for continuing to argue with the referee. These little tiffs were probably the only issues in Vucinic's game during the first half. In the second half, his influence waned, although now we know that he was just saving it for extra time.
Milan didn't wait to change the game once the second half started. Zlatan Ibrahimovic, battling a sickness, came off for hair model and football player Maxi Lopez. As they have in the past, my hair jokes would come back to bite me.
First, a small man came to bite me. Well, I should rephrase that. A small man scored a goal for Milan. Djamel Mesbah, the same guy who played so terribly against Arsenal, broke past his marker Simone Pepe and headed in a slick cross from Mexes. Just like that, Milan had come back into the game.
Juventus tried to react with some changes of their own. First, they took off Simone Pepe for Claudio Marchisio, Marchisio would play in his usual central midfield, while Giaccherini would actually move out wide and play Pepe's role on the right flank.
Marchisio proved to be up to today's challenge, and created a dangerous forward movement with his first touch. It was a pass to Del Piero, who took the ball all the way down to Milan's 18-yard box, before having his cross blocked for a corner kick.
Juventus would continue to make substitutions. The next man to come off was Del Piero, who received a huge ovation from the fans for his efforts. However, the man who would replace him was none other than Marco Borriello, arguably the worst player on Juve's roster.
Sadly, something even worse than a Borriello substitution was about to happen. Milan scored, again. This time Maxi Lopez managed to dodge a tackle in the box before righting his footing and slamming the ball past Storari for Milan's second goal.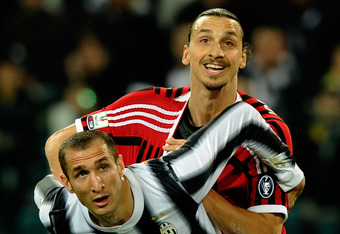 Claudio Villa/Getty Images
Just like that, Milan had gone level in the aggregate.
Juventus had a few chances to get a second goal before the first 90 minutes ended, but the best chance was killed by Borriello.
He even had a breakaway that he couldn't score on. His teammates, and especially Giaccherini with the last touch, worked hard to expose an opening in Milan's defense. Borriello was free on the counter attack, with some space and only the keeper to beat.
So what does he do? He picks a terrible angle, runs too far to the goal and takes an awful shot. Amelia knocked it out for a corner kick.
A few more failed attempts at goals by Juve, and the game was going into extra time. There was one more substitution as well, with Martin Caceres coming on for the injured Stephan Lichtsteiner. Caceres actually played really well. Several times, he used his freshness to take advantage of Milan's forwards.
The teams readied themselves for extra time, as reserve goalkeeper Alexander Manninger gave Leo Bonucci some last minute tips. Then, the first 15 minutes started.
Juventus came out the better of the two teams, and immediately started pressuring Milan. Vucinic had a fierce long range effort, but Amelia batted it away. Marchisio got the rebound, but then he blasted it far over goal.
A little while later, Milan looked like they had caught Juve on a dangerous counter. There were four Milan players on the break, with only three Juve defenders in their half. If Clarence Seedorf could get the first linking pass off, it looked like Milan might score.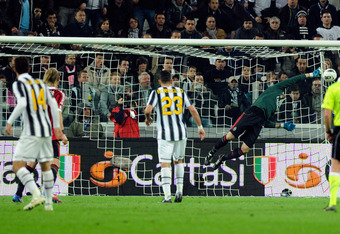 Claudio Villa/Getty Images
Then, like an eagle descending on its prey, the great Leo Bonucci rode in and dispossessed Seedorf. This led to a Juventus counter attack and a corner.
Moments later, Mirko Vucinic found himself with the ball and some space. Despite the relatively long range between himself and the goal, he fired off a shoot. It bounced off of Amelia's hands and went into the net. Juventus were level 2-2, and they had taken a 4-3 aggregate lead.
The match continued with both sides looking dangerous. At time went on, Milan became more and more frustrated. Mexes had a rough encounter with Caceres, and the Juventus fans began heckling Mexes. The heckling seemed to affect him, as he soon after blasted a routine free throw out of bounds by using way too much touch.
Giaccherini then displayed an impressive amount of strength and touch, as he was basically attacked by Mesbah. Mesbah knocked Giaccherini down with a rough challenge, but Giaccherini kept the ball in between his feet. Mesbah, exponentially more frustrated, began to kick Giaccherini's ankles.
Thankfully, the referee cautioned Mesbah, but it was still an incredible display from Giaccherini.
That was basically it, as it only became more apparent that Juventus would advance. Finally, the match ended, and Juventus had indeed advanced to the final.
It's an important night for Juventus. It's the first Coppa final for Juve since 2004, but more importantly, it's the first major domestic achievement for the club since Calciopoli. There have been third-place and second-place league finishes, but nothing as concrete as reaching a cup final.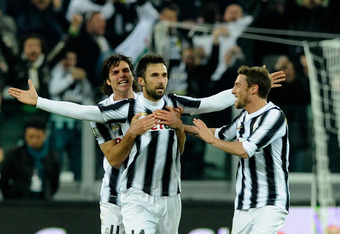 Claudio Villa/Getty Images
Now, Juventus face that other Milan side this weekend. The Derby d'Italia, which tends to get pretty intense, lies near in the future for Juventus. The players have only five days to recover from today's extra time epic and prepare for Sunday's derby.
Given Inter Milan's recent form, Juventus are favorites. But it is still the Derby d'Italia, and Inter Milan will provide a strong challenge for Conte and his squad.
In the meantime, Conte can be proud of this accomplishment. More importantly, he can work to go on and win the Coppa Italia. Juve will play either Siena or Napoli. Although most people would guess Napoli will advance.
Praise Conte, and Forza Juve!