Why Drew Stubbs, Jay Bruce Will Explode for Cincinnati Reds in 2012
March 21, 2012

Rich Pilling/Getty Images
After taking a backseat to the playoff-bound Milwaukee Brewers and St. Louis Cardinals in 2011, the Cincinnati Reds enter the 2012 season eying their second NL Central title in three years.  
In the wake of last season's disappointing performance, the Reds shook things up this offseason by trading Edison Volquez and three promising prospects, including Yonder Alonso, for San Diego Padres pitcher Matt Latos. With Johnny Cueto and now Latos, the Reds feature a potent rotation capable of giving manager Dusty Baker and company better pitching in 2012.
On the offensive side, the Reds didn't change much from last season's group that ranked second in the National League with 735 runs scored. Led by Joey Votto, who paced the Reds in average, home runs and RBI last season, the offense should once again be among the top units in the National League.
That being said, for the Reds offense to truly become one of the elite units in the majors they need to get increased production from the players surrounding Votto in the lineup. Luckily for the Reds, young outfielders Drew Stubbs and Jay Bruce could be primed for breakout seasons in 2012. 
It may be surprising to hear Bruce and breakout season mentioned together considering the accomplishments—first-time All-Star and Gold Glove recipient—that Bruce had this past season, but some believe that Bruce is only scratching the surface in terms of what he is capable of doing. 
Although Bruce put up career highs in RBI and HRs in 2011, he also saw his average dip 30 points compared to his 2010 season. Another disappointing statistic from Bruce's 2011 was the high strikeout total as he whiffed a career-high 158 times.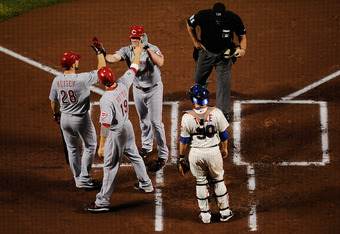 Patrick McDermott/Getty Images
While this increase in strikeouts is troubling, it is important to note that Bruce also recorded a career-best 78 walks in 2011. Being that Bruce will only be 25 years old at the start of this season, it is perfectly reasonable to believe that he is still working on mastering pitch recognition and the strike zone. 
Showing an improved plate eye and cutting down on strikeouts would be significant step forward in Bruce's development as a player. Improved plate discipline would not only boost Bruce's on-base percentage, but could also lead to him hitting the ball with more authority, which could lead to an increase in batting average and potentially HRs and RBI.
Another indication that Bruce is ready for a breakthrough 2012 campaign is the fact that he lost 15 pounds this offseason. Not to worry, Reds fans. Bruce has maintained that this lost weight won't affect his power either. This lost weight could help keep him fresh throughout the dog days of summer.
Patrolling the outfield next to Bruce is center fielder Stubbs, who had a solid second season as a starting outfielder for the Reds. As Stubbs' 2011 line—.243, 15 HR, 44 RBI and 40 stolen bases—shows, the former Texas Longhorn brings a little bit of everything to the table. 
Unfortunately, Stubbs' 2011 season also brought with it the dubious distinction of becoming the second player to break the 200-strikeout plateau. Stubbs had 206 in a single season. Like Bruce, cutting down on these strikeouts is something that Stubbs needs to improve on. 
Still, despite the strikeout issue Stubbs provided the Reds lineup with a nice power speed combination. His 40 steals placed him second in the National League in the category, and his 15 HRs were good for fifth on the Reds.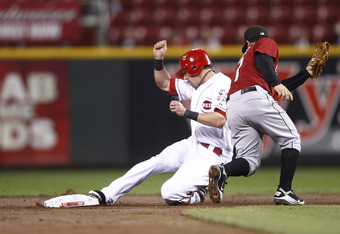 John Grieshop/Getty Images
If Stubbs can further improve his plate discipline, he can help elevate the Reds offense by setting the table for the big guns, Votto and Bruce. Much like the aforementioned Bruce, improved pitch recognition could pay enormous dividends for both Stubbs and the Reds.
With better discipline Stubbs would see his on-base percentage climb, which would allow him to surpass last season's steal total and, more importantly for the Reds, score at least 100 runs for the first time.
While both Bruce and Stubbs have been key contributors for the Reds in recent years, there are reasons to hope for bigger and better things from both in 2012. If Stubbs and Bruce are up to the task, the Reds will likely be the team to beat in the NL Central.