NCAA Tournament 2012: Who Will Emerge as the Most Outstanding Player?
March 22, 2012
Rob Carr/Getty Images
The first week of the NCAA tournament lacked that fleeting "one shining moment", but despite the lack of a signature overtime game, buzzer-beater or last-second block, we saw some incredible individual performances.
It may be early, but the owners of busted brackets everywhere are asking who will finish March Madness as this year's Most Outstanding Player. There have been breakout performances and relative disappointments from teams up and down the seeding order, but some frontrunners have clearly emerged.
The Mountain Hawks of Lehigh University rode C.J. McCollum to a shocking upset of Coach K and his Duke squad in the second round. Duke's physical game plan hardly fazed the junior guard as he was fouled 13 times by the Blue Devils on the way to a game high 30 points.
In the West region it was senior forward Kyle O'Quinn's gutsy 26 point, 14 rebound performance that led the lowly Norfolk State Spartans to an upset of Big-12 Champion Missouri Tigers and into the round of 32. 
These feats, though remarkable, were short-lived as the field has since been narrowed down to 16 teams, highlighted by the dominance of all four number one seeds. 
The Kentucky Wildcats and Michigan State Spartans each have a first-team All American who has gotten off to a hot start.
Big Blue forward Anthony Davis is averaging nearly five blocks per game in tournament play to go along with 31 points and 21 rebounds through his first two games. Although teams can strategize to limit his offensive production, his defensive presence consistently alters opponents' possessions. 
His defensive ability is just one of the many reasons why NBA scouts and fans alike are heads over heels for this unique talent. The SEC Player of the Year appears to be an early front runner for this year's Most Outstanding Player.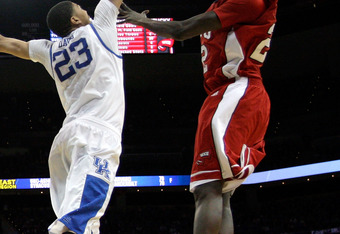 Andy Lyons/Getty Images
Not to be outdone, Michigan State senior Draymond Green did a convincing Magic Johnson impression against LIU Brooklyn, becoming just the third player to record multiple triple-doubles in NCAA tournament play. In his second game Green netted 16 points and 13 boards, doing everything he could to carry his team to a hard-fought win over Saint Louis.  
Despite being by far, the most outstanding player through the first week, Green won't end up taking home this award for the simple fact that his team won't stick around long enough. In the third round, Coach Tom Izzo went to a nine man rotation, more than half of which had a combined zero tournament wins coming into this season.
In the end, Green's leadership can only carry this team so far.  The lack of experience combined with the stiff competition remaining in the West region will ultimately prevent Sparty from advancing to New Orleans and Green from being named the Most Outstanding Player. 
Whether we want to admit it or not, no NCAAM player has won the award despite not playing for the Championship team since Hakeem Olajuwon in 1983. Since seeding began, no team seeded higher than eight has gone on to cut down the nets as NCAA Division-I Champions. 
So while standouts such as C.J. Leslie and D.J. Cooper have been "outstanding" in every way, they can be immediately written off unless you see either of these double digit seeds (North Carolina State and Ohio) winning their next four games. 
Other players to keep an eye on are Syracuse's Dion Waiters, Ohio State's Jared Sullinger, Kansas's Thomas Robinson and Marquette's Jae Crowder.  Both Sullinger and Robinson are All-American big men who dominate the glass, while Waiters and Crowder both have the mentality to take over a game at any point and play for balanced teams that are more than capable of advancing out of their regions.