AC Milan vs. Juventus: 6 Lessons Learned from Coppa Italia Semifinal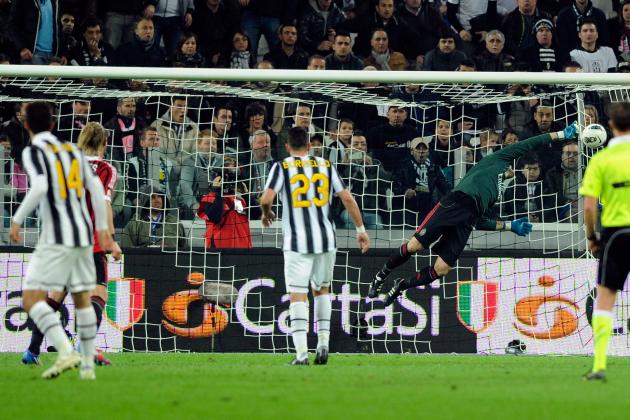 Claudio Villa/Getty Images

When Alessandro Del Piero put Juventus 3-1 up on aggregate with his goal in the 28th minute, it looked as though Juventus would cruise into the final of the Coppa Italia.
However, Massimo Allegri's risky substitution of Zlatan Ibrahimovic for Maxi Lopez proved inspirational, with Djamel Mesbah and Maxi Lopez himself scoring the two crucial goals to turn the game on its head and take the game into extra time.
In extra time, it would be Mirko Vucinic—Juventus' unpredictable, yet top-class striker—who gave Juve the last laugh with a beautiful strike, fit to win any game in any league in the world.
And with that, Juventus kept their unbeaten record intact, and avoided losing their "most important match of the season."
Let's analyze the lessons learned from the tightly contested semifinal for both AC Milan and Juventus.
Begin Slideshow

»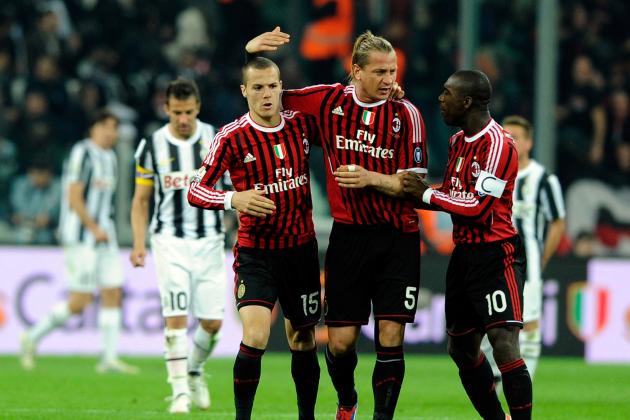 Claudio Villa/Getty Images

Many AC Milans fans had their eyes on Mesbah coming into this game, as this was his first appearance for Milan since getting worked over by Arsenal in his Champions League debut.
This was his chance to redeem himself and get a second chance to earn their appreciation and respect.
Though the Algerian didn't fail as badly in defense as he did against Arsenal, he turned in a rather inconsistent performance.
In the first half, Mesbah looked shaky in defense, and the cross that led to Juve's goal came from the side of the pitch that he was supposed to be defending.
In the second half, Mesbah scored with a powerful diving header, bringing AC Milan back into a game they had looked out of up to that point.
Mesbah's performance in the second half was impressive and had few errors, but overall, his inconsistency is worrying and keeps him from earning the right to be AC Milan's first-choice left-back.
The petulance and impatience shown in overtime while AC Milan were chasing the game was also worrying. With a harsher ref, Mesbah may have easily found himself sent off by the end of this game.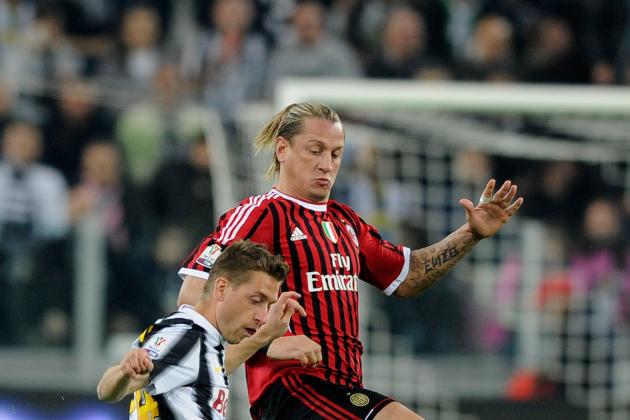 Claudio Villa/Getty Images

At the start of the season, Milos Krasic and Eljero Elia were the two wingers expected to carry Juventus into their new golden age with Antonio Conte as coach.
For whatever reason, Conte never developed a liking for these two tricky, experienced wingers. Both have seen minimal playing time this season, and both would be foolish to remain with Juve after this summer.
In their place, Conte has stuck with the Italian duo of Simone Pepe and Emanuele Giaccherini. Even though Pepe frequently disappoints, he provides enough over the course of the season for me to understand why he might suit someone like Conte.
But Giaccherini?
Giaccherini is a 26-year-old Italian winger with zero caps for Italy, and only one decent season with Cesena to speak of as legitimate experience prior to this season with Juventus.
He has only scored once in the league this season, and twice in the Coppa Italia. Giaccherini has surely proven his worth as a decent backup winger. But as a starter in what Conte himself described as Juventus' biggest game of the season? I don't think so.
One B/R comment summed up Conte's debut season with Juventus perfectly: "Conte has done a great job so far, but he remains in denial on the very important issues."
Case in point: The quality of the wingers he's selecting versus the ones he's leaving out of the starting lineup.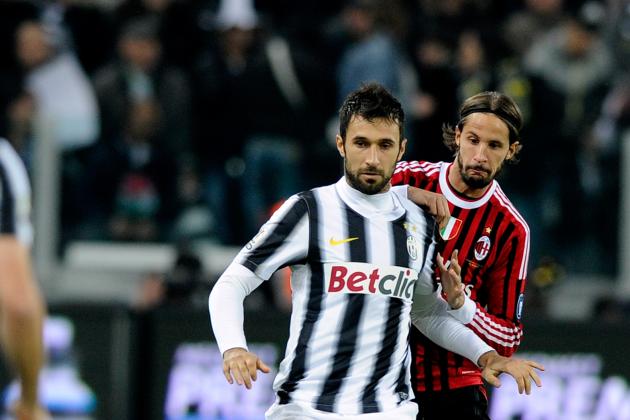 Claudio Villa/Getty Images

Let me be honest here: I still don't understand why AC Milan allowed Taye Taiwo to leave on loan to QPR.
Taiwo never hit the heights he reached with Marseille at Milan, but rarely did he ever have a bad game for the Rossoneri.
In fact, AC Milan boasted a 6-2-0 record in the games that Taiwo played in, and having reviewed the information of said games, the consistent feedback on Taiwo is that he was consistent but unspectacular; he got the job done, but couldn't ever take his game to the next level.
That's a lot better than what AC Milan's current full-backs are giving the team.
I've already covered Djamel Mesbah, but Luca Antonini was arguably even worse than Mesbah.
Whereas Mesbah at least contributed positively on offense, Antonini had an all-around poor game, finding himself regularly beaten for pace on defense and contributing nothing on offense.
If there's one thing that will cost AC Milan against Barcelona, it will be the fragility of their two full-backs.
Ignazio Abate is a class full-back, but even if he does recover from his injury in time to face Barca, neither Antonini or Mesbah are likely to get the job done at left back for AC Milan. If only Allegri had shown more faith in Taiwo and played him more often...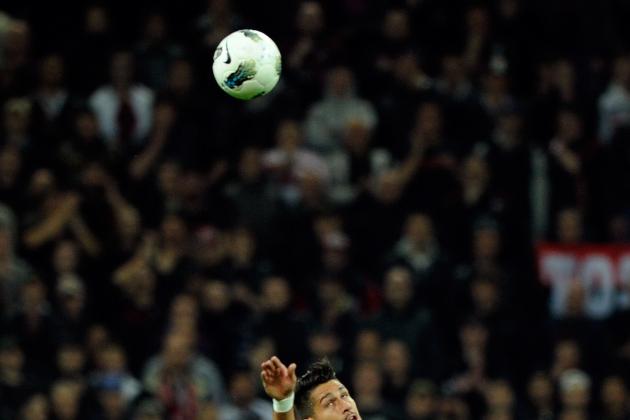 Claudio Villa/Getty Images

I think the picture to the side here sums up Borriello for me.
I've watched Marco Borriello through his time with Milan, Roma and now Juventus, and it's safe to say that not once have I been impressed.
To sum up why I seriously dislike Borriello, I need only one word: slow.
Aside from the fact that Borriello has no pace whatsoever, he's also an incredibly slow decision maker.
Take his guilt-edged chance against the Rossoneri, when he was played into acres of space and a one-on-one scenario with the goalkeeper.
Instead of making a dangerous run into the center of the box, Borriello made the wrong move by moving out wide to narrow his goalscoring angle, effectively doing the goalkeeper's job for him.
Borderline stupidity if you ask me.
But really, it's not fair to put all the blame, or even most of the blame, on Borriello. He's clearly a limited striker who's done his best to convince the best Italian clubs that he's actually world class.
And clearly, he's fooled them every single time.
Juventus need to realize that they have a striker in Fabio Quagliarella who's miles better than Borriello, and start giving Quagliarella the playing time he deserves.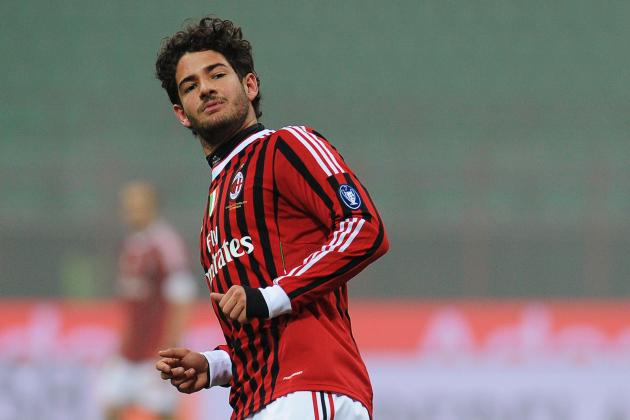 Valerio Pennicino/Getty Images

This just hasn't been AC Milan's season with their strikers.
Antonio Cassano has been ruled out for most of the season following heart surgery, and Pato has suffered one injury after another.
The absence of the latter has most seriously hurt AC Milan's attacking potency this season.
Stephan El Shaarawy's development has been great to watch, and Maxi Lopez has come up with goals in the clutch, but neither of them are anywhere near Pato's level.
Even Robinho is incapable of producing the magic Pato can when on top form.
This was illustrated perfectly against Juventus. Even though Lopez deserves credit for the excellent goal that helped take AC Milan into extra time, Milan fizzled out badly in extra time, as none of the players on the pitch for Milan had the ability to produce another goal.
Pato is in the midst of arguably his worst season for the Rossoneri since joining back in 2007, and Milan fans will hope that he can recover in time to make a difference in Serie A and the Champions League.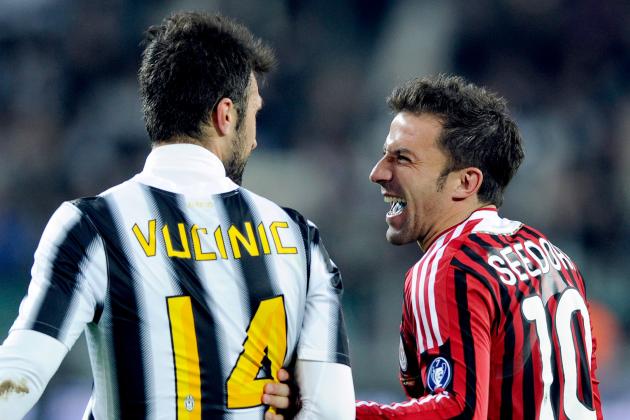 Claudio Villa/Getty Images

People will likely remember Mirko Vucinic's strike more than anything in the aftermath of these Coppa Italia semis, as it was the strike that ultimately brought Juventus victory.
Nevertheless, Del Piero deserves credit for proving that even at 37 years old, his poaching instincts are as strong as ever.
Even though Marco Amelia was able to get his hands on the ball, Del Piero was able to keep his composure to convince the half chance presented to him by Stephan Lichtsteiner.
Wherever he goes next season, Del Piero's goal and effort throughout the season will help ensure he leaves Juventus with his head held up high after 19 seasons of excellent service to the Bianconeri.