Mike Wallace: Stud WR Should Take Hines Ward's Advice with a Grain of Salt
March 20, 2012
Jared Wickerham/Getty Images
At his retirement press conference on Tuesday afternoon, Hines Ward urged Mike Wallace to stay with the Pittsburgh Steelers, saying "I told Mike you may get a chance to go other places but there's not another place like Pittsburgh."
Wallace should very politely ignore Ward's advice.
Here's the deal. Wallace is a restricted free agent, which means if another team wants to sign him they can present an offer sheet to the wide receiver. If Wallace agrees to the terms, he is free to sign with that team.
It doesn't end there, of course—the Steelers have the right to match that offer and keep Wallace in town. Plus, if the Steelers can't or won't match the offer, they stand to gain a first-round pick if they put a first-round tender on Wallace.
If a team that Wallace is interested in makes him an offer he would be foolish to refuse, he absolutely should sign it. He has his own future to consider, after all. If the Steelers can't match it, well, it's just business and not personal, right?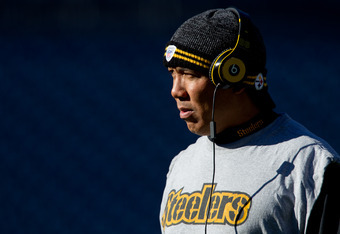 Justin Edmonds/Getty Images
And besides, Ward is coming from a rare perspective on the matter, at least as a wide receiver in Pittsburgh. Consider the following from Jamison Hensley of ESPN:
Ward, however, is the exception to the Steelers' rule when it comes to wide receivers and free agency. He was the only wide receiver that the Steelers have re-signed to a long-term contract in the free-agency era. As the Pittsburgh Post-Gazette pointed out, the wide receivers who left Pittsburgh in free agency have been Yancey Thigpen, Plaxico Burress, Antwaan Randle El, Nate Washington, Bobby Shaw and Charles Johnson.

 
In other words, Wallace might not be getting an extension with the Steelers even if he turns down any offer sheets that come his way this offseason, or at least an extension at market value. He is one of the most exciting wide receivers in the game, after all.
So if a fantastic offer comes from a team like Denver, for example—where Wallace could catch passes from Peyton Manning—why wouldn't he take it?
Why play for one year under the $2.7 million first-round tender without an extension when you could make a lot more money elsewhere this year and get a contract extension?
Do you have an answer for that, Mr. Ward?
I'm all for loyalty, and the Steelers seem like a fantastic organization to play for. But I also understand that NFL careers are short-lived, and players have to handle their future financial security when they get the chance.
If Wallace can do so for an organization he feels comfortable playing for, he should sign the offer sheet. If Pittsburgh can't match, well, at least they get a first-round pick.
Hit me up on Twitter—I've tweeted from Lehigh's campus before. Seriously.