Sweet 16 Bracket: Indiana and More Teams Ready to Ruin Your March Madness Pool
March 20, 2012
Jed Jacobsohn/Getty Images
So you may have survived the first weekend of play with your Final Four teams still intact. However, after this weekend, you will not be so lucky, as two number-one seeds will fall, thus sending your March Madness pool into a tail spin. 
After this weekend you will come to hate a team like the Indiana Hoosiers. To go with the Hoosiers, you will come to despise these other teams who will pull off shocking upsets. 
Indiana Hoosiers
This young Hoosiers squad has over-accomplished what was expected of them this year. Making the NCAA tournament was great. Getting to be the No. 4 seed was even better. But, beating the overall No. 1 team in the tournament for a second time will be a monumental upset for this rebuilding program. 
When these two teams met earlier this year, Indiana won an amazing one-point game at home. 
The Hoosiers won because they shut down Terrance Jones and Anthony Davis to only 10 combined points. Aside from the suffocating defense, the Hoosiers were led by Christian Watford and his 20 points, five rebounds and four three pointers. 
This time around, Indiana will get another big game from Watford, while getting a solid game from Big Ten freshman of the year Cody Zeller, who will score 14 points and grab 11 rebounds. 
Wisconsin Badgers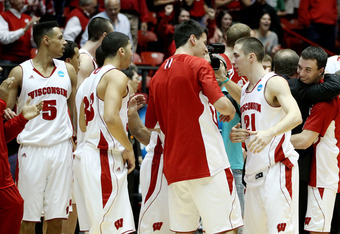 Christian Petersen/Getty Images
Wisconsin will have an easier time defeating Syracuse than their Big Ten brethren Indiana will over Kentucky because of the Orange missing a big piece to their defense: Fab Melo. 
If Syracuse had Melo available for this game, the Orange would have an answer for Wisconsin's Jared Berggren and Ryan Evans. The two Wisconsin players combined for 23 points and 11 of Wisconsin's 27 rebounds against Vanderbilt to earn the right to play Syracuse in the Sweet 16.
Because Melo will miss this game, Syracuse will get dominated on the glass which will result in an upset win for the fourth-seeded Badgers over the top-seeded Orange.
North Carolina State Wolfpack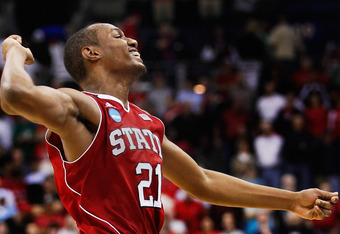 Rob Carr/Getty Images
North Carolina State had a great run to end their 2011 season.
They've won six of their last seven games, with three of those wins by a double-digit margin. In fact, one of those blowout victories was a 14-point thrashing over the sixth-seeded San Diego State Aztecs. 
NC State has been led by a combination of two sophomores, C.J. Leslie and Lorenzo Brown. The two have led the Wolfpack in their two NCAA tournament victories with 58 points and 28 rebounds combined. 
The Kansas Jayhawks will have no answer for the play of Leslie and Brown which will lead to an amazing upset for the 11th seeded NC State Wolfpack. 
These three teams will win in the Sweet 16. Hopefully, you do not have these higher seeds advancing to the Elite Eight, the Final Four, the Championship Game or picking them to win the entire tournament.