Hines Ward: The Greatest Modern Era Pittsburgh Steeler
March 20, 2012

Jared Wickerham/Getty Images
The career of the greatest Pittsburgh Steeler of this era came to an end today when Hines Ward announced his retirement from the team's facilities on the South Side.
No player embodied what it meant to be a Steeler more than Ward had for the past 14 seasons. Tough, physical, hard-hitting, and all as a wide receiver.
Ward entered the league as a rookie from Georgia and found himself on a team that liked to run the ball first, second and third. How was he suppose to make an impact when the star player was a bowling ball for a running back nicknamed "The Bus."
It wasn't long before Ward realized that he had to get by with his ability to block. He was as good as any blocking tight end on the outside, and maybe even better.
If he had open field in front of him, Ward transformed himself from a tight end to a linebacker. Pittsburgh could have switching his No. 86 jersey and put on No. 95 and they would have not missed a beat on the defensive side of the ball.
Ward's hits were so ferocious that the NFL made a rule against the blindside hit on defenders.
Keith Rivers, Ed Reed and others wished it would have been implemented sooner.
As great of a blocker that Ward was, he was an even better receiver.
Never the fastest, tallest or strongest, there was not a receiver in the league with more heart or more passion for the game.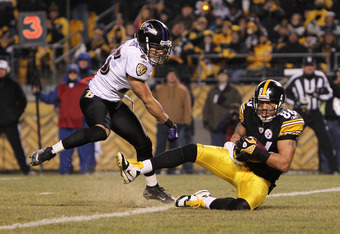 Nick Laham/Getty Images
Ward caught 1,000 passes in his career, many of them over the middle of the field as he had defenders bearing down, but others were more graceful, which reminded us all why he was an elite receiver.
There were few that had the presence in the red zone. He had a true nose for the goal line. If I were to choose a vintage Hines Ward reception, it would be going over the middle of the field in the end zone. No one did it better.
But Ward had many other highlight receptions. There was the time he jumped over a defender to get into the end zone, out-raced the incredibly fast DeAngelo Hall minus one shoe and, of course, his Super Bowl 40 touchdown, which clinched the game and helped him to the MVP Award.
It is that moment when Ward leapt into the end zone in Detroit, with that classic grin across his face, that will forever be etched in our memories.
Ward was not the only great player of this modern era of Steelers. They were stacked with more talent than any team since the 1970s.
Troy Polamalu helped revolutionize the safety position and is widely regarded as one of the best defenders in the game. He's joined by Joey Porter and James Harrison, two of the most fearsome linebackers over the past decade who wreaked havoc on quarterbacks from the outside linebacker position.
Aaron Smith was one of the most underrated but appreciated Steelers of his time. No one played the run better and he set the standard for what it meant to be a 3-4 defensive end.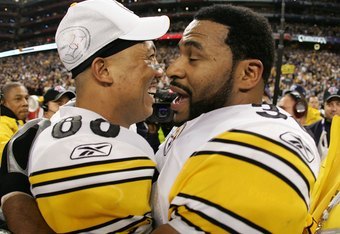 Harry How/Getty Images
Ben Roethlisberger has helped lead the Steelers to two Super Bowl titles and a third appearance and has been the driving force behind the team since entering the league.
Jerome Bettis wasn't drafted by Pittsburgh, but is one of the most beloved players of all-time. He was the leader of the team and represented the three yards and a cloud of dust Steelers.
Ward even cried at the thought of Bettis not winning a championship. But despite the contributions and unbelievable talent of all of those players, none of them measure up to what Ward was to the team.
Ward cared more about being a Pittsburgh Steeler than anything else, which is why he was such a great leader in the locker room.
Sure, he cared about stats at one point of his career. He had a contract holdout and he publicly criticized Roethlisberger, but he moved on beyond all of that.
Ward will be remembered for his outstanding blocking. His willingness and ability to make the tough catch. His 1,000 receptions, clutch playoff performances and Super Bowl MVP.
More importantly, Ward has left a legacy by helping teach the younger receivers how to be better players and demonstrating to all what it means to be a Steeler.
No one worked harder over the past 14 years and no one enjoyed it more.
Steeler Nation loved every second of it and while virtually everyone would have supported Ward if he decided to continue his career, seeing him retire as a Steeler was even better, though bittersweet.
Ward was a special player and it may be a long time before we see another like him. No more will we see No. 86 knock down a defender or make the tough catch with a big smile on his face, but the memories will always be there.
Follow me on Twitter @ChrisG_FC