NFL Rumors: Power Rankings Potential Trade Destinations for Tim Tebow
March 21, 2012

Jim Rogash/Getty Images
With Peyton Manning now the Denver Broncos starting quarterback, it looks like last year's starting quarterback, Tim Tebow, may be on his way out of the Mile High City. 
So the question is, where does Tebow go if Denver is able to move him? 
According to ESPN's Adam Schefter, there are a number of teams that are interested in acquiring Tebow. Via ESPN: 
Teams that have discussed a trade for quarterback Tim Tebow, either internally or with the Denver Broncos, include the Jacksonville Jaguars, Green Bay Packers, Miami Dolphins and New York Jets, a league source told ESPN NFL Insider Adam Schefter.
According to the report, one league source categorized the Jets as "a long shot."
So, who has the best shot at landing Tebow? 
New York Jets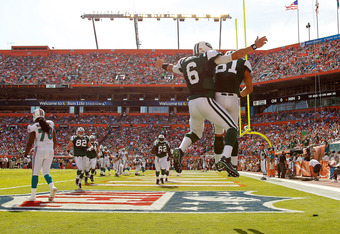 Mike Ehrmann/Getty Images
Like the league source said, Tebow to the Jets is a "long shot." The Jets just signed quarterback Mark Sanchez to an extension, so bringing in Tebow would be like taking two steps forward and three steps backwards. 
Chance of Tebow going to New York Jets: 10 percent
Green Bay Packers
Green Bay has a loving fanbase, a great team that can surround Tebow and the best chance at winning immediately. However, heading to Green Bay means that Tebow would be the backup to Aaron Rodgers. 
This wouldn't be a new role for Tebow, as he was the third-string quarterback on the Broncos behind Kyle Orton and Brady Quinn. 
If Tebow wanted to go somewhere to start immediately, then heading to Green Bay would be the worst place for him. 
There is absolutely no chance for the fanbase to get behind Tebow, like the fans did in Denver, and there is no need for a new quarterback. 
But, Green Bay does need a backup, since the Packers lost Matt Flynn to free agency. 
Chance of Tebow going to Green Bay: 25 percent
Miami Dolphins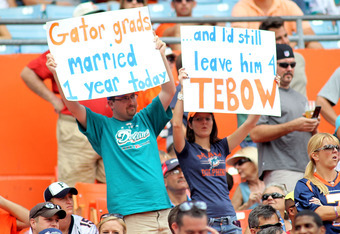 Marc Serota/Getty Images
Miami needs a quarterback, but more so, the Dolphins need something to breathe some life back into this franchise. Their season ticket numbers have dropped to around 30,000, and their attendance last year ranked next to last in the NFL. 
Adding Tebow would give the quarterback a chance to start from day one. Plus, he would have the fanbase behind him to play quarterback no matter what the Dolphins' record may be. 
If Tebow could have the success that he had in Denver, then he would be idolized next to Dan Marino as one of the greatest quarterbacks to have played for the Dolphins. 
Chance of Tebow going to Miami: 75 percent 
Jacksonville Jaguars 
Jacksonville is the leader in the clubhouse for the chance of obtaining Tebow in a trade from Denver. 
The Jaguars passed on Tebow when the quarterback came out of college, and the fanbase responded negatively toward the franchise. Now, they have the opportunity to get Tebow and have him play in front of his hometown fans for eight Sundays every season. 
The Jaguars need someone to bring fans to their stadium, and Tebow would be that person to spike attendance and help the team win games. 
Chance of Tebow going to Jacksonville: 85 percent
As you can tell, the team that Tebow is most likely to suit up for come Week 1 of the NFL season is the Jaguars.