NIT Tournament 2012: Keys to Washington Getting Revenge Against Oregon
March 20, 2012

Streeter Lecka/Getty Images
The Washington Huskies get a chance at revenge when they host the Oregon Ducks—who beat the Huskies by 25 back in February—tonight in the quarterfinals of the NIT.
The matchup serves as a rubber match since Washington knocked off Oregon at Hec Ed on New Year's Eve, but the Ducks have gotten a lot better since then.
Here's what Washington will have to do to move on to Madison Square Garden.
Get the crowd into the game early
The Huskies are like a bunch of Nate Robinsons (oddly enough, a former Husky). They are all good players, but they feed off the crowd like none other.
Once the crowd starts getting loud and the 'Dawgs start playing with emotion, they play 10 times better. This may be true for most college players, but the Huskies need the crowd more than most teams.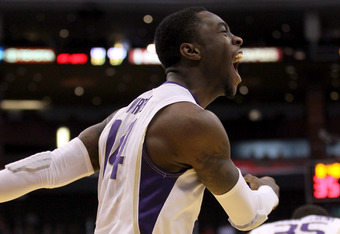 Stephen Dunn/Getty Images
When Hec Ed gets loud, the Huskies are a completely different team. And since Washington often has trouble "getting up" for games, getting the crowd into it early will be key.
Perhaps a back-door alley-oop to Terrence Ross or a steal and breakaway dunk for Tony Wroten will do it, but the crowd must get into it early.
C.J Wilcox must play well
Terrence Ross and Tony Wroten are the obvious stars of this team, but don't forget about Wilcox's ability to light it up in a hurry.
During Washington's win over Oregon, Wilcox (pre-injury) poured in 24 points and six three-pointers. During the Huskies' loss, Wilcox, who was far from 100-percent after a hip injury, shot just 4-13 from the field and had 10 points.
The Huskies are going to have a tough time keeping up with Oregon's explosive offense, but if they do they will need a consistent third-option behind Wroten and Ross.
Someone like Adbul Gaddy or Darnell Gant could conceivably step up as that option, but don't count on it. 
Wilcox is the X-factor.
Contain Carlos Emory
The Ducks have plenty of offensive options, including Devoe Joseph, E.J. Singler, and Garrett Sim. The Huskies won't be able to stop all of them, but stopping Emory will be key.
In Oregon's last 10 games, they have increased their scoring average to over 80 points per game. During those games, Emory, who averages just 6.8 points per game on the season, has scored 12.4 points per contest.
He broke out during Oregon's big win over Washington and hasn't look back since. The junior has been a big part in Oregon's revival (8-2 in their last 10).
This time around, the Huskies need to contain him. Expect Terrence Ross to draw the assignment of the 6-foot-6 forward who has a knack of getting to the hoop and drawing fouls.