Peyton Manning and Decision 2012: Still Many Unanswered Questions
March 20, 2012

Doug Pensinger/Getty Images
Peyton Manning, in his first press conference as a Denver Bronco, answered many questions about Decision 2012, but he left many unanswered.
Asked whether he thought his new team was poised to win a Super Bowl next year, Manning said simply: "This is a now situation."
So, was this strictly about winning? Mostly about winning?
"That's why we all play this game, why you work hard in the offseason, why you lift weights, why you go to training camp," said Manning, who passed up a chance to play for the San Francisco 49ers, the team who took the eventual Super Bowl champion New York Giants to overtime this past season and finished the regular season with a 13-3 record.
Manning paused briefly for photos before taking the podium flanked by John Elway and Broncos owner Pat Bowlen, and held up a familiar orange jersey that harkened back to his college days with the Tennessee Volunteers.
Throughout the presser, Manning kept coming back to Bowlen and Elway's commitment to winning.
"I can tell this organization is committed to winning. The Broncos have incredible fans that love this team and this truly is a special football environment and I am glad to be a part of it," he said.
"In the end I felt the Broncos were just a great fit. I have a great deal of respect for John Elway, he's one of the greatest quarterbacks ever to play the game … I know (Elway's) gonna do everything he can do to help this franchise win."
So, was the decision about finding a good fit? Manning offered his thoughts on that, too.
"I felt very comfortable here, both sides had to be comfortable," he said.
Was there a singular factor that weighed in his decision?
"There really wasn't one deciding factor," he said, adding that he hoped to prove he made the right decision by playing well and winning.
"I'm gonna go out and try and make it the right decision," he said.
Many speculated that the winner in the Manning sweepstakes would have to give him carte blanche in play-calling and input on personnel decisions.
Manning did not address play-calling responsibilities, but said he would leave everything but quarterbacking up to the Broncos' front office.
"I am not going to be involved in personnel decisions, not in the least, I am here to be a teammate and give this team the best chance to win," Manning said.
Manning said the process took longer than he wanted it to take and that he felt bad for putting some teams—probably the San Francisco 49ers most of all—on the spot.
"It took some time ... and I hated that other teams got put in tough positions to do it," he said.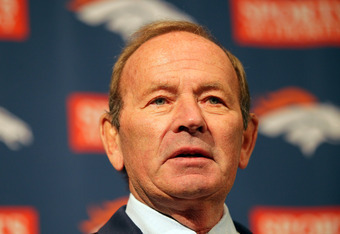 Doug Pensinger/Getty Images
Manning addressed his health, and along with Elway discussed the lengths that he went to to assure the Broncos that he was indeed healthy and ready for a grueling 16-game NFL schedule.
"There's no question I have work to do … I'm not where I want to be," he said, but in response to one reporter's question, he said that if he had to he could "start a game this Sunday."
Manning said he hopes to take the field "every single snap, every single play" in mini camps and preseason.
Manning also said he has offered his input on the bevy of former Indianapolis Colts who are on the market, but would not tell the team to go get someone.
"There's never a teammate that I had that I didn't what to play with for the rest of my life. I know there's some players out there that the Broncos are looking at, when asked about these players I told them exactly how I felt (but) when it comes to personnel that's not my department," Manning said.
No one asked about whether playing his brother, New York Giants quarterback Eli Manning, in the regular season—or the chance of an all-Manning Super Bowl—played into his decision.
But Manning did pay homage to his history in the AFC.
"I certainly was considering teams in the NFC, but Denver and I just had a good feel. I'm proud to still be in the AFC, and I'm proud to be a Denver Bronco."
Asked about the Broncos' talent at wide receiver, Manning said, "they're young and talented. I've played with guys that age before and I can tell they love football. They're excited about it."