Michigan Football Recruiting 2013: Crucial Players Wolverines Must Replace
March 20, 2012

Chris Graythen/Getty Images
Brady Hoke's brilliant recruiting run at Michigan will face its ultimate test with the class of 2013.
He's obviously off to yet another tremendous start by earning 16 commitments before the month of April, but his No. 1 goal will be to replace his most important offensive weapon since coming to Ann Arbor, Denard Robinson.
The Wolverines quarterback isn't just an average dual-threat quarterback, he's almost their entire offense.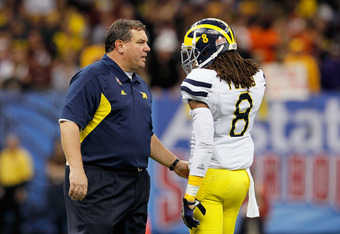 Kevin C. Cox/Getty Images
Robinson accounted for 36 of their 53 offensive touchdowns, and when he wasn't scoring, it was merely the threat of him scoring that aided his feature back, Fitzgerald Toussaint.
Hoke will have the duo for at least one more year, but replacing Robinson means adding a quarterback who can throw, more running backs to account for the lost ground production, and receivers that can make the most of a new arm.
And Robinson's not the only face Hoke will have to replace.
Denard Robinson, QB/RB
For all the aforementioned reasons, it goes without saying that replacing Robinson is the team's most vital goal in the 2013 recruiting class.
They believe they've solved most of that puzzle with local quarterback Shane Morris. Rivals gives the QB four stars, while Scout gives him five.
Morris is a solid athlete who still has his best football ahead of him, and could very well be a four-year starter for the Maize and Blue.
But just because he plays the same position as Denard doesn't mean he completely fills ol' Shoeless' void.
They've also earned commitments from running back Deveon Smith, an ESPU 150 watch list member. They still have four more offers out to players who've yet to commit, as well as two players who have committed elsewhere.
Hoke is no fool, and he knows what he needs in order to sufficiently replace the Heisman hopeful.
Roy Roundtree, WR
The Wolverines have addressed their receiver needs slightly, but depending on what happens this season, after Roundtree leaves, the most experienced receiver they'll have is Jeremy Gallon.
Although Roundtree's production took a huge hit last year, he's expected to bounce back in 2012, and the Wolverines will need to be ready with replacements and instant-impact players.
So far they've earned a commitment from Jaron Dukes, and Hoke and his staff obviously knows they need more, because they have 14 other offers out at the position.
It is not necessarily all about production here, but there is a need to land playmakers for the new quarterback in 2013.
Kenny Demens, LB
The senior linebacker led the Wolverines in tackles last season and will be the focal point of their defense in 2012.
Michigan's defense was largely the reason for the instant success under Coach Hoke, and Demens' leadership on the field will be missed.
The staff was well aware of this and brought in four linebackers in the 2012 class, but they're not done adding talent yet. They've already earned the commitment of Mike McCray II and are chasing several other linebackers, including Dorian O'Daniel and E.J. Levenberry Jr.
They're out for quality here, not quantity, and they'll need it if they want to replace Demens' production.
Here at Signed, Sealed, Delivered we'll evaluate players each team must replace every day in one of our many daily features. Be sure to check it out and have your say too—we're all ears.
You can find me talking football and throwing seven different kinds of smoke on Twitter.