2012 Green Bay Packers Draft Prospects: Build Your Own Mock Draft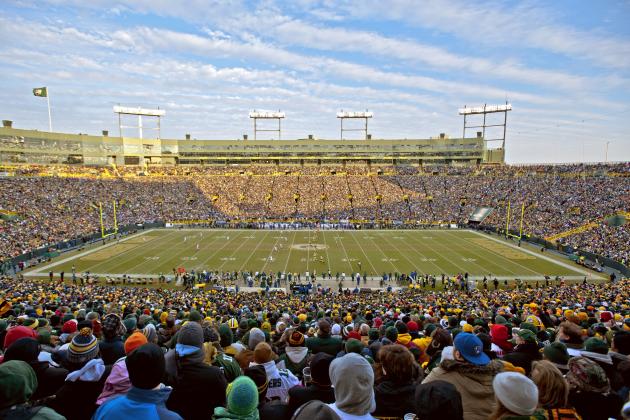 Michael Heiman/Getty Images
Play GM and Get the Pack Back to the Playoffs in 2012.
With the loss of starting Center Scott Wells to free agency last weekend added to last year's loss of defensive end Cullen Jenkins and the possible loss of Pro Bowl Safety Nick Collins, the Green Bay Packers will have some tough choices to make on draft day.
The toughest of those choices might be which side of the ball to address first and which position will have a bigger impact on the overall team performance, because at least four positions could be in need of a new starter in 2012.
If you're anything like me, you've gotten used to the idea that Packers general manager Ted Thompson won't spend big in free agency (CHRIS MEYERS) and instead look forward at possible draft prospects to fill any needs.
To help pass the time I've compiled a list of players who could be options at Green Bay's top four positions of need and a short mock of which of those players I think could actually end up in Title Town come April.
Here goes…
Begin Slideshow

»
Jonathan Daniel/Getty Images

1. Peter Konz - Wisconsin, 6'5", 314 pounds
Konz is hands down the best center in this year's draft. He is a viable first-year starter and projects to be a franchise player.
2. Ben Jones - Georgia, 6'2", 303 pounds
This center class is often cited for not having any reliable prospects behind Peter Konz. Jones proves that theory wrong. The strong, agile and smart SEC product has all the tools and plenty of experience to be a career starter in the NFL.
3. Michael Brewster - Ohio State, 6'2", 312 pounds
Brewster is another decent prospect that gets overlooked. He's a tough, athletic kid with a solid work ethic who isn't as ready to start as Konz or Jones, but still would be an improvement over Even Dietrich Smith.
4. Phillip Blake - Baylor, 6'2", 320 pounds
Blake is an older prospect at 26 years old and has a story that's shockingly similar to former teammate Danny Watkins', who was a first-round draft pick last year. Blake could be a serviceable starter in the future but would take some lumps if forced to play right away.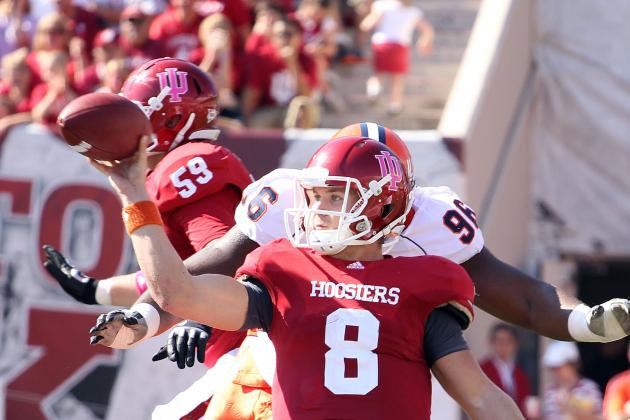 Andy Lyons/Getty Images

1a. Whitney Mercilus - Illinois, 6'4", 261 pounds
Mercilus is a flashy one-year wonder as a pass-rusher, piling up 16 sacks, nine forced fumbles and 23 total tackles for a loss. In Dom Capers' 3-4 defense, Mercilus would need time to get comfortable in pass coverage, but could be used as a pass-rusher right away.
1b. Nick Perry - USC, 6'3", 271 pounds
With a nearly identical 40-yard dash and nearly 10 more bench reps, Perry looks like the perfect player to rush the passer opposite fellow USC alum Clay Matthews III. Like Mercilus, Perry would need time to adjust to linebacker and doesn't have the agility that coaches look for in pass coverage. But again, he can get after the quarterback, as he led the Pac-12 with 9.5 sacks in 2011.
1c. Andre Branch - Clemson, 6'4", 259 pounds
Branch isn't as fierce a pass-rusher as the two former players mentioned, but would be a more natural fit at linebacker due to his exceptional athleticism. Branch's pass rush will improve with proper coaching and some solid technique, though, which gives him some sneaky upside.
2a. Vinny Curry - Marshall, 6'3", 266 pounds
There are some questions about Curry after he posted a 4.90 40-yard dash at the combine, but he did post a solid cone drill and performed well in the bench press. His pro day 40-times were better, 4.64 and 4.69 to be exact, but I'll believe his true speed is somewhere in the 4.7s. Regardless of straight-line speed, Curry can rush the passer and projects well in pass coverage down the road.
2b. Ronnell Lewis - Oklahoma, 6'2", 253 pounds
Lewis is different from the rest of the 3-4 outside linebacker prospects this year in that he actually has legitimate experience in pass coverage. With only 5.5 sacks in 2011, he does lack the suddenness to project as a consistent double-digit sack type of player.
3. Cam Johnson - Virginia, 6'3", 268 pounds
Johnson projects best as a 4-3 DE prospect, but that doesn't stop me from seeing his value as a pass-rusher in any defense. It would be a stretch to get him to be reliable in pass coverage, but he is regarded as strong for his size and has plenty of straight-line speed to find the quarterback.
4. Jonathan Massaquoi - Troy, 6'2", 264 pounds
With only two years of playing experience for the Trojans, Massaquoi is raw overall but shows plenty of raw talent to be worth a fourth-round draft pick. He's also related to current NFL stars Mohamed Massaquoi and Visanthe Shiancoe, and NFL bloodlines have worked before.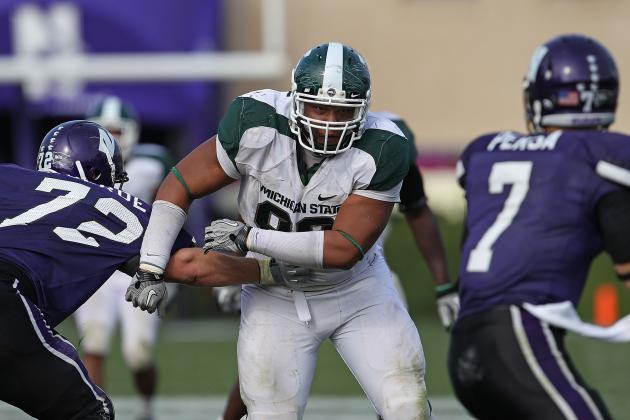 Jonathan Daniel/Getty Images

1a. Jerel Worthy - Michigan State, 6'2", 308 pounds
Worthy reminds me a lot of current Packers lineman Ryan Pickett. He's big, strong and unbelievably agile for his size. He would be a great addition alongside Pickett and B.J. Raji to help them occupy all five offensive linemen.
1b. Brandon Thompson - Clemson, 6'2", 314 pounds
Perhaps the best pass-rusher at the position, Thompson would be the best case scenario for filling Cullen Jenkins' shoes as his feet (along with his skills) seem to be nearly identical.
2a. Mike Martin - Michigan, 6'1", 306 pounds
Martin shot up the draft boards after his combine performance. Watch him on film or at the Senior Bowl and you'll wonder why it took the combine for him to get recognition. He's a high-motor player who is in spectacular physical shape and is probably even the second-best nose tackle in the draft despite his lack of size. I like him as a 3-4 defensive end.
2b. Josh Chapman - Alabama, 6'1", 316 pounds
Chapman had a tough task taking over at nose guard for Marcell Dareus in 2011, but he did a good job and the Crimson Tide didn't miss a beat with the switch. Chapman is another guy who played nose in college that I would move to end in the NFL. He's a well-rounded player who is vastly underrated and should be productive at any position along the line.
3. Kheeston Randall - Texas, 6'5", 293 pounds
Randall's off-field personality would be a great fit in Green Bay. His on-field talents, which are almost constantly eating up multiple blockers and ball-carriers, would also be welcome. Not too much flash here, but plenty of results.
4. Derek Wolfe - Cincinnati, 6'5", 295 pounds
Wolfe performed well at the NFL Scouting Combine and is everything you'd look for in a fourth-round draft pick. He lacks the lower-body strength to be an ideal 4-3 tackle and isn't agile enough to project as a 4-3 DE. In a 3-4 system, Wolfe would fit perfectly as an end, and while he isn't the kind of player who can beat double teams, his high motor makes him disruptive enough to become a problem for opposing teams if he is left one-on-one.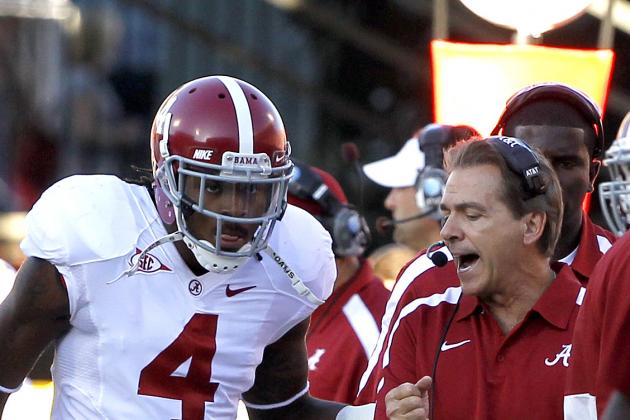 Butch Dill/Getty Images

1. Mark Barron - Alabama, 6'1", 213 pounds
Barron is considered the draft's best safety prospect, and as a field general he probably is the cut of the class. Don't be fooled by scouts' hype, though; Barron has legitimate injury and legal questions and is not the physical athlete that former first-round safeties have been. That being said, Barron is still worth a first-round pick for teams that need a field general in their secondary.
2. Harrison Smith - Notre Dame, 6'2", 213 pounds
Smith's best attribute is his work ethic on and off the field. He's smart enough to play the position, but will need to improve his field awareness in order to make it at the NFL level. He flashed potential at Notre Dame because of his aggressiveness, but that could hurt him against good offenses and quarterbacks who can utilize pump fakes properly.
3. Markelle Martin - Oklahoma State, 6'1", 207 pounds
Martin should get more respect from NFL scouts and probably has the most upside of any safety in the draft. His backpedal is characterized as high and stiff which is the only reason he isn't considered the draft's best safety. He does everything else right, reading the quarterback's eyes, supporting the run, shredding blockers and tackling securely.
4a. Dequan Menzie - Alabama, 5'11", 202 pounds
Menzie played the nickelback position for Alabama and was overshadowed by Dre Kirkpatrick, but he flashed similar potential. And although he's on the shorter side for a safety, he would make a good transition prospect. He wouldn't be a liability in man coverage and is athletic enough to be effective in zone coverage. Menzie also was used often as an extra blitzer, which will entice coaches who like to be able to send multiple positions after the quarterback.
4b. Tramain Thomas - Arkansas, 6'0", 192 pounds
With 12 career interceptions for the Razorbacks, Thomas certainly has potential to be a ball hawk in the NFL. With Thomas, teams will get the smooth back pedal and body control that other players at the position lack, but he will need to develop his instincts and shore up his tackling skills to be a reliable starting option at the NFL level as his play lacks consistency thus far.
Even with today's re-signing of CB/S Jarrett Bush, it's hard to argue that the Packers will target these four positions early in the draft, and there's certainly a decent pool of players that could make an impact in 2012.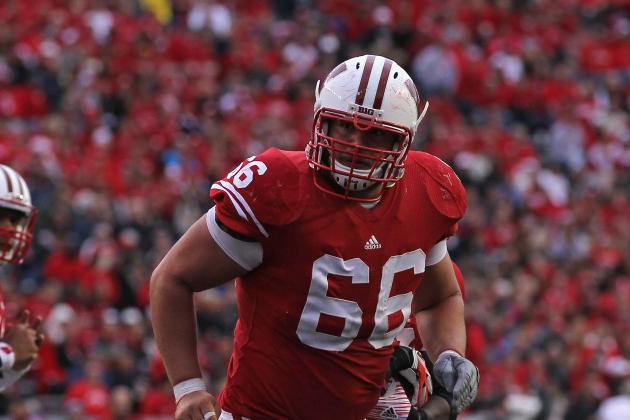 Jonathan Daniel/Getty Images

Round 1: Peter Konz, C, Wisconsin
Just like most of the Green Bay faithful, I had my heart set on a player that would help improve our pass rush and in turn our entire defense. But after losing Scott Wells and thinking back to how dismal 2009 and 2010 were thanks to our offensive line, it became clear that Konz is the best choice if available.
Protecting Aaron Rodgers is even more important now that backup quarterback Matt Flynn is getting his chance to start in Seattle. Fans who aren't excited by this pick should keep in mind that Wells' success was partly due to solid guard play around him,. Konz will fill in well from day one and should be a long-term improvement at the position.
Round 2: Mike Martin, DE, Michigan
The numbers Martin posted at the combine and the work ethic he showed staying at Michigan during all four years of their "dark ages" projects him to be at the very least the player Mike Neal was expected to be.
He has first-round strength, agility and work ethic, but teams don't like his perceived lack of production in college due to his role as nose guard on a defense that lacked playmakers. The Packers will like his durability and value in Round 2 enough to make him a starter alongside B.J. Raji and Ryan Pickett.
Round 3: Cam Johnson, OLB, Virginia
Pass-protector: check. Block-eater: check. Now I'm desperate for a disruptive pass-rusher. The New England Patriots and San Francisco 49ers both utilize one-tool players as situational pass-rushers in Mark Anderson and Aldon Smith, and they have had success with them. The Packers could find the same success by drafting Johnson.
The Packers had an embarrassing 29 sacks in 2011 and were ousted from the playoffs by the eventual Super Bowl Champion New York Giants, who were only better than the Packers in one category—pass rush. Adding a DE like Martin will add close to eight sacks to last year's totals. Johnson is the only player still available that could add another eight sacks to that total, projecting the Packers for a respectable 45 sacks in 2012.
Round 4: Dequan Menzie, CB/S, Alabama
Even though Jarrett Bush will return through 2014, I still see the need to address the secondary at this point in the draft. Menzie is versatile and at the very least should be a great addition to the Packers' special teams.
Menzie can also add depth to safety if Nick Collins can't return, and could even move into Sam Shields' current role a few years down the line if Charles Woodson ever retires.
Round 4 (compensatory): Derek Wolfe, DE, Cincinnati
Don't forget the Packers will also get at least one compensatory pick for losing Daryn Colledge and Cullen Jenkins in free agency last year.
Wolfe strikes me as the type of mid to late-round player that Ted Thompson likes to draft. He's a hard worker with enough natural ability to be able to develop into a solid starter down the road. With Mike Neal's four-game suspension and Howard Green's departure, the Packers can kick second-round pick Mike Martin inside if needed at any point, and use Wolfe on the outside if needed. Otherwise, Wolfe could simply add depth or have value as a rotational player to keep the other guys fresh.
Conclusion
As you can see, even with a first-round pick spent replacing a player lost to free agency, the Packers can still improve their defense enough to make another Super Bowl run in 2012. Hopefully I've created a pretty decent list of players that will be around when the Packers draft in each of the first four rounds.
As always, feel free to post your thoughts on anyone I might have missed, or you can even plug my guys into your own four-round mock and let everyone know who you'd want to take!