Tim Tebow Trade Talk: Why New York Jets Must Avoid Denver QB
March 20, 2012

Garrett Ellwood/Getty Images
"Et tu, John Elway?" said Tim Tebow after learning of the contract agreed upon by Peyton Manning and the Denver Broncos. But, hey, at least Tebow is losing his job this time to one of the greatest QBs ever rather than Kyle Orton or Brady Quinn.
With Denver's decision to go with Manning for their immediate future comes the realization of Tebow's next destination.
According to Adam Schefter the Jacksonville Jaguars, Green Bay Packers, Miami Dolphins and the New York Jets are among the teams who have discussed trading for Tebow.
The Jacksonville Jaguars may make the most financial sense, as Tebow can put fans in the seats there since he's from that area in Florida. The Green Bay Packers can use him in a package of plays that can make their offense even more powerful.
The Miami Dolphins can use Tebow since nobody else appears to want to take their talents to South Beach. However, they did just sign David Garrard.
But the New York Jets must avoid Tebowmania at all costs.
Tebow would bring an absolute circus to a Jets team that has already been in the news for just about everything but winning. Tebow would only add more stories to the back pages.
He would ruin Mark Sanchez's development and would shake his confidence after an offseason of being bashed by some anonymous teammates and speculation of Peyton Manning coming to take over his job.
At the first signs of struggle, fans will be clamoring to start Tebow in favor of Sanchez. Even more boos will rain down on Sanchez once he loses a game or, God forbid, is part of a two-game losing streak.
Then, if Rex Ryan actually succumbs to the pressure and pulls Sanchez out in favor of Tebow—hey John Elway and John Fox did—he may set the New York's future at the QB position back a few years if Tebow fails.
If Santonio Holmes was angry about not getting the ball from Sanchez, just imagine what would go on with Tebow not even looking to pass in his direction.
Last season, Tebow had a completion percentage of 46.5 percent. In six games, he had single-digits in completions. Against the Kansas City Chiefs, he only completed two out of eight passes on the way to a win.
Tebow's type of winning would not last with the Jets. Santonio Holmes and his $15.25 million guaranteed over the next two seasons would not stand for it and neither would his non-catching hands, even if the outcome is favorable for the team.
Tebow would simply be a distraction. Even if he's only used in special packages in play action plays or short yardage plays where he can run for a first down, a touchdown or a two-point conversion. His success may be a burden on Sanchez and cause yet another divide in the already fragile locker room.
Now, if Tebow was on board with switching to a position like tight end, he may prove to be very useful for the Jets.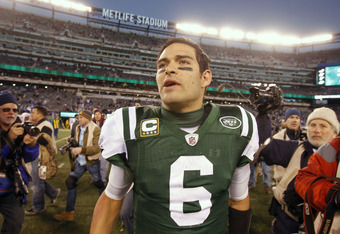 Rich Schultz/Getty Images
At 6'3'' and 236 lbs, he has the size and athleticism to be a pass catching tight end or a blocking tight end. The question is can he catch the ball and will he be willing to take the punishment of being hit every down.
The best situation for Tebow is to go to a team with an established QB whose starting job could not even come into question. The coaching staff would also have to believe in his abilities and be willing to work with him, keeping the dream of Tebow ultimately becoming a starting QB in the future.
Tebow will also have to trust in the coaching staff and put his dreams of being a starter on hold as he spends a few seasons fixing his mechanics, his throwing motion and his decision-making.
The New England Patriots fit Tebow the best. If he is traded there, he will be reunited with offensive coordinator Josh McDaniels, who believed in Tebow's abilities so much that he drafted him in the first round two years ago.
He will also be able to learn underneath Tom Brady while possibly winning a ring in the process. Bill Belichick and McDaniels could also create some special package of plays for him. Belichick has done so in the past, making linebacker Mike Vrabel a pass-catching redzone threat.