Denver Broncos: What Will the Offense Look Like with Peyton Manning?
March 20, 2012

Justin Edmonds/Getty Images
Even though the Denver Broncos inked free-agent quarterback Peyton Manning to a five-year, $96 million deal, questions are still hovering around the once weak offense.
Manning completely changes the dynamic of the offense, as the future Hall of Famer will throw for over 4,000 yards in Denver orange, barring any setbacks.
The Broncos, however, will need to add a target for Manning, as slot receiver Eddie Royal left via free agency. Early Doucet may be an option, but Denver will need even more production out of their receiving crew.
The Broncos may be able to sign WR Brandon Stokley, one of Manning's favorite targets in Indianapolis. Stokley, who was once a Bronco, made a tear-jerking 87-yard catch with less than 20 seconds on the clock to seize the lead against the Cincinnati Bengals a few years ago in Bronco blue.
Tight ends Jacob Tamme and Dallas Clark are free agents. The two played in Indianapolis and caught receptions from Manning when the quarterback was healthy.
Center Jeff Saturday, Manning's snapper for over ten years, could also follow No. 18 to Denver. The Broncos might be looking at an Indy 2.0, even if just a few of these players venture out west. 
Denver likely won't have quarterback Tim Tebow donning a Broncos jersey on Sundays anymore. According to the NFL Network's Albert Breer, he has reportedly been placed on the trade block, so finding a backup for Manning is a must. The Colts proved to be unprepared for an injury to Manning in 2011, as they posted the league's worst record with their backups commanding the offense.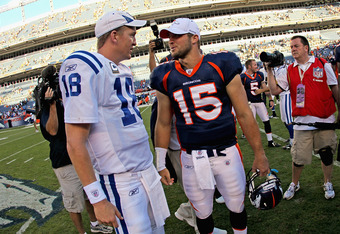 Doug Pensinger/Getty Images
The Broncos have multiple options for backups to Manning. They could either find a reliable veteran or draft a quarterback and develop him under No. 18's tutelage.
The Broncos shouldn't draft QB Brandon Weeden, one of their favorite quarterback prospects. Weeden is 28 years old, and when Manning's contract is up in five years, he will be 33. 
However, two quarterbacks stand out: Nick Foles, formerly of the Arizona Wildcats, and former Michigan State Spartans quarterback Kirk Cousins.
Both would learn, study and develop under Manning, and if Manning goes down with an injury, the backup could step up and fill in without a problem.
Overall, the Broncos offense will be much more explosive in 2012. Many former Colts will possibly join the team, also. Here is the projected starting lineup:
QB: Peyton Manning
RB: Willis McGahee
WR: Brandon Stokley
WR: Demaryius Thomas
WR: Eric Decker
TE: Jacob Tamme
LT: Ryan Clady
LG: Zane Beadles
C: Jeff Saturday
RG: Chris Kuper
OT: Orlando Franklin