Comparing Chris Mullin's Run TMC to Kevin Durant's OKC Thunder
March 20, 2012

Jim Rogash/Getty Images
The Golden State Warriors finally raised the jersey of 2011 Hall of Fame inductee Chris Mullin to the rafters of Oracle Arena Monday night.
While that may have been long overdue, the one thing that seeing Mullin's Warriors jersey does is bring back the memories of Run TMC.
The fantastic trio of Mullin, Mitch Richmond and Tim Hardaway captivated NBA audiences over two decades ago with their fast-paced, high-scoring and unselfish style of play.
Run TMC changed the game for many fans back in the early 1990s similar to the way the Oklahoma City Thunder are doing right now.
There are some similarities to both units. Both are high scoring units who are very entertaining to watch. Both have experienced some playoff success. Neither won a title, although the Thunder have a chance to change all that in the near future.
As a matter of fact, only Richmond won a championship of the three, as a limited role player with the Los Angeles Lakers in 2002.
On an individual basis, there are also striking similarities.
Starting with the T part of Run TMC, we look at Hardaway and a comparison to Russell Westbrook.
Hardaway's strength was finding people. His game required the other two to always move well without the ball. Richmond was a great open-floor player and would fill the lanes, which led to easy buckets, and Mullin always seemed to be in the right place at the right time.
Westbrook may be more of a scorer than Hardaway, but Hardaway could still fill it up, averaging at least 20.1 points per game from 1990-95. Both Hardaway and Westbrook were freakish athletes that could get to the rim easily. Similar to Hardaway, Westbrook has cut down on his turnovers and become a better passer the past couple years, although his assist totals will likely never approach that of Hardaway.
Looking at Richmond, there's a pretty good comparison to James Harden.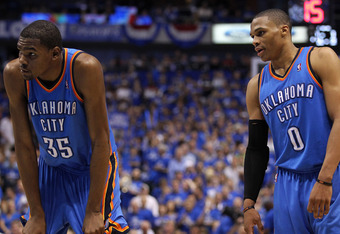 Ronald Martinez/Getty Images
Richmond was a guy who filled the lanes well, but was also an outstanding shooter, averaging 22.0 points per game as a rookie. Harden, while not a starter for Oklahoma City, has Richmond's type of scoring talent, currently averaging 17.1 points per game off the bench for the Thunder. Harden may not have the smooth jumper Richmond had, but he's got that scorer's mentality.
Finally, that brings us to Mullin and the natural comparison to Kevin Durant.
Mullin had a scorer's mentality and a smooth jumper, similar to what we see out of Durant right now. After figuring things out in his career, Mullin averaged at least 25.1 points per game through the 1988-93 seasons.
Durant's averaged 26.1 points per game throughout his career so far.
While Mullin's jersey now hangs in the rafters, it also serves as a reminder of how good and exciting Run TMC really was.
For a refresher course, though, we can just tune into Durant and the Oklahoma City Thunder.