Sweet 16 2012: Power Ranking the 3 Most Overrated Players Left in March Madness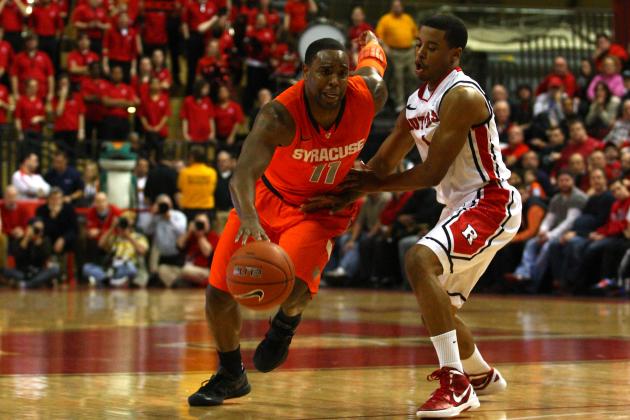 Chris Chambers/Getty Images

One of the extraordinary features of March Madness is that we are introduced to a whole collection of talented teams and players that most of us didn't know before Selection Sunday.
We find out about the Kyle O'Quinns, the C.J. McCollums and the D.J Coopers of the college hoops world.
But we are also shown players who have big-time reputations, but who don't always deliver big-time results.
The tag "overrated" doesn't mean that a player is horrible. Not at all. If these players were actually horrible, no one would regard them as being good in the first place, let alone exaggerate their talent.
Overrated simply means that someone's merits and accomplishments are overvalued. Or, in other words, "their name is bigger than their game."
Here is a power ranking of the three most overrated players left in March Madness.
Let's look at who's on the medal stand.
Begin Slideshow

»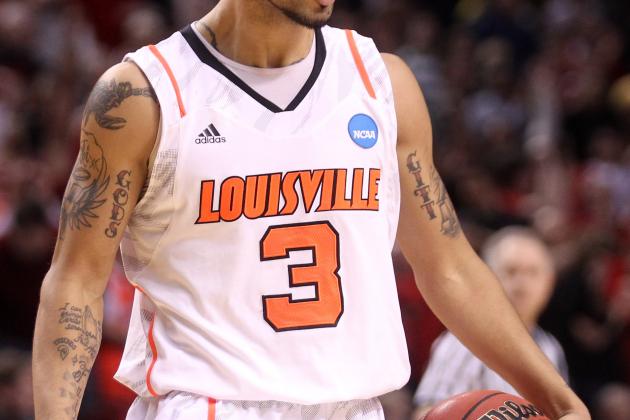 Jed Jacobsohn/Getty Images

If you never look at his numbers, you'd think by the way that some people talk about Peyton Siva that he was the second coming of Chris Paul.
Back in December, Sporting News' Mike DeCourcy wrote:
Ohio State's Aaron Craft is a better defender, Wisconsin's Jordan Taylor is a more productive scorer and nobody passes the ball forward on the break like North Carolina's Kendall Marshall.

But aside from still being in the developmental stages as a jumpshooter — and he made a huge 3-pointer Saturday — the Louisville junior has a more varied package of skills than anyone.
Really, Mike? A more varied package of skills than anyone?
Siva had an excellent Big East tournament, winning the conference's Most Outstanding Player award.
But this followed up what could only be described as a decent junior season, averaging 9.2 ppg, 3.2 rpg and 5.5 apg.
The 6'0" guard committed 122 turnovers (No. 11 in the nation, 3.5 tpg) and shot a frosty 23.8 percent from beyond the arc.
While Siva contributes more than his numbers to Louisville's success, his actual production is only solid, not super.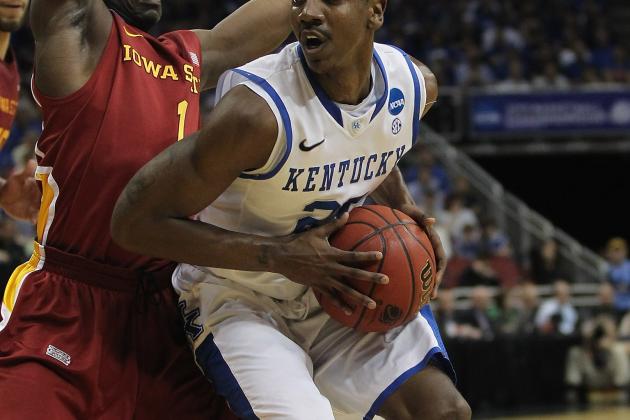 Jonathan Daniel/Getty Images

Marquis Teague arrived on campus in Lexington with lots of people singing his praises. After all, he was the No. 1 PG in Rivals.com's top 150 of the Class of 2011.
Teague was supposed to be the next great point guard for John Calipari, following in the line of Brandon Knight, John Wall and Derrick Rose.
In reality, the best way to describe Teague's freshman season is that he has played like an uneven freshman.
In Kentucky's first 13 games, he averaged 3.2 turnovers per game to go with his 4.5 assists. In that span, there were five games in which Teague had more turnovers than assists.
On the season, Teague's numbers are okay (9.4 ppg, 4.8 apg, 2.8 tpg).
The Wildcat's last five games are a perfect example of what must drive UK fans crazy about Teague.
The 6'2" guard from Indy had a terrible SEC championship game, going scoreless while playing 37 minutes in the Wildcats' loss to Vanderbilt.
Now, in the NCAA tournament, Teague had his best game of the season against Iowa State, scoring 24 points while handing out seven assists and only committing two TOs.
The Big Blue Nation can only hope that the team's floor general stays on track for the next four games.
When Teague shines, Kentucky is peerless. When Teague struggles, the Wildcats are less than invincible.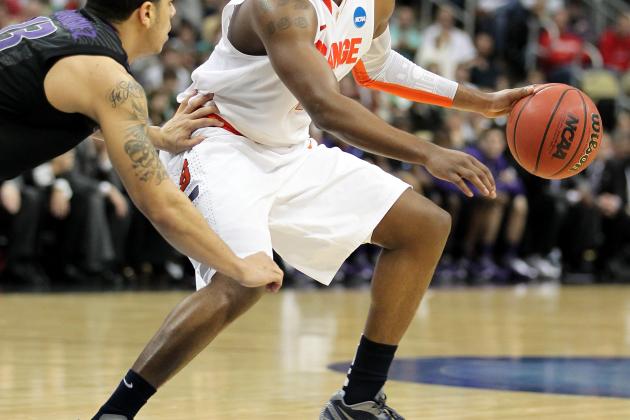 Gregory Shamus/Getty Images

Scoop Jardine is the most overrated player still in the NCAA tournament.
While the Orange are having a great 2011-12, the Syracuse PG's senior season has been a disappointment in terms of his individual production.
His numbers are down in some pretty important categories.
He is scoring almost four points less per game, handing out one less assist per game and only shooting 53.8 percent from the free-throw line (down from 66.4 percent).
Most people are either hot or cold concerning Jardine. They either defend his less-than-spectacular production, or they use that as a means to wonder why in the heck Boeheim is still playing this guy.
Consistency has always been Scoop's downfall.
In the Big East tournament, Jardine had eight points, three assists and five turnovers in two games. Now, in March Madness, he has stepped it up, scoring 27 points, handing out 15 assists while committing nine turnovers.
Without trying to oversell his role, Jardine's play in the Sweet 16 and beyond will determine Syracuse's fate.
If the Orange get the "good Jardine," Syracuse could cut down the nets in New Orleans.
If the "bad Jardine" shows up in Boston on Thursday night, Syracuse could be heading back to upstate New York on a late flight.