Pittsburgh Pirates: 6 Prospects Turning Heads This Spring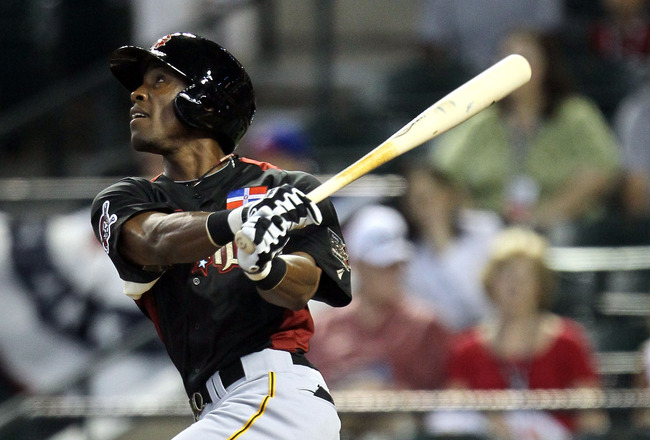 Starling Marte in last years Future's Game.
Jeff Gross/Getty Images
Pittsburgh Pirates outfield prospect Starling Marte has taken Florida by storm this spring. He is hitting above .500 entering today's games, among the best averages this spring by any player.
On top of Marte, some other talented prospects in the Pirates organization have been turning heads. Not just in major league camp, but in the minor league camps as well.
What follows is a list of 10 prospects, Marte included, and why they are turning heads this spring, as well as their Estimated Time of Arrival (ETA).
Outfielder Starling Marte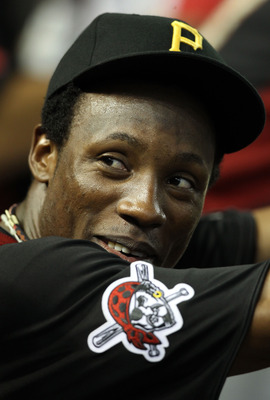 Christian Petersen/Getty Images
The young Marte is in a situation very familiar to the Pirates' current center fielder Andrew McCutchen. After a fine spring training in 2009, McCutchen was sent back to Triple-A for a tiny bit of seasoning. He didn't stay there long, though, as he made his debut June 4th that year right after the Pirates traded Nate McLouth to the Atlanta Braves.
Marte was optioned back to Triple-A camp just a few days ago on the heels of hitting .520 (13-for-25) with 3 homers, 4 RBI, 2 steals, 6 K's, and 0 walks.
Pirates Manager Clint Hurdle told Pittsburgh's ABC affiliate WTAE 4 on Friday that, "We're not going to change our mind," and that "We want a complete package when he comes up here. He's got some work to do."
One knock so far on Marte is the fact that he has 6 K's and 0 walks this spring, as he can still be pretty impatient at the plate. If he can work on fine-tuning that quickly, the same knock against McCutchen prior to the 2009 season, he'll return sooner rather than later.
ETA: Late May 2012.
First Baseman Matt Hague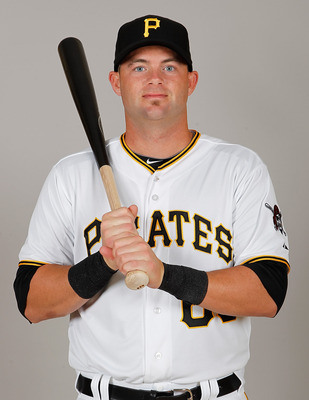 J. Meric/Getty Images
Matt Hague has made a solid impression this season in camp, and he is still in major league camp battling for the last bench spot. This spring Hague is hitting .375 (9-for-24) with 2 homers, 5 RBI's, 4 K's and 0 walks.
Hague has solid power potential and has smacked 27 homers the last two seasons combined between Double-A Altoona and Triple-A Indianapolis. Hague, much like offseason pickup Casey McGehee, can play either first or third base, and that will increase his value as camp comes to a slow halt.
MLB.com writer Jonathan Mayo published a very nice piece on Hague just two days ago that you can view here. The article goes in depth on Hague and his ability to play anywhere the Pirates want him to.
For Hague to reach the majors, he needs to continue to do what he does best. Hit.
ETA: Opening Day 2012
Pitcher Gerrit Cole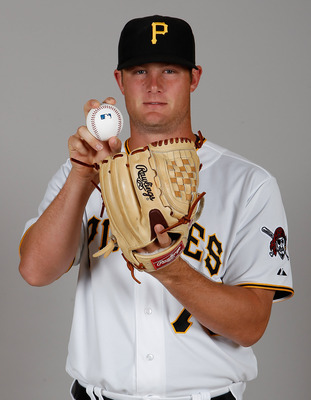 J. Meric/Getty Images
How many teams would invite their previous No. 1 pick to major league camp? Not many. But the Pirates aren't like most teams, and they invited Gerrit Cole to camp this year.
Cole showed promising stuff.
"This has been an information-gathering time for him," manager Clint Hurdle told MLB.com. "I like everything I see. Everybody likes his arm, likes the man. I was happy to have him in camp. It was a tremendous learning opportunity for him."
Cole was mostly in camp to get a taste and a sense of what big league camp is about. He pitched in a pair of intrasquad games prior to being designated back to minor league camp, with pitchers pitching less and less innings as competition for 25-man roster spots heats up.
Cole was impressive last Tuesday in a intrasquad game at minor league camp when he blew his pitches past the hitters with relative ease. Pittsburgh Tribune-Review writer Dejan Kovacevic had a lot of nice things to say about the impressive showing he had last week, including some jokes from the players about pitches thrown.
ETA: 2014
Outfielder Josh Bell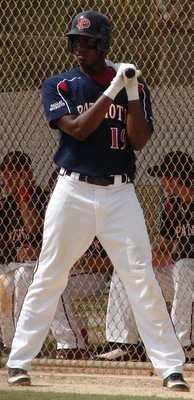 Last year, the Pirates drew the ire of the baseball world when they selected Josh Bell to start the second round and proceeded to offer him a $5 million signing bonus.
What happened as a result? A slotted system.
Could it be a shot at the free-spending Pirates as they spent a mind-blowing $51 million in the draft the last three seasons? Either way, that's for another article.
Bell has been extremely impressive this season in Pirates minor league camp, an appearance at the plate against Gerrit Cole notwithstanding. Bell can hit for power, is very athletic, and seems to be as good as anyone in camp.
How will that translate into his first professional season in 2012? Many see Bell starting off at Single-A West Virginia and taking it from there.
ETA: 2015
Catcher Tony Sanchez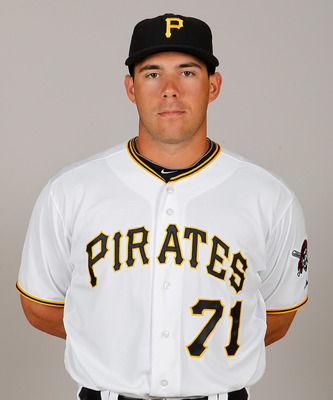 J. Meric/Getty Images
The Pirates first selection of the 2009 draft, Tony Sanchez, had an impressive debut in 2009 and a solid campaign again in 2010. But a dismal 2011 made Pirates fans wonder if it was a mistake to draft Sanchez so high.
This spring has proven otherwise.
Sanchez has been known as a defense-first catcher from the time he was drafted, but a hot bat his first two professional seasons got people thinking "Pudge Rodriguez" instead of "Yadier Molina-lite." Sanchez worked hard in the offseason, adding 15 pounds to his frame in order to gain some of his lost power last year both behind the plate and in the batter's box.
Sanchez didn't fare very well at the plate with the Pirates this spring, going 1-for-7 with a walk, but he hit a big 3-run homer in an intrasquad game. He also caught two of four base runners attempting to steal. Pirates brass was impressed by his demeanor behind the plate and his ability to control the running game.
ETA: September 2012
Relief Pitcher Danny Moskos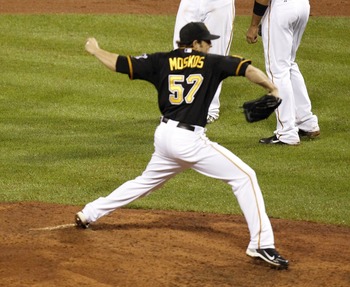 Justin K. Aller/Getty Images
In 2007, the Pirates drafted Clemson's Danny Moskos fourth overall ahead of current Baltimore Orioles catcher Matt Weiters, the player most Pirates fans wanted selected. After making a solid major league debut last year with a 2.96 ERA over 24.1 innings, he is in competition for a left-handed role in the bullpen this year.
After struggling early on as a starter in his career, the Pirates decided to try him as a reliever in 2010 and it worked, as he performed much better in 2010 and 2011 before making his debut April 30th last year.
This spring he has been extremely solid, posting an ERA of 0.00 over five innings giving up three strikeouts, walks and hits each.
Moskos, with minimal innings last year, is still considered a prospect by many, and an opening-day arrival this year and equal showing in 2011 could finally allow Pirates fans to accept the draft blunder of five years ago.
ETA: Already made it to the bigs, but opening day 2012
Keep Reading

Pittsburgh Pirates: Like this team?