Sweet 16 Bracket: 4 Bold Predictions for Round of 16
March 20, 2012

Christian Petersen/Getty Images
I won't even ask if any of you have managed to produce at work over the last week.  This country is barely hanging by a thread due to the paralyzing effect that the NCAA tournament has on the American public.
So how does one shake America out of its bracket-induced coma? It's simple, really: make a few bold predictions about the Sweet 16.
I know I'm treading on sacred territory, here.
I'm sure your bracket is infallible and, even if you did fill out 17 of them, there is no way that anything will impede you from from hitting pay-dirt on your office pool and beating the socks off that guy Jeff from across the hall that had Kentucky going the whole way.
Duke, Michigan are Missouri are all gone.  For some of you, the death sentence has already been passed.  For the rest of you, get ready for the the madness to truly start.
And now for a four bold predictions heading into the Sweet 16.
Cincinnati will beat Ohio State and claim bragging rights for the Buckeye State.
It's been quite the year for the state of Ohio as Ohio State, Cincinnati, Xavier and Ohio University have all made it to the big dance.
We knew that the Buckeye State had some fight in it this year (literally) after cross-town rivals Xavier and Cincinnati opened up the season with a certain game-ending exchange.
It's funny to think that any good could possibly emerge from the altercation, but it may just be this type of overwhelming tenacity that pushes the Bearcats past big brother Buckeye.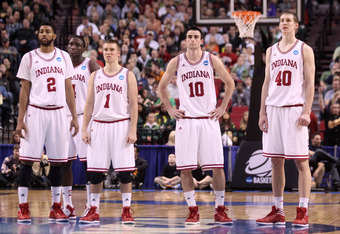 Jed Jacobsohn/Getty Images
No, I'm not saying they need to throw fisticuffs.  It will be a physical game, however, and Cincinnati will need to try and win the game around the boards.  No easy task, that, considering Jared Sullinger is prowling the paint and averaging 9.3 rebounds a game to go along with 17 points.
Yancey Gates matches up well with Sullinger inside while Sean Kilpatrick will be a headache for OSU to contain on the perimeter.  It'll be up to Kilpatrick to draw out Ohio State's defenders and open up space around the basket so Cincy can do what they do best, which is play big and physical.
Ohio State might be favored, but their edge in talent is not as extreme as some may think.  Both average very similar numbers on offense and defense and have both beaten top-seeded tournament teams at various points throughout the regular season.
I give Cincinnati the edge because of how tough they are.  This is not a team you want to get into a dogfight with.
The Bearcats advance.
Speaking of Ohio, how about Ohio University beating North Carolina?
Shocker, right? Now that Kendall Marshall is questionable with a fractured wrist, the game has completely changed for UNC.
Still, this is a Carolina team that has averaged 82 points a game this season and is first in the nation in rebounds.  This is a Carolina team that has a host of healthy players in Tyler Zeller, Harrison Barnes and John Henson.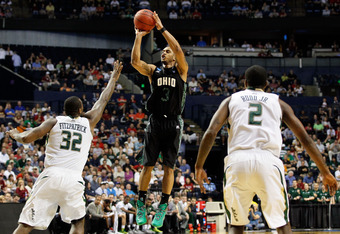 Kevin C. Cox/Getty Images
But Marshall is the critical link in North Carolina's offense.  It's like a brain with no synapse between the gap between cells, it just will not work.
Kendall Marshall is responsible for 55 percent of points scored for the Tar Heels this season, as ESPN's Doug Gottlieb points out.
Ohio is no pushover, either.  With guard D.J. Cooper playing at a high level leading the Bobcats' fast break and without Marshall there to stop him, Ohio could easily dictate the tempo of the game and grind it out with Carolina in a manner similar to their last two games against USF and Michigan.
Ohio will come out swinging and with Carolina trying to compensate for not having Marshall in the back court, it will be all they can do to stay in the game with an Ohio team that is as hungry and as aggressive as any team in the Sweet 16.
Ohio U was just rated the No. 1 party school in the country.  Expect a celebration for the ages in Athens on Friday night.
Indiana will beat Kentucky.  I just heard the sound of brackets dying and people screaming in rage at the audacity of such a prediction.
But there is reason to doubt John Calipari and his Wildcats.
Coach Cal has yet to prove that he can get Kentucky all the way to the promised land.  It's a reputation he's built at several different stops in the Division I circuit that he is still trying to shake.
True, he does have Anthony Davis absolutely ruling the paint, as well as Doron Lamb and Michael Kidd-Gilchrist who are capable of putting up heaps of points.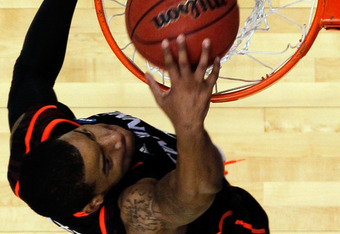 Kevin C. Cox/Getty Images
Yet Indiana can hang its hat on a few big wins from the regular season over the likes of Michigan State, Ohio State and, yes, Kentucky.
Indiana has the size to compete with the 'Cats around the basket in freshman standout Cody Zeller.  It will be a test for Zeller who has been shutdown by physical front courts in the regular season, but his length and athleticism will allow him to hang with Anthony Davis and keep him off the boards.
Christian Watford may be the x-factor for the Hoosiers, who like to play the 6'9" forward at the point position on defense to cut off the lane.  This could be huge in forcing Kentucky to rethink their game plan and go by a different route to get the ball in the low post.
Kentucky may be an all-world NCAA squad, but coach Tom Crean has the blueprint to beat the Wildcats for the second time.
It will be a tight game and, just like the first time around, might just be decided with a three-pointer at the buzzer.  It's a fitting matchup for two of college basketball's most iconic programs, but I like Indiana in the upset that could pose as the ultimate bracket-buster.
I'll end this down in the West region.  Marquette and Florida get to line up against one another for the chance to take on either Michigan State or Louisville in the Elite 8.  Not only do I think Florida wins but Jae Crowder will have a day to forget. 
Both teams finished out the season strong and there's no overlooking the fact that Crowder took home Big East POY honors.
Yet Florida is a [slightly] better team both on offense and defense if the stat sheets are any indication.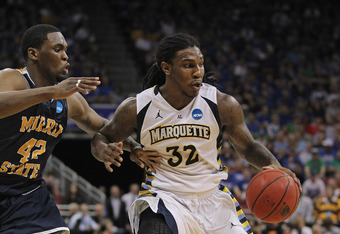 Jonathan Daniel/Getty Images
We certainly know that Florida isn't taking anyone lightly with the way they dealt Norfolk State a blowout exit from the tournament last week.  It's a testament to their defense, which they play very well.
Patric Young and Erik Murphy are both big, strong forward/center types that can keep up with Crowder's athleticism and force him back out towards the perimeter.  Crowder is a much more effective player when playing inside the arc and is more likely to defer to teammate Darius Johnson-Odom when it comes to long-ball situations.
If Florida can keep the ball out of Crowder's hands, Marquette becomes a much less versatile creature.  He may well score in the 10-12 point range, which is fine for Florida, because Marquette normally depends on Jae Crowder to chip in much more than that on a nightly basis.
Florida can turn this into a guard's game, giving Kenny Boynton and Bradley Beal the ability to control the game's tempo and give Crowder less time to score.
It will be unfortunate, but Jae Crowder will finish his career at Marquette on a less-than-stellar note and Florida will advance on to the Elite 8.
Well, tournament nerds, that's it for me being bold.  I wish you the best of luck with the rest of the tournament and may your brackets remain unsullied.
Win or lose, boom or bust, remember that this is March and it's a great, great time of the year.