50 MLB Stars We Think Will Be Epic Failures in 2012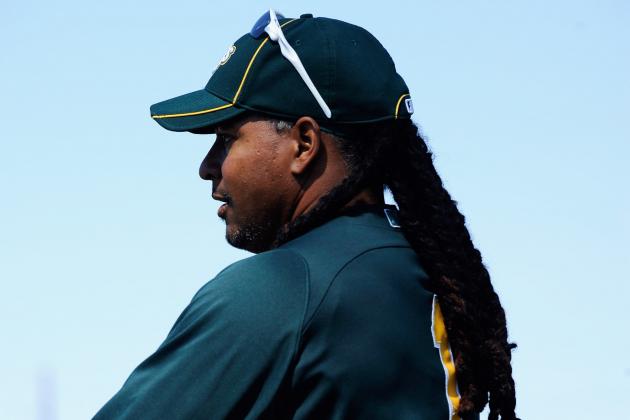 Kevork Djansezian/Getty Images

Every year, there are ballplayers that just end up having embarrassing seasons. They can come out of nowhere, yet some are a long-time coming and others are players we expect to suck year in and year out.
It's not exactly fun to watch these players unravel, especially if the player is on the team you root for, but it's a natural part of the game and it some cases it may be deserving.
Here are 50 MLB players who look like they will be epic failures this MLB season, whether it's due to history, issues on their end or simply a gut feeling on my part.
Begin Slideshow

»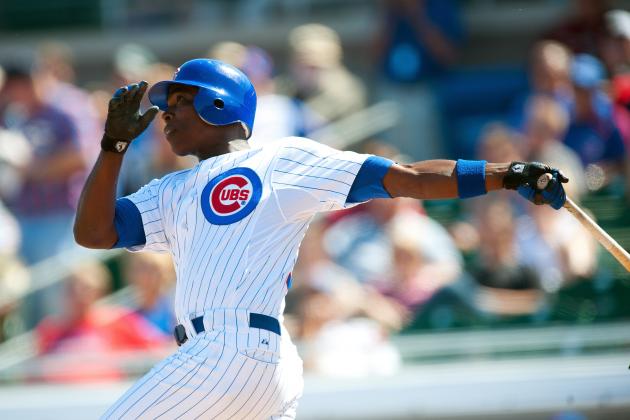 Rob Tringali/Getty Images

Alfonso Soriano still has three years left on what was a ridiculous contract, so he's an easy target. More importantly, at 36, he's not getting any younger.
His batting average could easily fall under .240. If his home runs fall as well, then suddenly he's really wasting space in the lineup.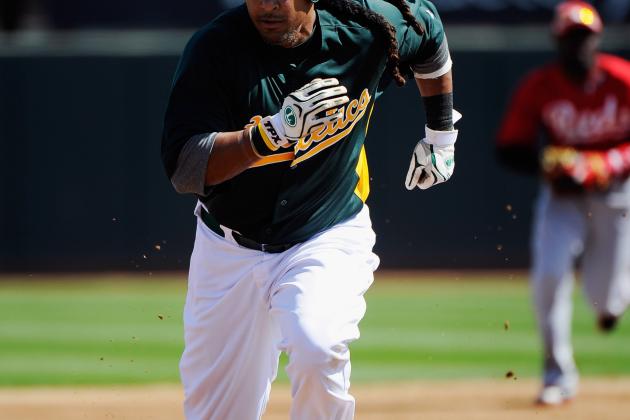 Kevork Djansezian/Getty Images

Where to begin with Manny Ramirez? When we last saw him, he retired after a positive PED test, and had been playing terribly with the Tampa Bay Rays.
Even after serving the 50 games, how much could he really have left for the Oakland A's? At best he might be a mediocre DH for them, but in reality it's another painful end to his career.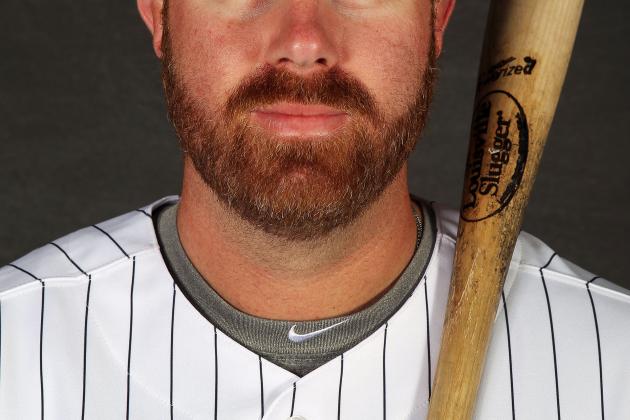 Jamie Squire/Getty Images

Adam Dunn had such a horrendous, embarrassing season in 2011 that he could have an entirely valid bounce-back year this year, yet statistically it would still be a failure.
Heck, as long as he hits .200 this year it will look fine in comparison to last year.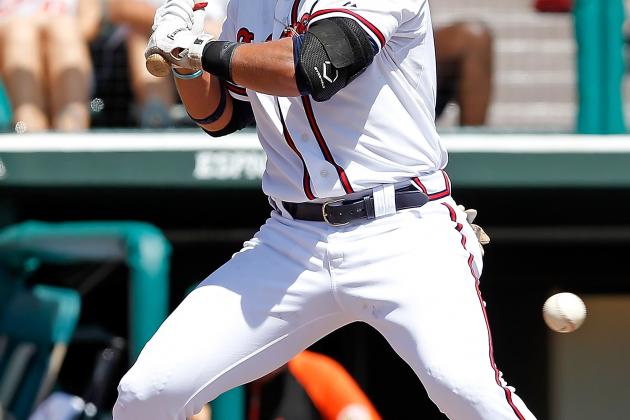 J. Meric/Getty Images

Martin Prado had a great year in 2010 for the Atlanta Braves and performed well this past season. Why do I place him here then?
The trade rumors this past offseason will likely take a toll on him, as well as the fact that's he's pretty much just thrown in wherever the Braves fit him on the diamond. He might struggle to even his .250 this year.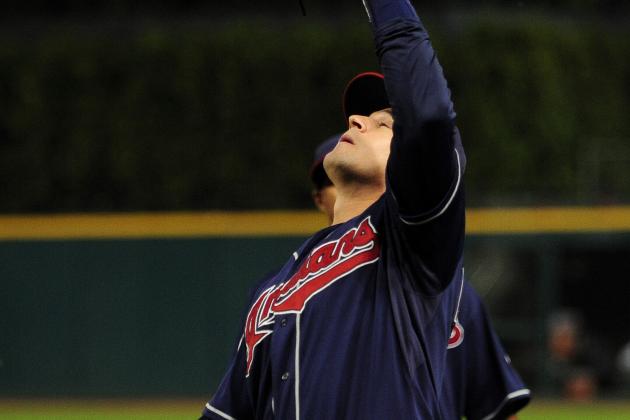 Jason Miller/Getty Images

One of two things will happen with Matt LaPorta. Most likely, Casey Kotchman will stay at first and LaPorta will be pretty much written off.
However, if there's an injury he may be back in the lineup, where his confidence will be gone and he'll be ineffective no matter what kind of playing time he gets.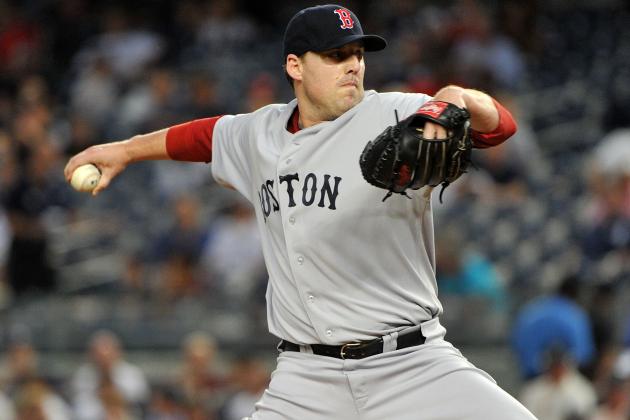 Christopher Pasatieri/Getty Images

John Lackey has failed to live up to his contract from the moment he was signed, and his .500 record and an average ERA is the best the Red Sox can hope for.
Even that would be a failure, but another season like the one he had where he finished dead last in ERA for qualifying pitchers? There's an epic failure, and it could very well happen again.
He's already going to miss the 2012 season following Tommy John surgery at any rate.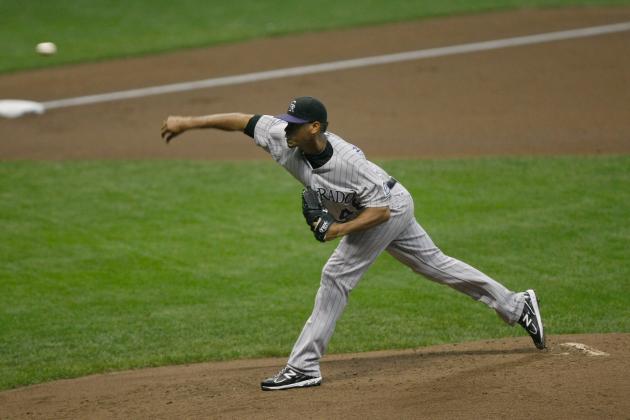 Scott Boehm/Getty Images

Esmil Rogers has showcased himself as a failure as a reliever and starter for the Rockies so far, posting an ERA of over six the year before and seven last year.
With the tight competition for pitcher in the back end this year, there's no way he makes it on, marking his stint as a failure. If somehow he squeezes himself in the bullpen, then expect another high-ERA season.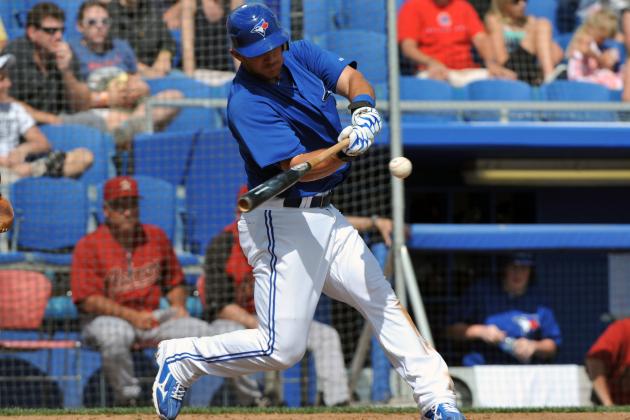 Al Messerschmidt/Getty Images

The Toronto Blue Jays may have been able to give Vernon Wells to the Angels last year, but in a bit of revenge, or as close as you can get, they handed the Blue Jays Jeff Mathis.
Mathis isn't much of a catcher and a terrible hitter as well. It'll be another year of sub-.200 hitting, even though J.P. Arencibia should be seeing most of the catching time anyway.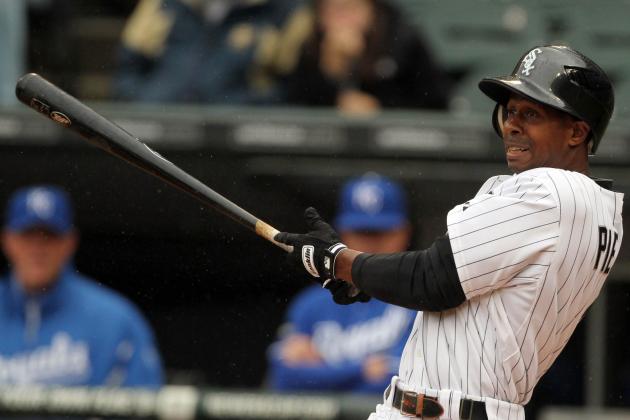 Tasos Katopodis/Getty Images

Juan Pierre is a guy known for his speed, yet is on the wrong side of 30. As a result, once that goes, he's not much use as a ballplayer and the Phillies will see this in 2011.
Besides, he's not really an improvement over what they have, as Shane Victorino can already do what he does better.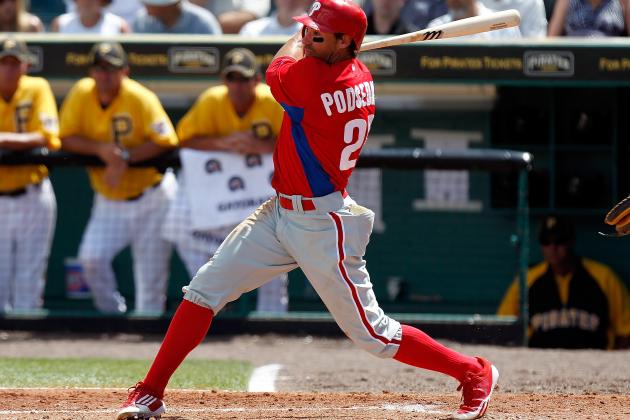 J. Meric/Getty Images

Perhaps the Phillies signed Juan Pierre and Scott Podsednik to see if either one sticks, as both have the same big issue and provide the exact same strengths; yet again Victorino can already do what Podsednik does.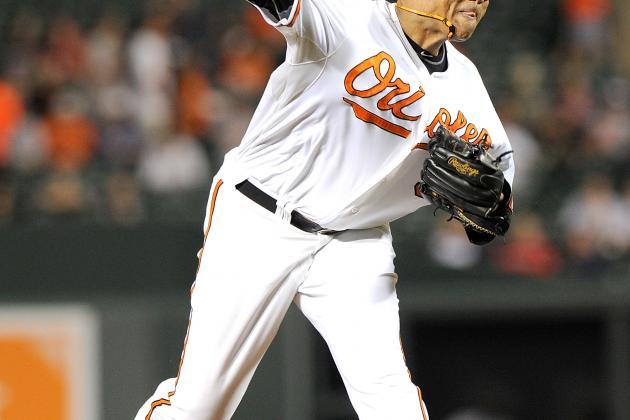 Greg Fiume/Getty Images

Since making his debut, Alfredo Simon has spent a season as a closer and a season as a starter—in neither case was he effective.
With the Orioles actually picking up some starting pitchers late, he'll at best be relegated to the bullpen. Who knows how effective he may be there.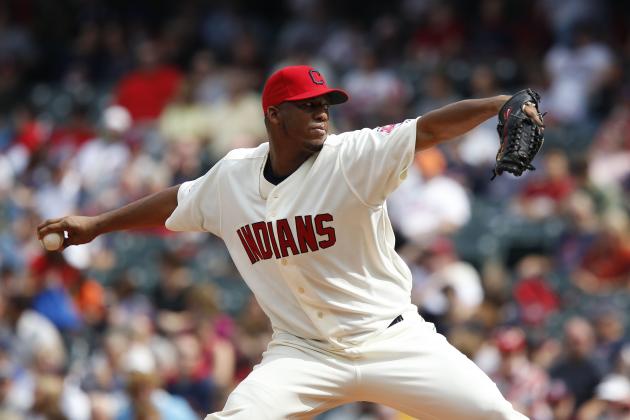 David Maxwell/Getty Images

Let's say that everything gets cleared up with the naming issue sooner rather than later and Carmona is back in the rotation relatively early in the year.
He still had a bad 2011. After adding in what he's had to deal with this past offseason, there's no way he has anything other than an embarrassing season on the mound.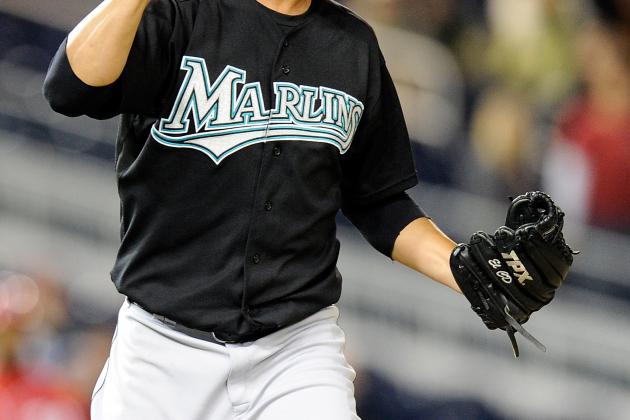 Greg Fiume/Getty Images

While on the subject of those with different names, Juan Carlos Oveido, a.k.a Leo Nunez, was the Marlins' closer, and not all that good there.
With Heath Bell moving in, he's back to being a regular bullpen guy like he was with Kansas City. He has yet to have a great year with Miami, so I don't see that changing here.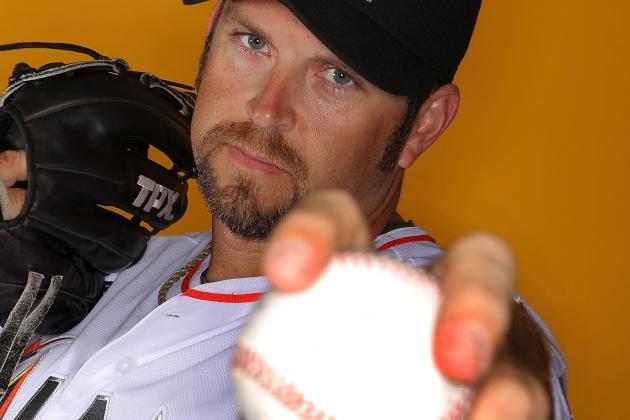 Marc Serota/Getty Images

I like Heath Bell, and have considered him one of the game's elite closers. However, how successful are pitchers when they leave San Diego? At best, they have not been very good.
Bell will likely follow this path and could very well have an okay 2012 before falling apart. His tenure with the Mets before San Diego was pretty bad, and he could return to that.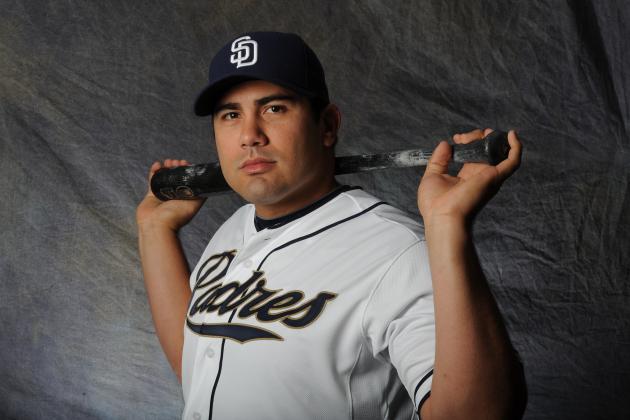 Rich Pilling/Getty Images

Conversely, while pitchers thrive in PetCo Park, it's where hitters go to die. The latest one of these will be Carlos Quentin, brought over from the White Sox.
Quentin has a decent chance of breaking the cycle of power hitters' energy being sapped, but then again if Ryan Ludwick barely hit there, can we expect Quentin to?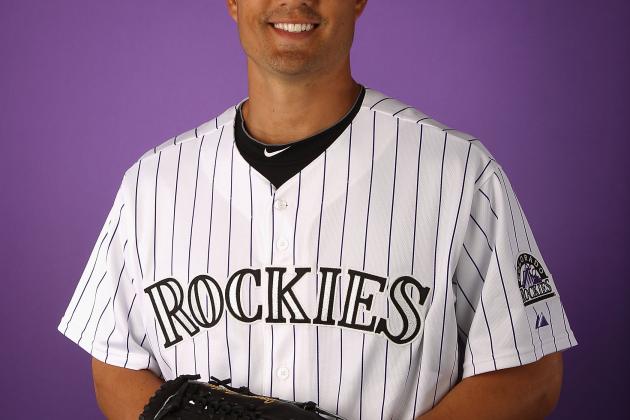 Christian Petersen/Getty Images

Jeremy Guthrie is a good pitcher if you know what you're using him for, which is an innings eater. He's not a guy who will get a low ERA or a huge number of strikeouts.
However, his ERA wasn't all that great in Baltimore, and it's to be expected that it'll be worse in Colorado, making his stats besides perhaps innings look pretty bad.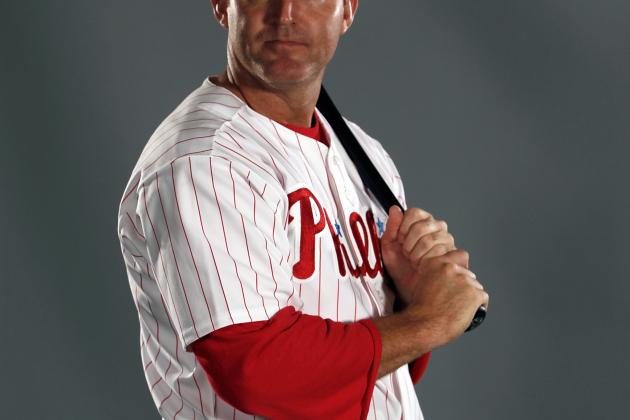 Jonathan Ferrey/Getty Images

When Jim Thome's at the plate this year, he should put up okay numbers given his age; that's not why he's on here.
Thome can't play defense at his age anymore, meaning he'll essentially be on the field sparingly, and would be a pinch hitter at best. Not the best way to end such a career.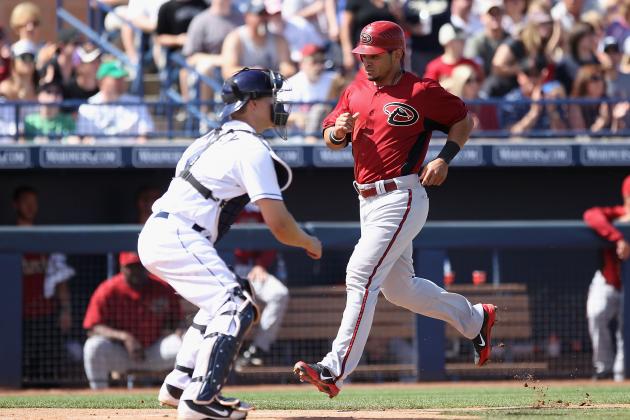 Christian Petersen/Getty Images

Parra's 2012 is going to be a failure more by design than anything, as I was not a fan of Jason Kubel replacing him in the Diamondbacks' lineup.
Parra will probably be stuck on the bench a good amount of the year, and since he's a light offensive hitter his season's going to look like a big failure on the surface even if that's not the case.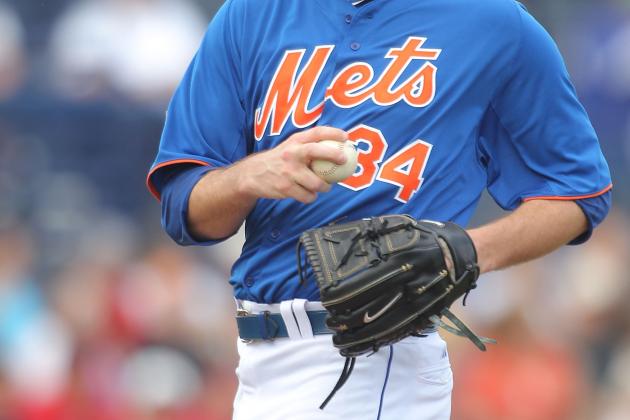 Marc Serota/Getty Images

Mike Pelfrey tends to alternate between good and bad years, so technically he should have a good year this year.
That being said, the Mets rebuilding combined with the added bullpen depth might end up with him pitching fewer innings, as well as potentially having another bad year. That and Mets fans aren't exactly crazy about him.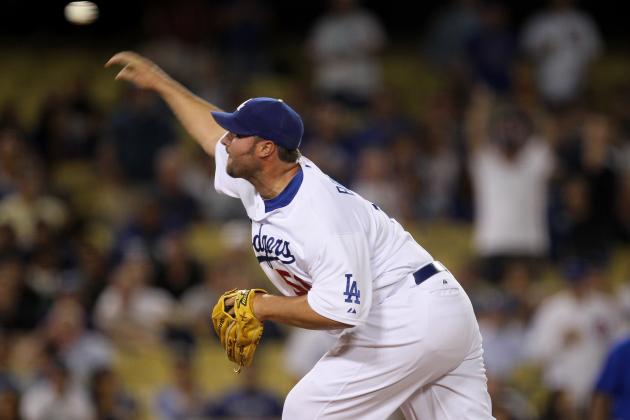 Stephen Dunn/Getty Images

Jonathan Broxton fell apart the past two years. While he gets a change of scenery in Kansas City, I'm not seeing a positive change.
Broxton doesn't have much in the way of finesse. While he was good as a general reliever with the Dodgers, that was also in the previous decade and he doesn't seem back to that level.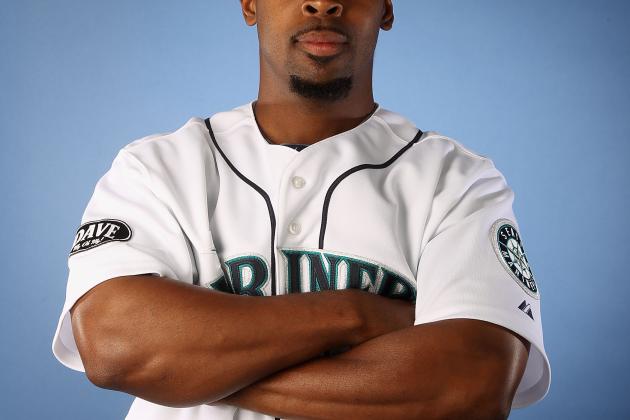 Christian Petersen/Getty Images

Chone Figgins has been an immense free agent bust for the Seattle Mariners and regrettably they may have to keep him in the lineup.
Another sub-.250 season with half the speed we're used to seeing seems most likely here.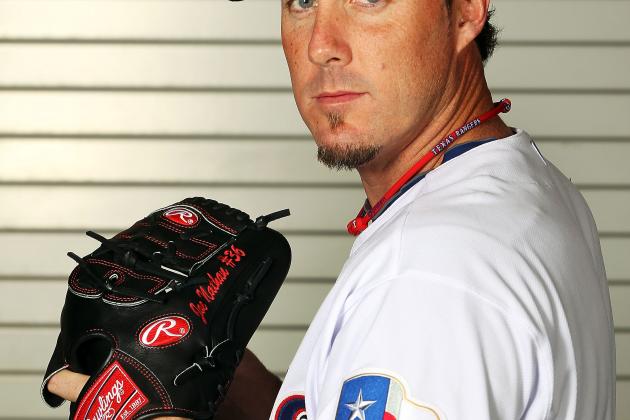 Jamie Squire/Getty Images

Before Tommy John surgery, Joe Nathan was easily one of the game's elite closers. In 2011 though, he struggled quite a bit and ended up splitting closing time with Matt Capps.
Will he find his touch with the Rangers while playing in a hitter's ballpark in 2012? I don't see that happening, as he's already past his prime even when discounting the injury.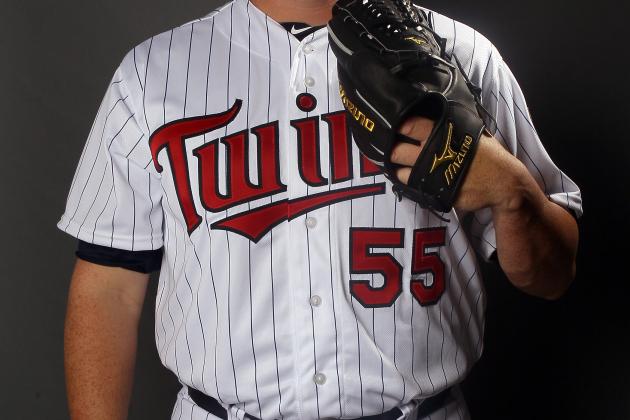 Elsa/Getty Images

While I think Joe Nathan's season could be ugly, I also think that with the team around him he could end up doing just fine.
Matt Capps, after his struggles last year, has me quite confident in saying that he'll have another poor season, and I'm not quite sure why the Twins stuck with him.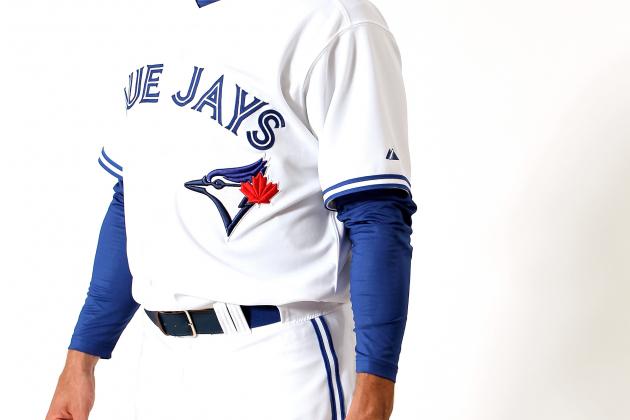 Jonathan Ferrey/Getty Images

I have a good feeling about most of the Blue Jays' infield, especially rising star Brett Lawrie. Kelly Johnson, however, is an exception.
Johnson feels very inconsistent at times and the contract year may cause him to try too hard, with the end result being rather shoddy stats.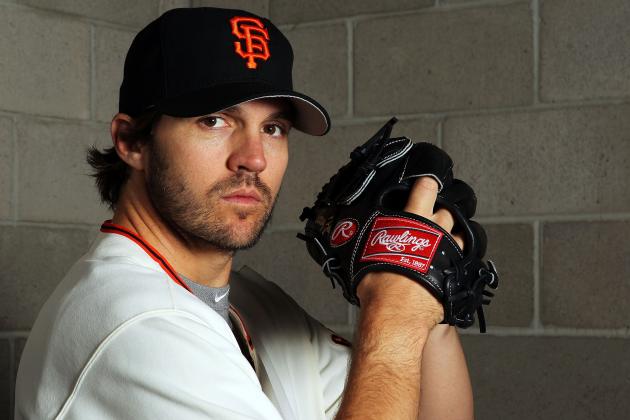 Jamie Squire/Getty Images

I'll make this one short and sweet. If Barry Zito was going to have a season that was not considered a failure given the massive contract he received, it would have happened by now.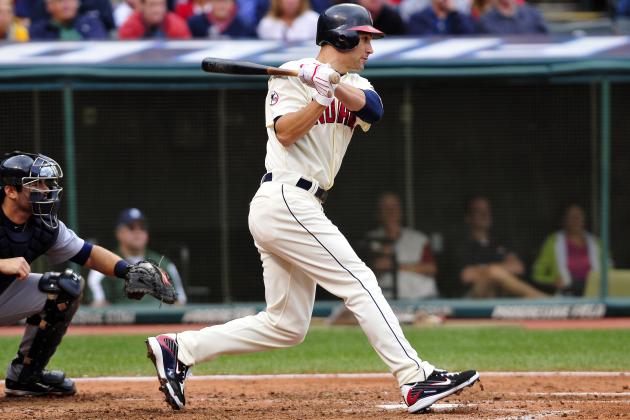 Jason Miller/Getty Images

Grady Sizemore has either been hurt, ineffective or both the past few years. Why did the Indians re-sign him, figuring this year will be different?
The year hasn't even started and it looks like Sizemore's season is going to be a very painful one to watch, plain and simple.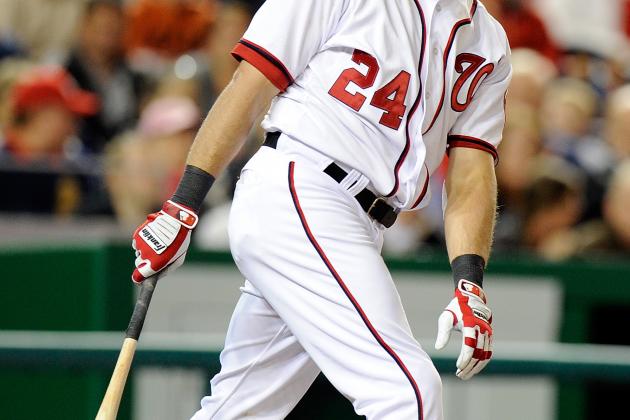 Greg Fiume/Getty Images

A few short years ago, Rick Ankiel was one of the feel-good stories in baseball as he emerged as a great outfielder after his pitching career faded.
This year, he has the center fielder job in Washington for now, but I'd be surprised if he's still there at year's end. If Roger Bernadina makes a late push, Ankiel may not even end up with it, and even if he does, he won't be very effective.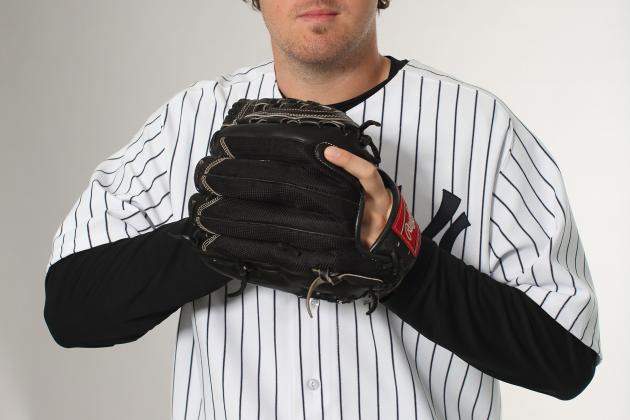 Nick Laham/Getty Images

Phil Hughes has pitched well in spring training, and seems recovered enough that he should have, at worst, a good luck season like 2010.
I'm not convinced that he's back to where he was a few years ago though. His win-loss record will be fine since he's a Yankee, but he's going to have consistency problems throughout the year.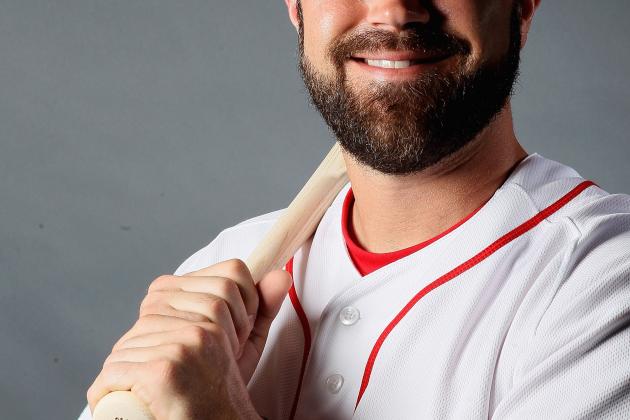 Elsa/Getty Images

Kelly Shoppach is kept around for his defense and occasional power in his bat, not his average. He could hit under .200 again and the Red Sox probably would shrug it off.
However, I think this year we'll see a drop in power, making his offensive production nonexistent. He should still be okay defensively, but it'll be that much harder to keep him in the lineup.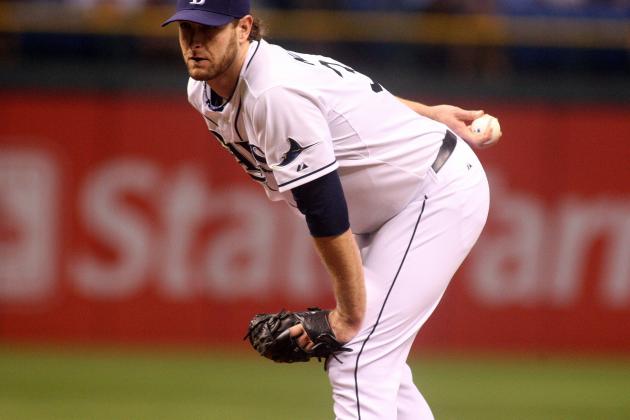 Charles Sonnenblick/Getty Images

The Tampa Bay Rays have six starting pitchers, meaning at least one will be the odd man out heading into 2012.
Even if Niemann makes it in, he's always been near the back of the rotation. He seems to have stamina issues based on his career innings pitched and as a result I think he'll struggle this year, especially late.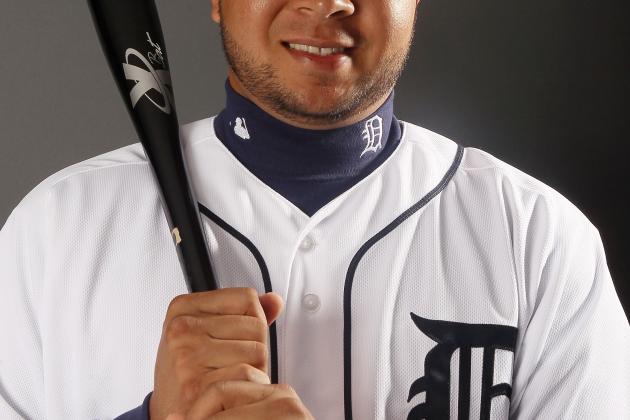 Elsa/Getty Images

While many of the previous players have been bad in years past, I can't limit myself to them. Sometimes players with great years could regress, as Jhonny Peralta might.
Peralta can move back to shortstop, but he's never had the range there. With Fielder added in and creating a potent lineup, I actually see his offensive putout falling off with less to go around.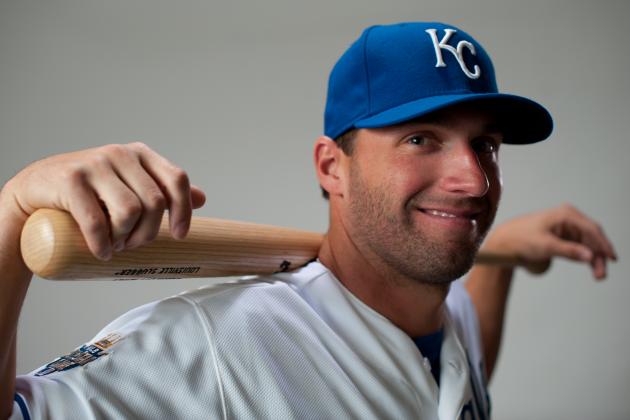 Rob Tringali/Getty Images

Jeff Francoeur actually had a nice year with the Kansas City Royals, and seems to have bounced back from a bad year with the Mets.
I'm still not sold on him as a great hitter year in and year out, and I think he'll revert to having times where he struggles this year.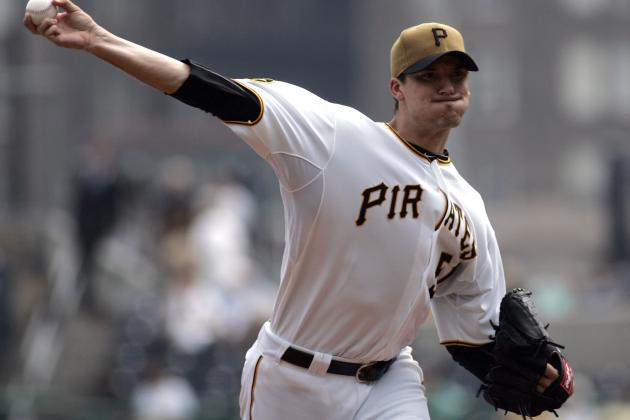 Justin K. Aller/Getty Images

After a horrendous 2010, Charlie Morton rebounded and may have been the best starting pitcher for the Pirates in 2011.
I see there being some regression now that Morton's actually playing a second full season. He won't have an ERA of seven, but it'll be a lot closer to five than it was last year.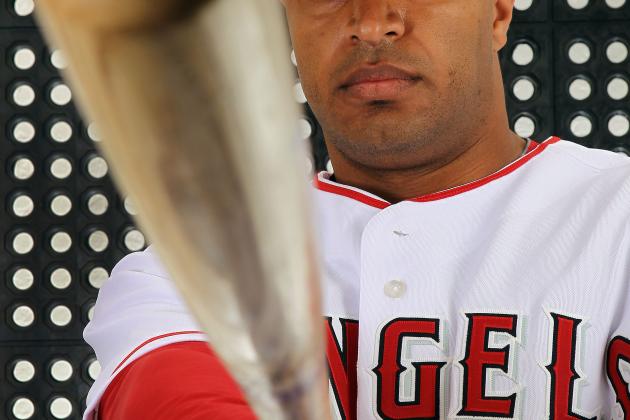 Jamie Squire/Getty Images

A lot of people, based on what I've read, see Vernon Wells having at least some sort of bounce-back year after a bad 2011 with the Angels.
As for me, I think what we saw in 2011 isn't far off from what we'll be seeing from now on. It's their fault for taking such a stupid contract.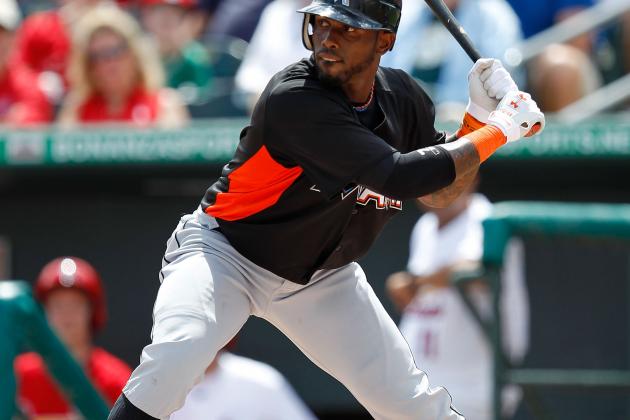 Sarah Glenn/Getty Images

Here's a shocker to a lot of people, I'm sure. Reyes was an MVP candidate and batting champ last year, why would I think he'll be a failure?
I think the numbers he puts up in 2012 will be entirely fine. He'll then get injured and miss 30 or more games, causing him to struggle upon his return, which is precisely what we've been worried about with this deal.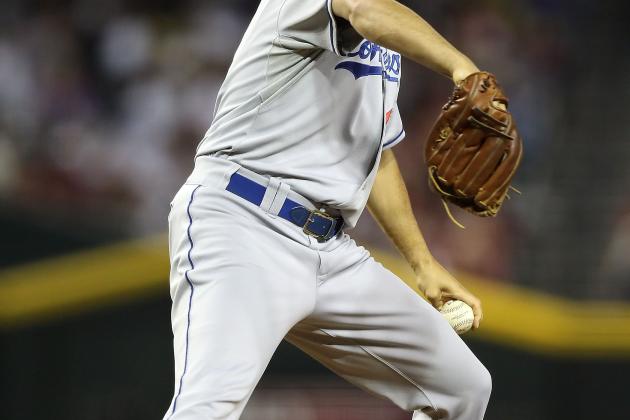 Christian Petersen/Getty Images

Ted Lilly has been a solid innings eater for most of his career who can keep his walks down for the most part, which is why the Dodgers are holding on to him another couple years.
However, Lilly is slowly but surely getting worse as it's clear he's past his prime. His ERA will go back up under four, and I don't see him being much of an innings eater this year either.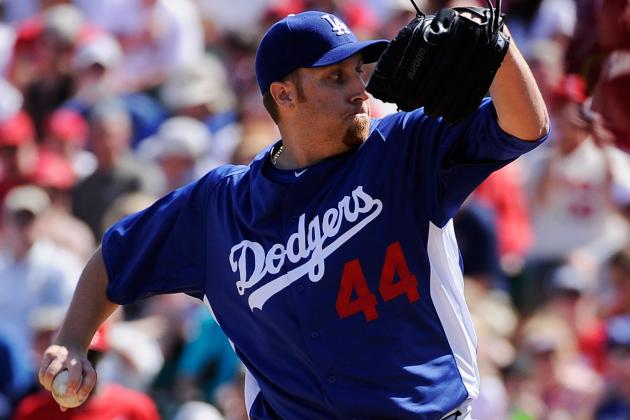 Kevork Djansezian/Getty Images

Like a few others on this list, Harang had a nice bounce-back year last season. However, that bounce-back year was in San Diego.
If the Dodgers are expecting another 14-7 performance from him this year, it's not happening and they'll be lucky if he pitches .500 ball.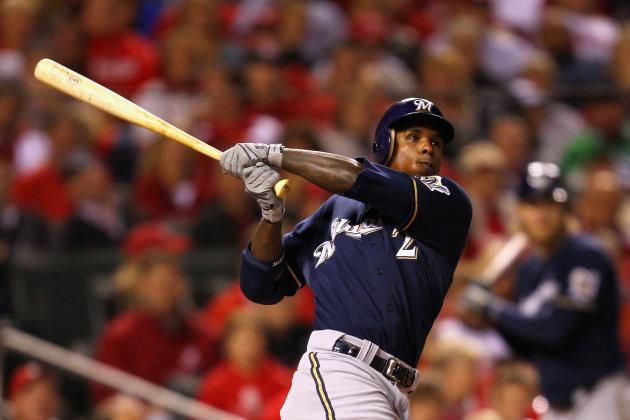 Dilip Vishwanat/Getty Images

Morgan emerged seemingly from out of nowhere both as an energetic center fielder and a fan favorite, after having his share of problems in Washington and elsewhere.
I don't see him duplicating how he performed last year, as his average will likely fall back around .250. He'll still be well-liked and enjoyed by Milwaukee fans, but it won't be for what he does on the field.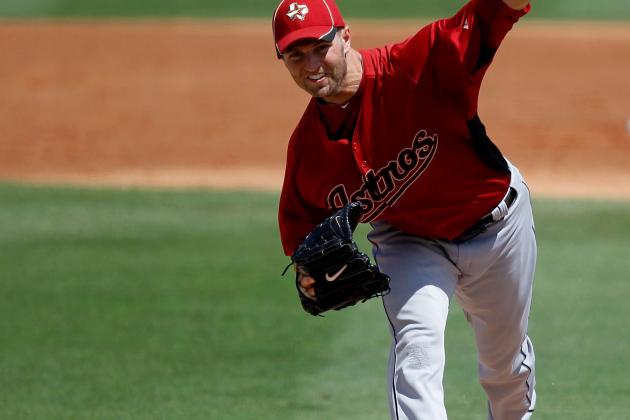 Sarah Glenn/Getty Images

Happ was the prize of the Roy Oswalt trade, but he played quite poorly in 2011, though it was his first full season.
He had success in 2009, but in the environment he's in I'm not sure if he can bounce back to those types of numbers. He may have another 5-plus ERA season.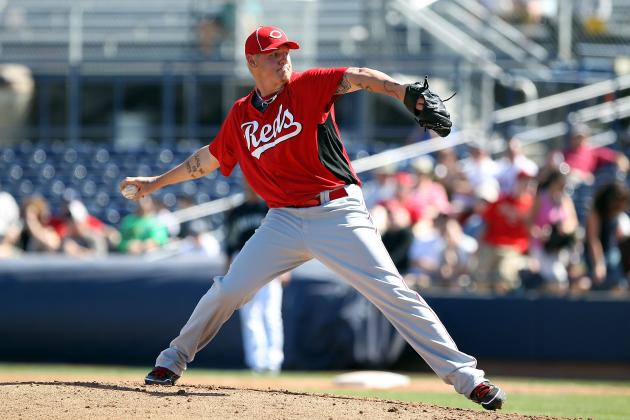 Christian Petersen/Getty Images

The Reds gave up way too much for Latos and I've already mentioned several times that Padres pitchers don't perform well elsewhere.
Latos might be serviceable with a .500 record and a 4.40 ERA or so, but considering what they gave up, those numbers would qualify him as a failure.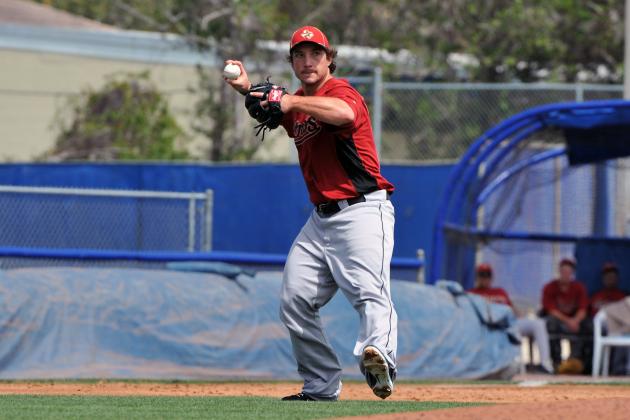 Al Messerschmidt/Getty Images

I think Brett Wallace should have a decent 2012 season should he get the playing time in. That's a failure on another player in a sense.
Carlos Lee can't play the outfield that much anymore and will play first base most of the year. Whether Wallace plays well or not, he's stuck on the sidelines another year.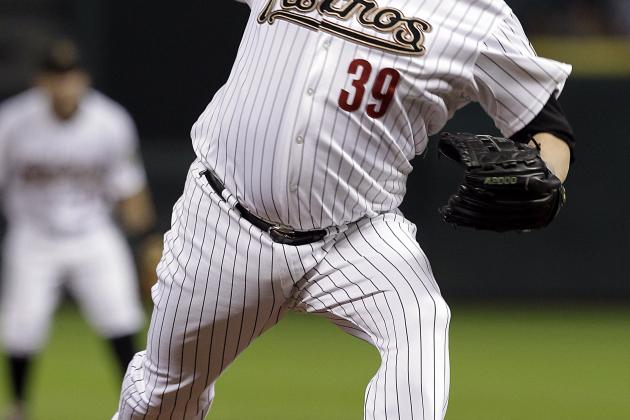 Bob Levey/Getty Images

After being one of the better starters in the rotation the past couple seasons, the Houston Astros decided to make Brett Myers the closer for 2012.
This is a massive failure on all fronts. It hurts his trade value, he'll probably struggle and the Astros don't really have starting pitching as it is.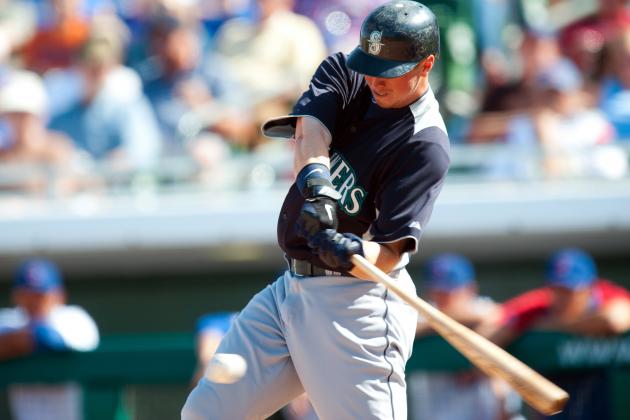 Rob Tringali/Getty Images

Smoak looks like he'll have another season as the Mariners' starting first baseman after being traded from the Rangers, but I'm not sure I see why.
I don't see Smoak as someone that can be an everyday first baseman, as he simply doesn't hit the ball often enough, something we will see more of this coming season.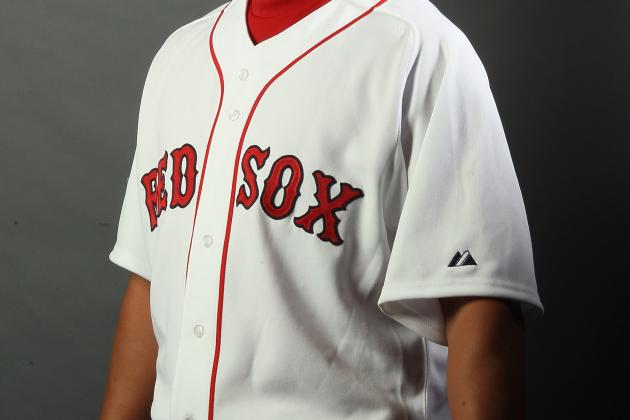 Elsa/Getty Images

One of two things will happen with Daisuke Matsuzaka. Either he'll be ineffective and struggle to keep his ERA low, or he'll be injured a good chunk of the season.
The Red Sox are probably thankful at this point that Dice-K only has one year left on his deal, since after a great start he has fizzled greatly in his career.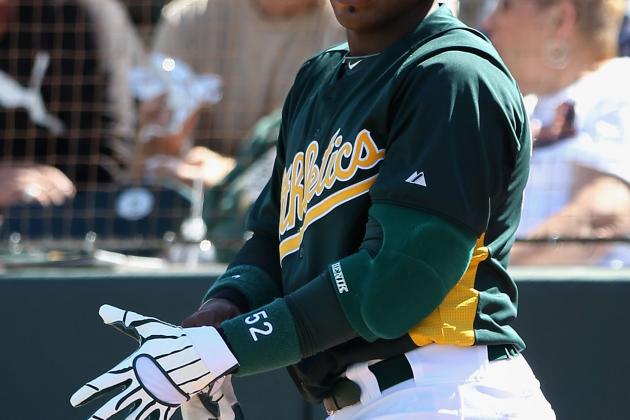 Christian Petersen/Getty Images

Yoenis Cespedes was a shocking acquisition for the Oakland Athletics, and he'll start the season in the minors to get prepared for the majors.
Based on his spring training numbers, I see a rude awakening for him this coming season in the majors, as he'll struggle his first year.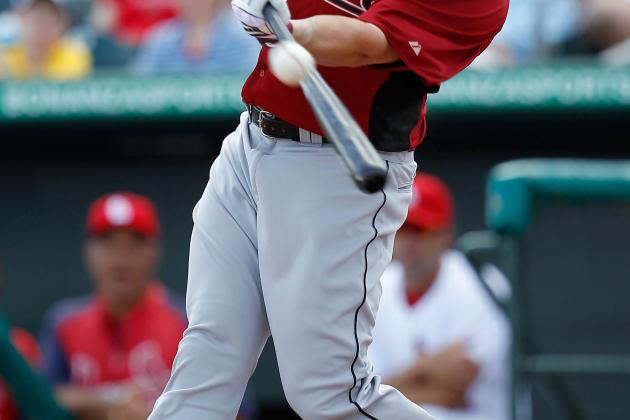 Sarah Glenn/Getty Images

Jack Cust will probably make the Astros' roster despite a bad 2011 mainly since they don't have much else in Houston when it comes to power besides Carlos Lee.
With his power, it will be a failure if he spends the year in the minors, but given his low batting average, he's a guy who's tough to frequently keep in the lineup to begin with.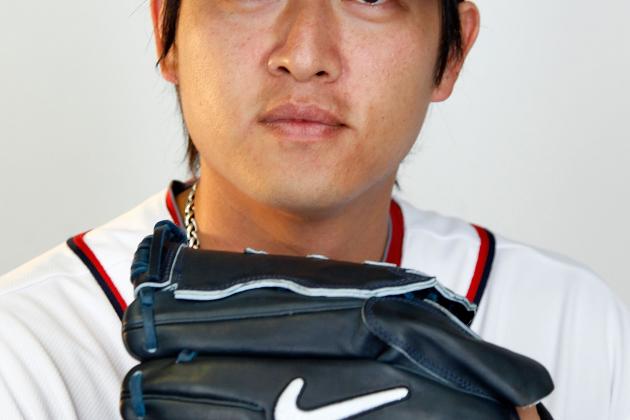 Mike Ehrmann/Getty Images

Wang's success with the Yankees seems like an eternity ago, and perhaps it was. He finally returned to action last year with the Nationals and was OK in 11 games.
While the bugs are worked out, he still has some nagging injuries and they will take their toll on him this year. It's unlikely he finishes the year in the rotation.
Marc Serota/Getty Images

When most look at Skip Schumaker's stats, they see the .300 average and figure he's entirely capable, though the rest of his stats and defense are nothing to sneeze at.
He's the weak link in the team's infield and he'll struggle a bit this year at second base. If his batting average continues to go down, then it knocks out one of the few things he's good for.
Sarah Glenn/Getty Images

John Lannan has been a workhorse for the Washington Nationals, but he's not someone who I think can sustain the numbers he puts up, especially given his high walks and low strikeouts.
I think 2012 will be where we see this unraveling a bit, as Lannan will either perform poorly or will struggle somewhat and become trade bait rather quickly.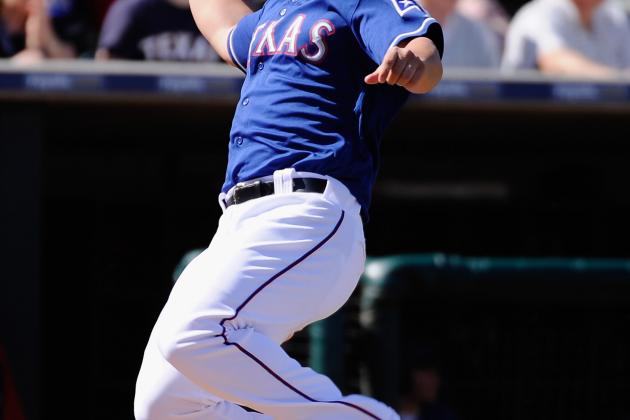 Kevork Djansezian/Getty Images

It's a bit ironic that the Texas Rangers have all these huge bats, yet at first base they have a weak bat in Mitch Moreland.
While I know he has a good fanbase, I am not convinced he is anything more than a placeholder and that's how I see him playing next year.