Cleveland Browns 2012 Mock Draft: "The Plan B"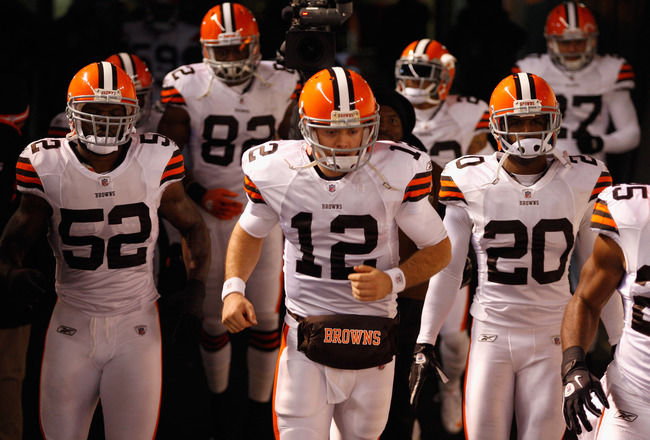 Jared Wickerham/Getty Images
Contrary to what some Cleveland Browns fans believe, there are many reasons to be excited about the direction of the franchise.
Sure, they may have swung and missed on an attempt to acquire potential franchise quarterback Robert Griffin III. Does that mean the team is doomed for the next decade? Certainly not. Teams have won before Griffin, they will win after him as well.
Does the Browns' meager activity on the free agent market mean the team has no chance to compete? Hardly. There are very few instances where free-agent chasing was the method used to build a playoff team. Just ask the franchise who desperately outbid us for Griffin how that method has worked for them over the last decade.
And finally, while plenty of fans may be ready to lambast the current front office for whatever moves (or lack thereof) they personally disagree with, it might help to remember that next September we will be entering—that's right entering, not ending—our third season under Holmgren's watch. The fact that some are calling for yet another turnover (the reason we remain terrible) when we are not even halfway through the five-year plan the front office has consistently laid out personally baffles this writer.
But most fans I have talked to are willing to show a little patience if they are just shown that the team is moving in the right direction, which brings us to the point of this article. The Browns have nine picks in the upcoming 2012 NFL draft. If used correctly, that is nine players to add to a 53-man roster and a chance to drastically alter the fortune of this team.
This very well may be the year the Browns make the leap that most fans have been looking for. So without further ado, here is a look at the ways the Browns can make their fans optimistic again in April.
1st Round, 4th Pick: Morris Claiborne, CB, LSU
Until I sat down to write this, I never expected to pick Claiborne. With the Cleveland Browns' anemic offense last year and the promising play of the defense, I thought they would have to target the best offensive player available. But, in an honest evaluation, Claiborne is almost certainly the name I expect to hear called next month.
First, this selection precludes that the first three picks in the NFL draft will be quarterbacks Andrew Luck and Robert Griffin as well as offensive tackle Matt Kalil, as most have projected.
To understand why I believe Claiborne is the surefire pick at four, we need only look back at the 2011 NFL draft. The Cleveland Browns sat at position six and used prospect Julio Jones to pull off a monster deal with the Atlanta Falcons.
Since that time, it has been reported that there were two prospects the Browns had targeted who, if they had fallen to six, the Browns would not have traded out for. Those two prospects were LSU cornerback Patrick Peterson and Georgia wide receiver A.J. Green.
Fast forward to 2012. The Browns now sit at position four with three prospects tied to the team: LSU's Morris Claiborne, Oklahoma State's Justin Blackmon, and Alabama's Trent Richardson. This is not to dismiss Richardson, but there are several reason (which have been developed in greater depth elsewhere and which I will glean over in later slides) as to why he is not likely the Browns' target. This leaves the team weighing Blackmon and Claiborne.
Claiborne, like Peterson the year before, receives an extremely high draft grade. While I personally like Peterson's physicality, there are some who see Claiborne as the better true cover corner. In other words, Claiborne is every bit the coveted corner that Peterson was last year. He has the potential to become a lock-down corner and to become part of the best young cornerback tandem in the league when paired with Joe Haden. Selecting him would also allow the Browns to slide Sheldon Brown to free safety, where his veteran savvy would immediately improve the hole left behind when Mike Adams left in free agency, thus solving two team holes with one pick.
But where does Blackmon rate in comparison to last year's receivers? The answer is nowhere close. Scouts have made no secret about the fact that Blackmon does not fall into the same tier as last year's A.J. Green or Julio Jones. He would have been in contention for (and not even the downright winner of) the third best receiver spot in the draft, which went to Johnathan Baldwin, drafted at 26 by the Kansas City Chiefs. In other words, in any other year Blackmon would not even have been a top-ten pick.
While no team has earned the right to reach for a pick to fill a need more than the Browns, their doing so should be an alarm bell for anyone paying attention. The front office has shown it is willing to do what is unpopular with the fan base when they believe it improves the team. Picking the best overall player on the board at four, regardless of which side of the ball he plays on, shows they are sticking to a developed plan. Drafting an average height, average speed receiver who projects as a possession receiver when you already have that in Greg Little, Mohammed Massaquoi, Josh Cribbs, etc. shows the front office is in panic mode and have thrown all caution to the wind.
Option B: Trent Richardson. If healthy, will have the bigger impact out of the two offensive play-makers.
Dark Horse: Justin Blackmon. Do the Browns reach just to fill a position of dire need?
Not Likely to Happen: Offensive Line. Left tackle money for a right tackle or guard?
1st Round, 22nd Pick: Stephen Hill, WR, Georgia Tech
The 6'4" Georgia Tech prospect impressed scouts with his great combine performance, but his recent draft-stock rise is not just combine hype. He fills a huge need for the team and has the physical tools (size, speed, hands) to be an elite player at the next level. The Browns are looking for a receiver with top-end speed to stretch opposing defenses and Hill can provide them with that and more.
There is a chance that Hill becomes another game-breaking receiver from Georgia Tech just like his predecessors Calvin Johnson of the Detroit Lions and Demaryius Thomas of the Denver Broncos. The fact that the Browns have a chance to select this player will be very enticing. His downside is that he is a raw route runner with minimal game tape due to the system run at Georgia Tech, and teams would like to have a more polished player at number 22.
Tom Heckert does not place a lot of stock in workout warriors. From what I have read, he tends to solidify his draft board before the combine and not do too much tinkering afterwords. He bases his evaluations on game performance and uses the "Spandex Olympics" to either confirm or refute what he already knows about a player.
So my caveat to this pick is this: if Hill's performance got Heckert to rewatch some tape, and he saw a guy who can run routes and excel at the next level, then I expect him to be the pick. If, however, Heckert does not see anything on tape to say this guy has anything other than straight line speed, I do not expect the Browns would see this guy as anything higher that a third-rounder.
But looking at the highlights above, just ask yourself what you think Heckert will see.
Option B: Kendall Wright, WR. His less-than-stellar combine will not dissuade Heckert from believing he is the game-changing, deep-threat receiver who shows up on game tape.
Dark Horse: Ryan Tannehill, QB. I do not see it happening, but he becomes a more excusable project at 22 rather than at four.
Not Likely to Happen: Defensive End. While I can see Frostee Rucker being next year's Jayme Mitchell, the recent move to acquire him and Juqua Parker should be a clear indication the Browns have other intentions for their draft picks.
2nd Round, 37th Pick: Lamar Miller, RB, Miami
Really, Lamar Miller is just a name here, but before we get to what that means, let us review the reasons that the Browns are unlikely to select running back Trent Richardson at four:
While hands down the best back prospect, Richardson's knee scope will be a concern for any team, let alone one who just experienced a lot of problems due to running back injury last season.
The average career span of an NFL running back is 2-3 years, which is not a great investment of a first round pick, even with the new rookie wage scale.
The Browns' West Coast Offense deemphasizes the importance of having a "feature" back.
Whether he really shows promise or the Browns just do not want to admit a drafting mistake, they are not ready to give up on Montario Hardesty.
The Browns have some decent complement backs and do not need to hand over every-down duties to one star.
Current NFL trends have shown that quality backs can be found in later rounds, and the top-ten running back selection is becoming an archaic practice.
As Mark Ingram showed last year, projection and actuality can differ a bit. Can the Browns 100% guarantee that Richardson is above slipping to 22 when they have so many other needs?
But the number one reason not to select Trent Richardson at number four is that unlike other positions, the talent level at running back this year does not have a significant drop off until later rounds. There is a group of running backs this year considered to be on the second tier, and one of them (if not more) is going to be available to the Browns at this spot. The backs mentioned in this group tend to be Miami's Lamar Miller, Virginia Tech's David Wilson, Boise State's Doug Martin, and Washington's Chris Polk. Any one of these backs can step in as the starter on day one and help jump start the Browns' offense.
For my dollar, Lamar Miller is the best of the bunch. He is the most explosive back in the 2012 draft, and that includes Trent Richardson.
One of Cleveland's biggest needs is speed. Miller ran the fastest 40 at the NFL combine, and that speed is evident on his game tape. I have not watched every snap by every back, but he is the only one I have never seen chased down from behind, except for one instance (when he was already off-balance from breaking a tackle against Ohio State University) which can be seen on this highlight reel.
Miller would provide the Browns with an attacking back who will keep NFL defenses on their heels.
Option B: Mike Adams, OT. His bench press performance probably cooled interest, but that is why NFL teams have their own strength-training programs.
Dark Horse: Brandon Weeden, QB. Fans may be wary of his age, but if he really would project as a top-fifteen pick if younger, would not five years of winning be better than zero?
Not Likely to Happen: Linebacker. Fans seem to forget we are running the 4-3 now, not the 3-4. Linebacker is the least important position on our defense. Unless you are talking Von Miller, Heckert does not draft linebackers before the third round.
3rd Round, 68th Pick: Bobby Massie, OT, Mississippi
The Browns are in need of a starting right tackle. While I believe they will use their early picks to find playmakers, they will not be able to neglect this need any longer in the draft if they still want to find a starter. Ole Miss's Bobby Massie has been flying under the radar. Massie has the prototypical size of a right tackle standing at 6'6" and 316 lbs. He also has the long arms and large hands teams look for in a pass protector.
Another benefit of selecting Massie is that he has started his whole career as a right tackle, so he will not need the transition time that a converted left tackle often needs. Perhaps Massie's most intriguing attribute though is that he is very quick off the snap, which will help his success at the next level.
What I like about Massie over tackles like the higher-rated Zebrie Sanders is his ability to handle the speed rusher. He is also a powerful run blocker who can dominate opponents as long as he maintains his technique. For a lineman, Massie jumps off the tape and would project much higher if he had played at a better school.
Option B: Zebrie Sanders, OT. Another starting-caliber tackle likely to be available. I am not too enthused with how he was manhandled by the elite pass rushers during Senior Bowl week.
Dark Horse: Chase Minnifield, CB. There is nothing exceptional about Minnifield that would make him worth taking earlier. He does have the height, technical skill, and bloodlines to warrant a look in the 3rd though.
Not Likely to Happen: Kirk Cousins, QB. I like the kid's mentality and he helped his stock a lot at the combine, but I do not see the Browns passing on a chance to add a starter just to bring in Colt McCoy's "competition."
4th Round, 101st Pick: Nigel Bradham, OLB, Florida State
Florida State's Nigel Bradham is a physically imposing linebacker with the sideline-to-sideline speed that our current outside linebackers are lacking.
But what might excite Browns fans most, who have had to watch opposing AFC North linebackers such as Ray Lewis and James Harrison level our offensive players over the last decade, is that Bradham likes to hit people. His aggressive attitude will be just what the Browns need to compete in the tough AFC North.
Bradham has led his team in tackles over the last three seasons, recording 93 tackles, 5.5 TFLs, 2 sacks, 1 interception in 2009, 97/5.5/5/0 in 2010, and 86/9.5/2/2 in 2011.
He is a versatile player, stout against the run, and can just as easily drop and cover tight ends. He can line up at either outside linebacker spot, which makes him a good complement to pair across from Chris Gocong when he eventually replaces Scott Fujita as starter.
4th Round, 119th Pick: T.Y. Hilton, WR, Florida International
Unfortunately, the Browns were unable to obtain a veteran receiver in free agency. If the Browns are serious about upgrading their passing attack, they are going to have to emerge from this draft with at least two viable receiving options.
T.Y. Hilton is a great pickup at this point as an extremely productive three-year starter at Florida International. He is a smaller receiver, standing at 5'10" and will likely only be the selection if the Browns previously picked the 6'4" Stephen Hill over the 5'10" Kendall Wright.
Hilton ran a 4.36 40 at his pro day and has the straight line speed to take the top off the defense. He has reliable hands, is shifty, and can create yards after the catch. He projects well as a slot receiver at the next level and would immediately challenge Jordan Norwood for those duties.
5th Round, 132nd Pick: Brock Osweiler, QB, Arizona State
It is hard to tell where quarterback Brock Osweiler will be taken in the upcoming draft. After the elite tier of Andrew Luck and Robert Griffin III and the second tier of Ryan Tannehill and Brandon Weeden, the quarterback field is wide open.
On the one hand, Osweiler hurt his stock by opting not to throw at the NFL combine. But on the other hand, some general manager may fall in love with his 6'7" height and powerful arm and pick him as early as the second round.
I am going to keep him near his original draft projection with the realization he very well could be off the board long before then.
But whether it is Osweiler, Nick Foles, or Kirk Cousins sitting here, this is the position I expect the Browns to use in selecting Colt McCoy's competition. It does not handicap the team by taking away a pick that would otherwise be used to add a starter or significant contributor, but it also is not so late that they will be scraping the bottom of the barrel and drafting Case Keenum.
In all honesty, this is a throw away pick. The chance of finding the next Tom Brady is about as good as winning the lottery. This will allow the front office to appease fans by saying they are bringing in someone to push McCoy.
But the truth is, all they should be hoping for is a return investment on their draft pick after their backup looks good enough in spot duty to fool a desperate team into trading. The more realistic outcome is that after McCoy is hurt again next year, Osweiler helps Cleveland fans realize that it might be a bit more than height and arm strength that helps quarterbacks like Ben Roethlisberger and Joe Flacco succeed in the AFC North (you know, like their first-round draft projections).
6th Round, 165th Pick: Akiem Hicks, DT, Regina
Akiem Hicks fits Tom Heckert's defensive tackle mold: a 6'5", 320 lbs. behemoth who can clog up running lanes but also has the nimble feet and athleticism to pursue quarterbacks and ball carriers. Think current starters Phil Taylor and Ahtyba Rubin.
With Hicks, the Browns find some depth to fill out their young defensive line, hopefully picking up another late-round gem like Rubin in the sixth. Hicks has all the physical gifts to be a success in the NFL and is an under-the-radar prospect. He had to play in Canada after a recruiting difficulty at LSU made him ineligible to play, and that has led to a lack of media attention.
One criticism that has been leveled against Hicks is that he takes plays off, but hopefully backing up a player like Rubin will allow a bit of drive to rub off through osmosis. At best we get a potential starter, and at worst a quality backup to relieve starters Taylor and Rubin, who cannot play the same amount of snaps as last year if we want them to maintain their efficiency.
7th Round, 196th Pick: Jaymes Brooks, OG, Virginia Tech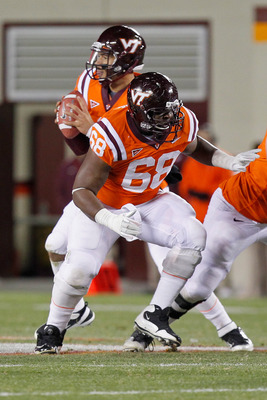 Geoff Burke/Getty Images
Contrary to some fans' opinions, the Browns are confident in their two young guards Shawn Lauvao and Jason Pinkston. They made rookie mistakes but both showed improvement, especially at the end of the season.
I am personally hoping the Browns are able to bring back Eric Steinbach at a discounted price, but if they do not, they are going to need one more backup guard to pair alongside recently resigned John Greco.
Jaymes Brooks was a reliable player for Virginia Tech, starting 42 consecutive games at right guard. He is not going to blow any defenders off the line, but he had a high protection-efficiency rating and would provide solid and reliable depth behind a young offensive line.
Conclusion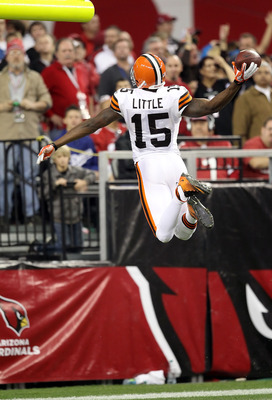 Christian Petersen/Getty Images
If the Browns make the selections mentioned in this mock, their roster will look as follows: (Roster battles are indicated with a "/")
QB
Colt McCoy
Seneca Wallace/Thaddeus Lewis (They like Lewis; why keep a whiny career backup with an unsettled quarterback position?)
Brock Osweiler
RB
Lamar Miller
Brandon Jackson
Montario Hardesty/Chris Ogbonnaya (Obi-1 becomes the unfortunate victim of the team's unwillingness to admit Hardesty is a bust)
FB
Owen Marecic
WR 1
Stephen Hill
Mohamed Massaquoi/Carlton Mitchell (The Browns are going to have to decide if Carlton Mitchell has developed enough to usurp the mediocre production Massaquoi can provide)
WR 2
Greg Little
Josh Cribbs
Slot Receiver
T.Y. Hilton
Jordan Norwood
Tight End
Ben Watson, Evan Moore
Alex Smith, Jordan Cameron
Offensive Line
Joe Thomas (LT), Jason Pinkston (LG), Alex Mack (C), Shawn Lauvao (RG), Bobby Massie (RT)
Oneil Cousins (T), John Greco (G/T), Jaymes Brooks (G)
Defensive Line
Jabaal Sheard (DE), Phil Taylor (DT), Ahtyba Rubin (DT), Frostee Rucker (DE)
Marcus Benard (DE), Akiem Hicks (DT), Brian Schefering (DT), Juqua Parker (DE), Emmanuel Stephens (DE)
Linebackers
Chris Gocong, D'Qwell Jackson, Scott Fujita
Kaluka Maiava, Titus Brown, Quinton Spears, Nigel Bradham
Cornerbacks
Joe Haden, Morris Claiborne, Dimitri Patterson (Nickel)
Buster Skrine, James Dockery
Strong Safety
T.J. Ward
Usama Young
Free Safety
Sheldon Brown
Eric Hagg
Special Teams
Phil Dawson (Kicker), Reggie Hodges (Punter), Christian Yount (Long Snapper)
That, at least to me, looks like an NFL-caliber roster and something that Browns fans can be excited about entering the 2012 season. With nine picks in the 2012 draft, seven within the top 132 prospects, the Browns have the chance to build the foundation of players that will turn this franchise around.
Keep Reading

Cleveland Browns: Like this team?