David Garrard to Dolphins: Why Miami Must Still Select a QB in 2012 NFL Draft
March 20, 2012

Sam Greenwood/Getty Images
Signing free agent David Garrard doesn't fix the Miami Dolphins quarterback problem.  What the franchise should do is take a quarterback in the first round of the NFL draft, like Texas A&M's Ryan Tannehill. 
According to ESPN, the Dolphins signed Garrard to a reasonable one-year deal that enables Garrard to come in and compete for the starting job against Matt Moore. 
Garrard went onto say in a phone interview with ESPN about the possibility of the Dolphins bringing in another quarterback:
They didn't say for sure they were bringing another guy in, but they said it's a possibility, whether in the draft or whatever." 
He went onto say about the chances of being the starting quarterback at the start of the season:
"It's going to be a great competition, and I'm all about that," Garrard said. "I'm going to do my best to make sure it's me on opening day."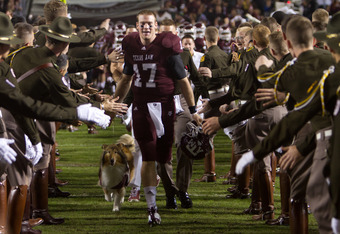 Darren Carroll/Getty Images
The Dolphins have to fix a problem they have been dealing with since Dan Marino retired from the Dolphins at the end of the 1999 season. But, they continue to pass on talented quarterbacks in the first round in the draft. 
This year, they have the ability to reach for Tannehill with the eighth pick. 
From AOL SportingNews breakdown of Tannehill during his senior year at Texas A&M, they show a quarterback who is ready to be a very good NFL quarterback saying:
Tannehill has displayed much better pocket sense. Combined with his foot quickness and athleticism, he moves efficiently to avoid pressure and can re-set, either in the pocket or outside, with accurate throws. He does an excellent job of reading defenses. When he finds open receivers, Tannehill gets rid of the ball quickly and is usually on target. He is more poised than before, and doesn't panic as plays breakdown. Also, he doesn't throw the ball up for grabs to avoid sacks.

Tannehill has good arm strength and does a good job of throwing the ball where only the receiver can make a play.
Plus, the Dolphins new offensive coordinator is Tannehill's former head coach at Texas A&M, Mike Sherman. 
With Sherman as the new offensive coordinator, and Tannehill's impressive skill set, he can come in and be a quarterback that leads the Dolphins back to the playoffs.