Louisville vs. Michigan State: Breaking Down Massive Sweet 16 Game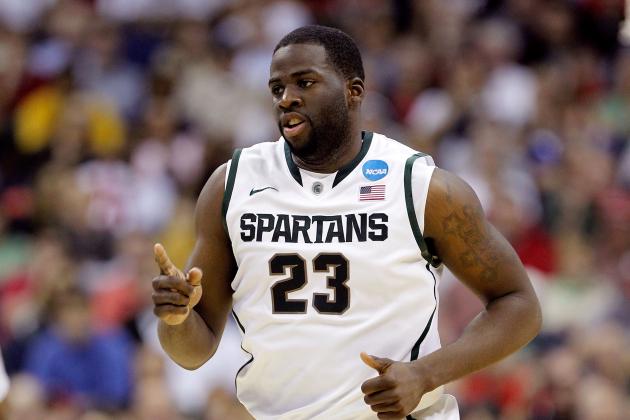 Rob Carr/Getty Images

They escaped from third-round underdogs by a combined seven points, and now, top-seeded Michigan State and No. 4 seed Louisville are set to square off in Thursday's Sweet 16 action.
The showdown features two of the country's toughest defenses, but they'll have their work cut out for them to slow down offensive stars Peyton Siva of the Cardinals and Draymond Green of the Spartans.
Green, the Big Ten Player of the Year, will face a stiff test from the physical Cardinals frontcourt. Gorgui Dieng is one of the nation's leading shot-blockers, and freshman Chane Behanan outweighs Green by 20 pounds.
Here is a position-by-position look at how the two teams match up, plus the offensive and defensive factors that will decide who moves on to the Elite Eight.
Begin Slideshow

»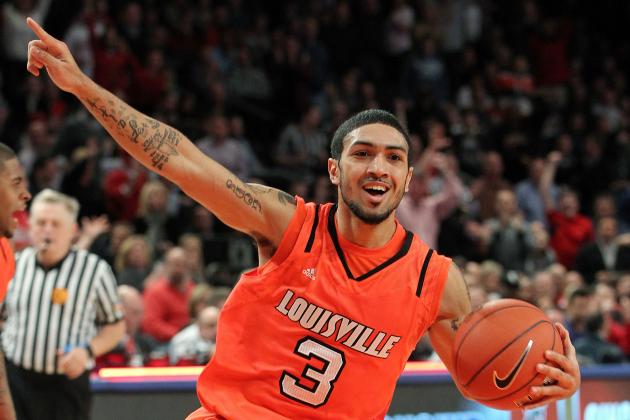 Michael Heiman/Getty Images

No single player is more important to Louisville than Peyton Siva.
The junior's 5.5 assists per game are the glue holding together an erratic offense, and he also helps spearhead Rick Pitino's high-pressure defense with 1.8 steals a night.
Keith Appling isn't quite in the same position for the Spartans, but his emergence as a ball-handler and scorer has been the biggest factor in elevating State from a 19-15 squad a year ago to a 29-7 team with a No. 1 seed.
Despite solid averages of 11.3 points and 3.9 assists a night, he's really struggled against Ohio State's Aaron Craft (slightly bigger than Siva but otherwise comparable defensively). Appling recorded just four points in the Big Ten title game and zero assists in an earlier meeting with the Buckeye guard.
Advantage: Louisville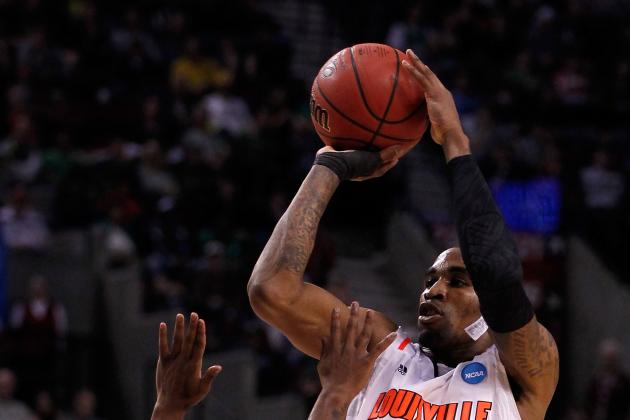 Jonathan Ferrey/Getty Images

This Cardinals roster doesn't have the wealth of three-point shooters Rick Pitino usually likes, but Chris Smith has been an exception.
Smith is shooting a sizzling .392 from long range while averaging the second-most points (9.8 per game) among Louisville's starters.
Brandon Wood hasn't scored nearly as well as he did last year at Valparaiso, but he's also been effective as a designated three-point sniper. Wood's 45 treys are second most for the Spartans, and he's hitting at a .369 clip from beyond the arc.
Advantage: Louisville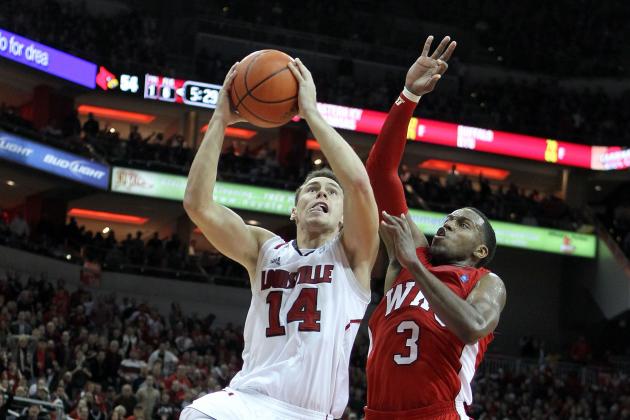 Andy Lyons/Getty Images

As Louisville's leading scorer (13 points a game) and top crunch-time performer, Kyle Kuric has been one of the few consistent half-court scoring options for the Cardinals. He leads the team with 72 three-pointers made, but he's far more reliable from mid-range.
Branden Dawson went down with a knee injury in the regular-season finale, which pressed Austin Thornton was pressed into service as a starter.
Thornton is decidedly a complementary player on offense, though he can hit the three-pointer if given the chance (4-of-4 against Wisconsin in the Big Ten tournament).
Advantage: Louisville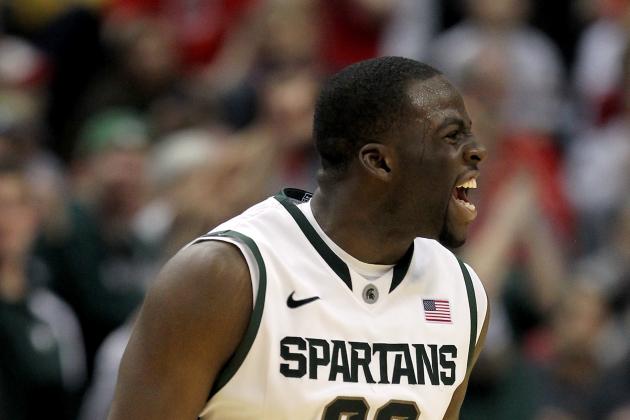 Andy Lyons/Getty Images

Built like a brick wall at 6'6", 250 lbs, Chane Behanan has been a tremendous asset to the Cardinals with his rebounding.
Behanan is averaging 7.4 boards a night—second on the team—while also shooting .502 from the field (though the latter stat owes a lot to Peyton Siva's assists).
On the other side, if something goes right for Michigan State, there's a great chance Draymond Green had a hand in it.
The 6'7", 230-lb forward is in his second season of leading the Spartans in both scoring (16.1 per game) and rebounding (10.4), and he's second in assists (3.9) after leading in those last year as well.
Advantage: Michigan State
Jonathan Ferrey/Getty Images

Gorgui Dieng's 9.3 points a game are just icing on the cake for Louisville's best rebounder and interior defender.
Dieng is posting 9.1 boards and an eye-popping 3.1 blocks a night, though he does log 3.4 fouls a game to go with them.
Spartan Adreian Payne, standing 6'10", doesn't do much as a shot-blocker. Otherwise, he plays a fairly similar role to Dieng's.
His 4.3 rebounds a night are second on the MSU roster now that Branden Dawson is out of commission.
Advantage: Louisville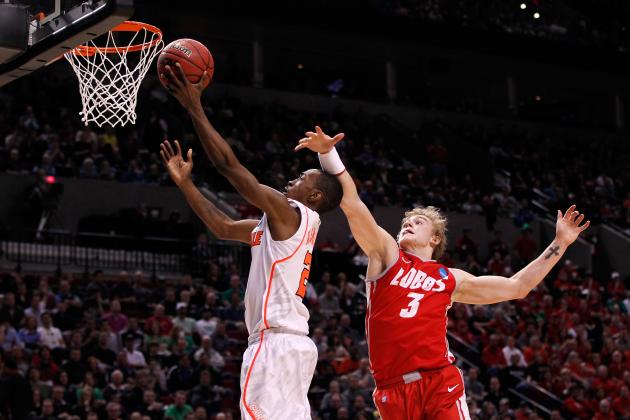 Jonathan Ferrey/Getty Images

Russ Smith provides instant energy off the Louisville bench, turning up the defensive pressure to record 2.3 steals in just 21.4 minutes per game.
He's an unreliable shooter at best (.357 from the field), but he creates so many scoring chances in transition that he's still the team's second-leading scorer at 11.4 points a night.
Derrick Nix is the superior offensive weapon in Tom Izzo's center tandem, averaging 8.3 points per game in slightly more minutes than starter Adreian Payne.
Nix is a competent rebounder, and like Payne, a stalwart defender who challenges shots (even if he rarely blocks one).
Advantage: Louisville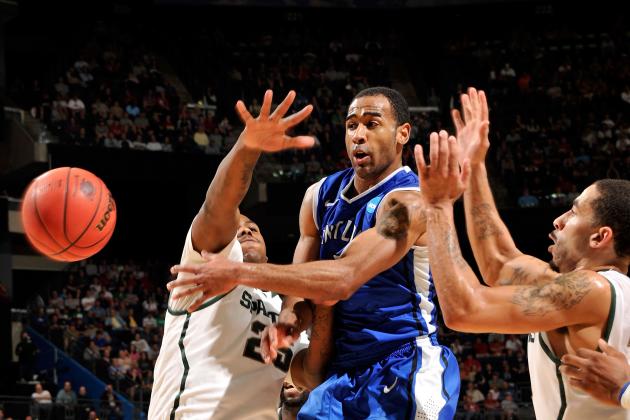 Jamie Sabau/Getty Images

If Louisville can get out and run on a regular basis, the Spartans aren't going to be able to keep up. Look for Tom Izzo to prioritize transition defense (even at the cost of some offensive boards) to let his outstanding half-court defense do its job.
In the half court, Peyton Siva will have an edge on Keith Appling, as Appling isn't a dominant individual defender and isn't noticeably bigger than Siva.
Michigan State is very tough inside, though. Unless the streaky Siva can hit some jump shots, even he will have a difficult time penetrating.
Advantage: Michigan State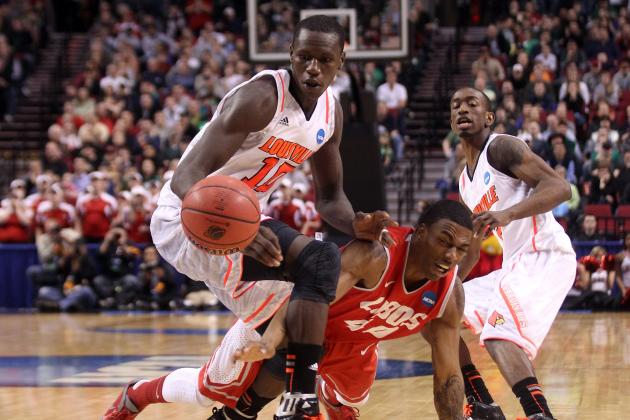 Jed Jacobsohn/Getty Images

Draymond Green is an excellent passer, so Michigan State usually thrives by running the offense through him as much as through point guard Keith Appling.
Green is also the best (and most versatile) pure scorer on either of these teams, and Chane Behanan isn't a skilled enough individual defender to contain him consistently.
However, Behanan isn't going to be alone, because Louisville is certain to show Michigan State the matchup zone that has been so effective for the Cards in the postseason.
Michigan State doesn't see a lot of zone in the Big Ten and doesn't have world-class three-point shooting, so a couple of extended scoreless droughts are all but inevitable.
Advantage: Louisville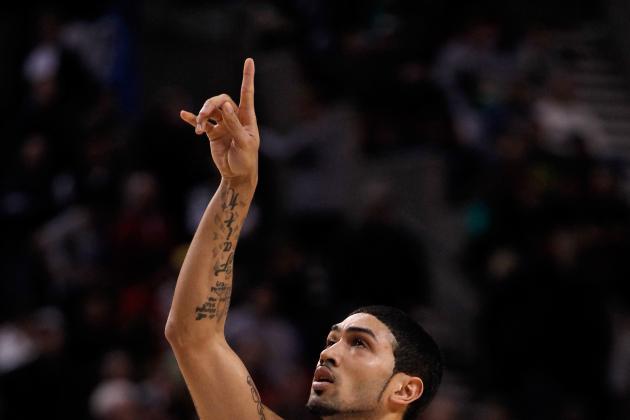 Jonathan Ferrey/Getty Images

This is going to be an ugly, ugly game. These teams are tied for second in the country in field-goal defense (.379), and neither has the offensive firepower to overcome that level of opposition consistently.
The Spartans just hammered out a win against St. Louis' imposing defense, but the Billikens aren't as effective at turning defense into offense, nor do they have an individual talent to match Peyton Siva.
The Cardinals will get a couple of momentum-changing transition dunks, and Siva will create a couple of baskets in key spots as Rick Pitino's squad ekes out a two- or three-point victory.
Winner: Louisville