WWE SmackDown: When Will Daniel Bryan's Abuse of AJ Be Too Much?
March 20, 2012

One of the most discussed story lines in the WWE right now is the "romance" between Daniel Bryan and AJ.
Both wrestlers are talented in the ring but have previously had problems finding their voice in promos and pulling pop or heat from arena crowds.
Their relationship has helped both personalities find a wider fan base and has added an interesting color to the "Road to WrestleMania," but it has also caused a large amount of ire from fans, many of whom have found Bryan's emotional abuse of AJ to be demeaning to female viewers and potentially dangerous to younger girls.
For those unfamiliar, AJ is the smallest, spunkiest Diva on the WWE roster who has a penchant comic books, video games and dressing like a punk (via the Avril Lavigne collection at Hot Topic).
On a good day, AJ weighs around 100 pound, and by extension, she commonly earns audience support due almost solely to the fact that it looks like she's actually going to get hurt in the ring.
Since joining the WWE in August 2010, she has sat largely underutilized, never given a serious storyline or Divas title run, though her unique look and charisma earned her a place as a cult favorite with fans.
Sometime at the end of 2011, there seemed to be an initiative amongst WWE Creative to incorporate the Divas roster into any available male Superstar storyline. It led to the Eve/Zack Ryder romance, Rosa Mendes becoming Primo & Epico's valet/manager and AJ becoming romantically entangled with Bryan.
Bryan has had no shortage of female attention during his WWE tenure, having been worked into romantic angles with The Bella Twins and Gail Kim (who is currently the Knockouts Champion over on Impact Wrestling), but his pairing with AJ made the most sense of any of those stories.
Bryan and AJ are both on the nerdy side. Bryan's shorter than most other Superstars, so it looked less ridiculous to stand him next to the 5'3" AJ. AJ's sweet demeanor helped get Bryan over with the audience when he was still the face in a feud with Mark Henry.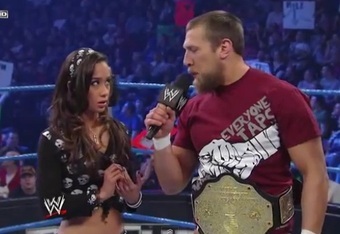 Once Bryan cashed in his Money in the Bank and took the World Heavyweight Championship from friend Big Show, he began to make a slow turn as an arrogant heel, which has honestly served Bryan much better than his face persona as Bryan seemed to be more comfortable performing as a heel.
The turn was subtle enough to believably bring a face AJ along for the ride, with AJ proud of her boyfriend's accomplishments to point of even declaring her love for Bryan.
During a match on SmackDown in Janaury, Big Show accidentally pushed AJ down to the ground while chasing Bryan outside the ring, which resulted in AJ's (storyline) injury and by the time AJ finally returned to the ring, Bryan had successfully retained his title at Royal Rumble and had made a full heel turn.
Currently, Bryan has yet to tell AJ that he loves her, despite using their relationship as an excuse to attack his own friends.
Even though she continues to accompany him to the ring, he attempts to use her as a human shield and she's nearly been knocked down on at least three separate occasions. Bryan also routinely tells AJ to "shut up" when she talks and never fails to find a way to insult her.
(A recent segment had AJ modeling a dress that Bryan bought for her and while looking for his approval. Bryan commented, "It looked a lot better on the mannequin.")
The January injury has also shifted AJ's personality. She's no longer the confident, spunky character that she used to be, but rather a timid woman desperate for any sign of affection from Bryan.
When other Divas tell her to dump him, she simply replies, "But you don't know Daniel like I do."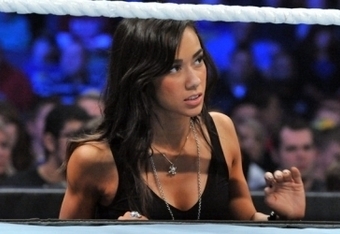 This resulting "abused girlfriend" storyline has found some controversy online, but honestly, this is nothing compared some of the material that the WWE has used in the past.
It has helped get Bryan over as a true heel in a very believable fashion and it has also given AJ far more TV time than she's had in the past. (This past week, she finally wrestled after four months.)
The audience feels for AJ, not just because she's cute, but because she reminds us of so many people we know who can't break out of bad relationships. We all know AJ would be better off (in kayfabe) without Bryan, so the WWE should should have an endgame in mind for this angle.
The most obvious place to wrap up this storyline is at WrestleMania and the week following.
Bryan is facing Sheamus with his title on the line and all signs point to him dropping it. It would be fitting for his loss to come at the hands of his girlfriend who will have finally mustered up the courage to stand up to him.
It would also be good timing for AJ and it gives her momentum going into the new wrestling year to be a true competitor in the Divas division. (I can't realistically see AJ beat Beth Phoenix for the Divas title, but programs with other Divas such as her former kayfabe mentor Natalya would work very well for her.)
But the WWE rarely goes for the obvious, which means that in all likelihood, we'll see AJ attempt to console Bryan after his title loss and his abuse become more vicious.
This might not be the best move, as we're beginning to hit a breaking point in our tolerance for her bad decision-making. If this is the direction that Creative goes, the smart play is to continue to build AJ's in-ring presence and to explain a successful run in Divas matches as being her outlet for her bottled-up anger towards Bryan.
Not only does it make for a good, logical story, but it also keeps the audience invested in AJ. Right now, she's just a cute girl with a bad boyfriend. If she's an amazing wrestler who can hold her own in the ring against heel Divas like The Bellas or Maxine, then we can continue to care about AJ and hold out for her eventual breakup.
Instead of this storyline being demeaning to women, WWE audiences should be more concerned on the toll this will take on both Bryan and AJ's career in the long term.
As Creative continues to one up the douchebaggery of Bryan, it enhances his heel persona even further, but as Bryan's emotional abuse continues to escalate and AJ doesn't do anything to break away from it, audiences will begin to lose interest in what happens to her and make a future Bryan face turn next to impossible.
AJ is a unique personality in the WWE and at a time when so many face characters have little-to-no solid story lines making it to air, the WWE has the ability to turn this potentially career-killing story into something that can give AJ tremendous momentum and fan support.
Right now, we're only one Raw and two SmackDowns away from Wrestlemania and I don't expect to see any new developments in her story as the focus is on Bryan facing Sheamus.
But post-Mania, I hope that the WWE will take advantage of this golden opportunity to bring real interest to their Divas division and capitalize on AJ's appeal to men and women.