Minnesota Twins Middle Infielder: Who Gets the Call?
March 20, 2012

Elsa/Getty Images
With the move the Minnesota Twins made sending Tsuyoshi Nishioka to Triple-A Rochester this morning it has opened a roster spot for someone to step up.
The question is who will it be?
Brian Dozier is the name that quickly comes to everyone's tongues, but don't be so fast. Dozier still hasn't even seen any time at Triple-A. On top of that, he has only played 78 games at Double-A. The other issue with Dozier as a utility infielder is his lack of playing time at second base. He has only played 43 games there over two seasons. It appears as though the only real shot Dozier has of breaking camp with the Twins is if he can somehow win the starting shortstop job, which would either move Jamey Carroll to the utility role or to second base, forcing Alexi Casilla into the utility job.
Another internal candidate for the job is Ray Chang. Chang has basically split time between second base and shortstop over his minor league career. He also has a little playing time at third base and first base. He is more the prototypical utility infielder, but he isn't much with the bat, posting a career .278 batting average in the minors. He does, however, have a career .353 on-base percentage.
A third option would be Sean Burroughs. Burroughs has 518 career major league games, posting a .280 batting average over that time. The issue with Burroughs, though, is that he is mainly a third baseman, a position that the Twins have well covered between Danny Valencia and the assumption that Luke Hughes, who is out of options, will make the roster.
There is, of course, one more option. That is that Luke Hughes would take over the starting second base position while Alexi Casilla moves into the utility role. This scenario would still require another infielder to be carried on the roster, but it gives the most flexibility. By taking this approach the Twins could, in theory, add any type of infielder they wanted. Or, if they felt it necessary, they could carry an extra outfielder in this situation.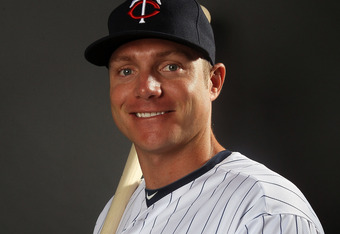 Elsa/Getty Images
While it seems that Dozier is the heir apparent to the Twins starting shortstop job, there is certainly a question of whether now is the right time. If the Twins were to add Dozier to the 40-man roster and he were to get hurt during spring training he would start to accrue MLB service time.
If you think that MLB service time is not a good reason to keep a player in the minors, just ask Washington Nationals manager Davey Johnson about it. Many speculate the main reason for Bryce Harper being sent down is simply to prolong his contract and possibly push back his arbitration eligible year.
As for Tsuyoshi Nishioka, Twins' fans should not expect to see him back on the big club, unless he lights up Triple-A.