New York Knicks: 10 Most Glaring Problems Facing Team Post-Mike D'Antoni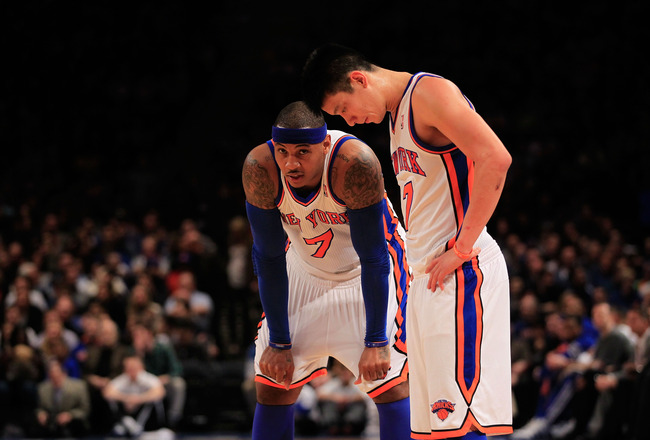 Chris Trotman/Getty Images
Carmelo Anthony may have won the battle between coach and player, but the war that is the regular season is far from over.
The New York Knicks have been a wealth of inconsistency all year long, and they face the same caliber of conflicts, along with some additional ones, in the post Mike D'Antoni era.
The recent surge under interim head coach Mike Woodson has been promising, but there is still plenty to be done.
And plenty that could go wrong.
Health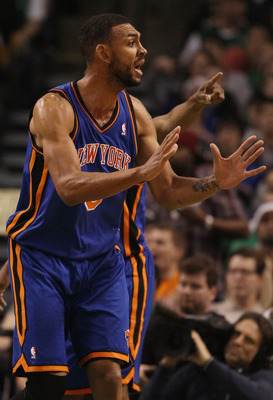 Elsa/Getty Images
Health is always a major concern for teams, especially amid a truncated schedule, but the injury bug has hit the Knicks much harder than others.
Carmelo Anthony, Amar'e Stoudemire, Tyson Chandler, Baron Davis, Jared Jeffries, Josh Harrellson and Iman Shumpert have all missed time. Lingering issues are a major issue moving forward, especially as New York looks to make a playoff push.
Mike Woodson does not have the luxury of being able to rest his key players, as the Knicks have put themselves in an unnecessary race for the eighth and final playoff spot and because most of the roster has emerged as a key player.
That said, New York must ensure minutes are being spread out efficiently. Overworking guys down the stretch will not pay dividends come in the postseason.
3-Point Shooting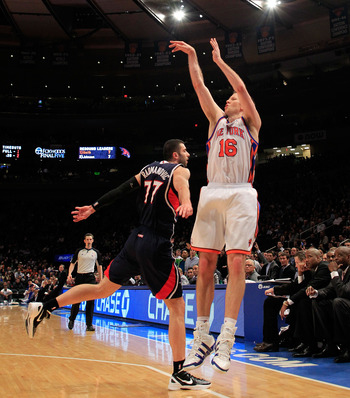 Chris Trotman/Getty Images
The emergence of Steve Novak as the NBA's premiere three-point specialist has overshadowed the rest of the Knicks' struggles from downtown.
Novak is shooting a lights-out 48.2 percent from beyond the rainbow, but New York overall is knocking down just 32.2 percent from long-range.
In fact, Novak is the only member of the team hitting 35 percent or more of his three-point attempts. That needs to change.
The Knicks need the threat of three-ball to succeed against the league's better teams. It spreads defenses and can swing the momentum of a game in their favor quicker than when solely relying on mid-range jumpers.
New York has become entranced by Novak's discount double-checking ways, but it's time the rest of the team double-check its three-point shortcomings.
Defense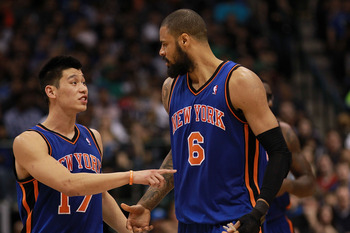 Ronald Martinez/Getty Images
The Knicks have improved a great deal on the defensive end since last season, but there is still plenty of room to improve.
Currently, New York allows just under 96 points per game, good enough for 15th in the league. Tyson Chandler and Jared Jeffries have completely changed the defensive culture and allowed the Knicks to hang tough in tight situations.
That being said, getting the rest of the team to play inspired defense for the full 48 minutes has been an aggravating challenge, especially in transition.
Too often, players are blowing assignments, failing to fight over screens and allowing the opposition to blow by them on a fast break.
If the Knicks wish to make some noise in the playoffs and contend with the Heat and Bulls, they need to not only tighten up their defense, but do so on a consistent basis.
Jeremy Lin's Confidence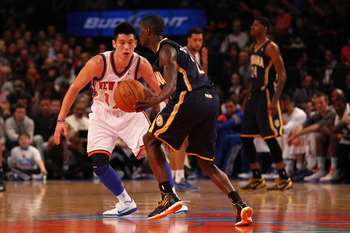 Al Bello/Getty Images
Jeremy Lin has shown he can adapt to what opposing defenses give him, but has also shown he can fall apart much too easily.
Lin is essentially a rookie, and it is important the Knicks continue to build his confidence.
Mike Woodson got off to a good start by making it clear Lin would remain the starting point guard, but his and the rest of the team's patience will prove vital when the going gets tough.
Lin still tries to do too much on both ends of the floor. He has become turnover-prone and even exhibited a questionable shot-selection at times.
While the point guard has the capacity to improve upon his flaws, he needs to be exposed to an encouraging environment.
It's up to Woodson to ensure that the entire team is behind Lin, no matter what transpires from here on out.
Baron Davis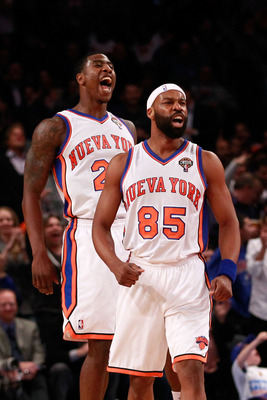 Chris Trotman/Getty Images
The concern for Baron Davis stretches beyond injuries.
Even post Mike D'Antoni, it's hard to shake the notion that he potentially lost control of the locker room.
Davis was brought it with the intention that he would be the starting point guard, but then came Jeremy Lin. He has embraced—or at least appeared to embrace—his back-up role thus far, but when dealing with a player of his nature, extreme caution must be exercised.
Davis has always had problems staying motivated. Since he has joined the Knicks, though, such issues have not existed.
That being said, it's up to Mike Woodson to keep Davis hungry in a full-time backup role.
The ability to do so could wind up being the difference in any postseason push New York attempts to make.
Rebounding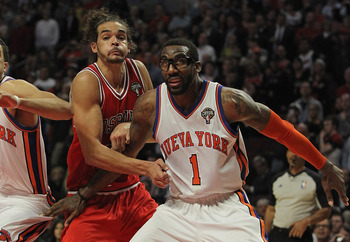 Jonathan Daniel/Getty Images
The Knicks, as has become the norm, are in the bottom half of the league in rebounding, grabbing just under 42 per game.
Tyson Chandler has given New York a player who is constantly hungry crashing the glass, but the rest of the team has failed to catch on.
The Knicks' failure to properly box out and hold their opponents to one shot has cost them potential victories, most notably the game against the Bulls, where Chicago out-rebounded New York on the offensive end, 22-9.
Players aside from Chandler must step up and do the dirty work on the boards. Carmelo Anthony, Amar'e Stoudemire and even Steve Novak must become fixtures on the glass.
Unless the Knicks are comfortable remaining outside the bubble of upper-echelon teams, that is.
J.R. Smith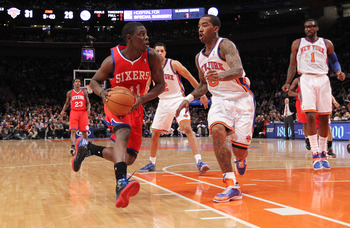 Nick Laham/Getty Images
Since joining the Knicks, J.R. Smith has proved to be a loose cannon both on and off the court.
Despite Smith's off-the-court antics, New York's greatest concern is his production on the court.
At times, Smith has provided an offensive punch off the bench the Knicks welcome. At other times, though, he has struggled to score, made evident by his less-than-impressive 38.9 percent success rate from the field.
Over the past three games, Smith hasn't tried to force the action and has allowed the offense to come to him. However, he is a streaky player and can fall back into a scoring drought at any given time.
With him, all the Knicks can do is hope that the good comes to outweigh the bad.
Offensive Continuity
Chris Trotman/Getty Images
Since Mike D'Antoni's departure, the Knicks have been able to win by embracing his philosophy.
The ball has been moving; Carmelo Anthony hasn't forced the action and complete unselfishness has been displayed.
However, whether or not that lasts is up to Anthony.
Mike Woodson's plan was to run the offense through his superstars, but over the past three games, the ball has been spread around; Anthony has taken no more than 13 shots over the recent winning streak.
Anthony has always been a volume scorer, though, and may not be amenable to sacrificing his stat lines moving forward.
However, if isolation plays become more prevalent, players like Jeremy Lin, Landry Fields and Steve Novak will fall out of sync as a result.
It's up to Woodson to either continue to preach ball movement to Anthony or find a way to play to the forward's strengths without isolating—pun intended—the rest of the team.
Milwaukee Bucks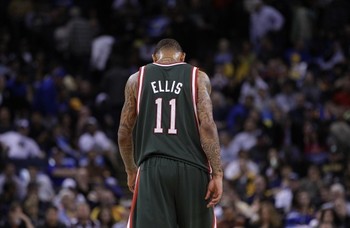 The Atlantic Division remains wide open, but before the Knicks start aspiring to edge out the76ers, they must first grab hold of their playoff fate.
The Bucks and Knicks are currently engaged in a tight, albeit unnecessary, race for the eighth and final Eastern Conference playoff spot.
And by acquiring Monta Ellis, Milwaukee hasn't made it any easier for New York.
Ellis provides the Bucks with not only another star, but an additional threat from the perimeter, where the Knicks defense is most vulnerable.
Despite a large dose of in-house uncertainty, the Knicks must ensure they don't overlook the surging Bucks, who have now officially earned the right to be taken seriously.
Carmelo Anthony and Amar'e Stoudemire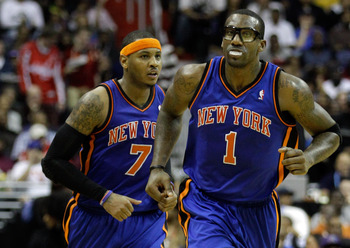 Rob Carr/Getty Images
New York's dynamic duo has been somewhat of a disappointment this season, but their differing play styles have appeared manageable over the recent winning streak.
But that's not the problem.
Along with Mike D'Antoni's departure came the possibility of a rift between Amar'e Stoudemire and Carmelo Anthony.
It's no secret that Stoudemire and D'Antoni were close, and the fact that Anthony became the head coach's breaking point doesn't bode well for their relationship.
The Knicks also put Anthony before the rest of the team, including Stoudemire, when they allowed D'Antoni to walk. While Stoudemire is as genuine as they come, it is not inconceivable for him to harvest a sense of resentment toward Anthony's status with the team.
There doesn't appear to be any immediate issues between the two superstars, but that's amid a winning streak. Should the Knicks hit a rough patch once again, it could be a different story.
That's when we'll see whether Anthony and Stoudemire are in this together.
Keep Reading

New York Knicks: Like this team?