Peyton Manning: Arrival in Denver Proves That Loyalty Is Dead in the NFL
March 20, 2012

Doug Pensinger/Getty Images
*This article was originally posted on thefanmanifesto.com
It was reported today by ESPN's Chris Mortensen and Adam Schefter that Peyton Manning is no longer without a place to call home. He put an end to the nail-biting suspense and never-ending speculation and chose the Denver Broncos over several other suitors.
His affinity for Denver GM John Elway has been identified as the x-factor that led Manning to choose the Mile High city.
I do not particularly root for, or against, Manning. I do, however, recognize his greatness. He is a first ballot Hall of Famer and one of the greatest quarterbacks of all time.
I cannot blame most teams for scrambling to sign him, even though his neck injury makes him, in my opinion, as fragile as a Grant Hill ankle (circa 2000).
Truth be told, Manning at 75 percent is better than anything those teams have.
I can, however, feel disheartened and disappointed by the whole ordeal. This is by no means a criticism of Manning, though.
It is a criticism of the Denver Broncos, John Elway, the NFL, and the business of professional sports.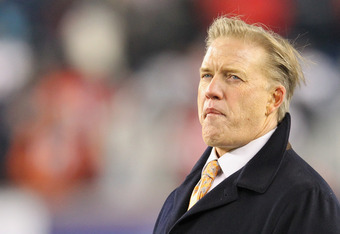 Jim Rogash/Getty Images
In my opinion, Denver should have been the last team in the market for a new quarterback. After all, they have one that led them on a magic carpet ride of a season in 2011. It culminated in a breathtaking win against the powerhouse Pittsburgh Steelers and a trip to the second round of the playoffs.
How many other quarterbacks did that?
This kind of accomplishment should be rewarded. Without Tebow at the helm, for the majority of the season, Denver went 4-10 the previous year. He brought winning and respectability back to the franchise.
The only reward Tebow wanted for his trouble was a little support, confidence from the front office, and job security. He did not even ask for a pay raise, which seems par for the course in today's NFL.
Instead, the Broncos ran as fast as they could to replace him. It all comes down to loyalty, and in Denver, there apparently is none.
It does not matter that Tebow cannot hold a candle to Manning in terms of skill at the quarterback position. There is no debating that. I can make a sandwich in the time it takes him to release the football. That is not the point.
Tebow did more, on and off the field, for Denver since...well, since John Elway.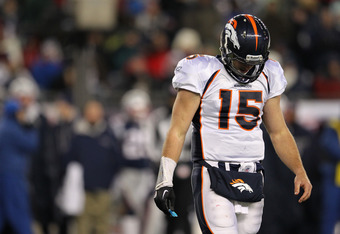 Jim Rogash/Getty Images
I am probably in the minority on this. Actually, I am definitely in the minority on this. I am aware. Still, I would rather see someone rewarded for a job well done than callously kicked to the curb.
Does that mean the Broncos would have missed out on a potentially better situation? Yes, but certainly not a situation without great risk. After all, isn't the risk associated with keeping Tebow about the same as the risk associated with Peyton's health?
People will argue that Tebow was not Elway or coach John Fox's "guy," so they do not owe him their loyalty. I disagree. They were along for the Tebow ride and benefited greatly from his success. For that they owe him something.
People will also use the familiar, "The NFL is a business" argument to rationalize Denver's thankless actions.
That is exactly why I would make a terrible businessman I guess. I would run my business using silly values like loyalty and I would reward people for their actions and their success.
Tebow does not need or deserve any pity. That is not what I am saying. He will go on and play somewhere else. He will likely be given an opportunity to start as well. Whether he achieves the success he did in Denver is a moot point.
He simply deserves better than a pat on the back before being shoved out the door. Not because he is a good Christian man, or because he is good looking, or because he has the most fans, but because he did a good job.
In fact, he did better than that. He exceeded expectations. In a sports world filled with athletes who never reach their potential or simply play for a check, that was rare.
For that, he deserves exactly what he gave Denver every Sunday: a chance.