NHL 3 Stars and 3 Bums of the Week: March 19th Edition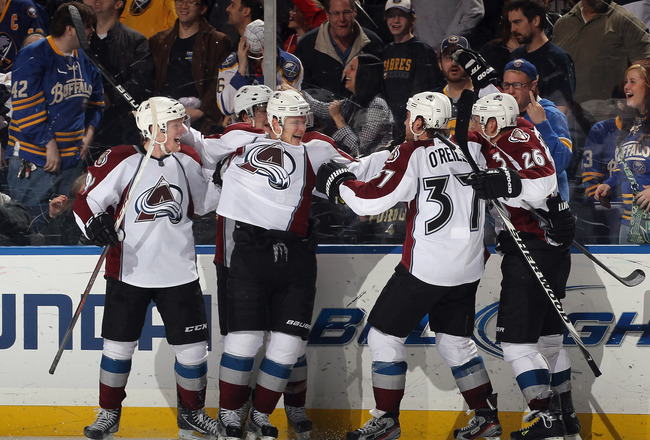 Bruce Bennett/Getty Images
Our intrepid Stars/Bums crew apologizes for being late with this week's list, but we've been busy trying to unload all these Tim Tebow jerseys we bought. We were told it would be a great investment.
In case you haven't noticed, the NHL is creeping down to the final stretch. For some teams, that means getting themselves in order for the playoffs, for others, it means scrambling to make the playoffs, and for the Toronto Maple Leafs, it means making tee times.
With the battle for the last seed in both the East and the West a back-and-forth battle between a handful of teams, there was a lot to choose from this week.
Here are your three stars and three bums from the past seven days.
Who caught your eye this past week?
Third Star: Kris Letang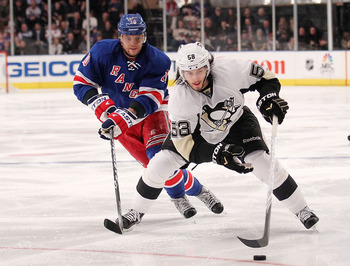 Nick Laham/Getty Images
There was big news in Pittsburgh this past week. They were getting one of their top players back from injury and have caught fire on the ice.
That player was Kris Letang. Oh, there was some other guy who came back too, but we can not remember his name.
Letang returned in grand style, posting a plus-five against the Rangers and ended the week playing in three games, picking up three points and anchoring a team that's pushing the Rangers for the top spot out East.
He also gets our third star.
Second Star: Tyler Ennis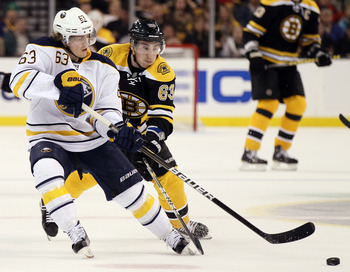 Elsa/Getty Images
The Buffalo Sabres are another team that's making a huge late season run at the playoffs. Left for dead, their star goalie ripping the team in the press, it seemed pretty bleak in upstate New York.
Things have changed though, and they're in position to sneak into the Eastern Conference playoffs.
This past week, Tyler Ennis was huge for the Sabres, scoring three goals and adding three assists in three games.
That's pretty good, and he gets the second star for it.
First Star: Ilya Bryzgalov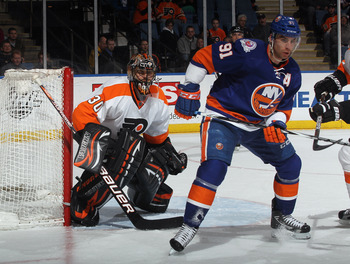 Bruce Bennett/Getty Images
Bryzgalov continued his outstanding play to earn his second straight appearance on our list.
Once the butt of jokes for his "out there" personality, Bryzgalov finally has started to supply the Philadelphia Flyers with the type of play they're paying him for. He has found his game, and the Flyers are one of the hottest teams in the league.
Bryzgalov went 3-0-1 this past week, only giving up six goals in those four games which has earned him our top star.
Those jokes about the size of the universe aren't quite as funny these days, as it's his pads that have become humongous now.
Third Bum: Jimmy Howard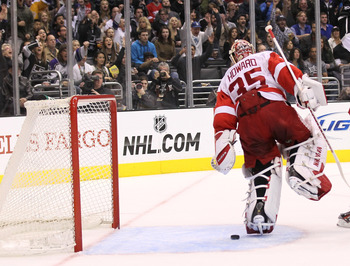 Stephen Dunn/Getty Images
It's not often that we get to take shots at the Detroit Red Wings, but their play of late has been pretty poor.
Now, most of it is due to a rash of injuries they've been hampered by, but we are not above some pettiness.
Howard had a particularly bad week as he went 0-2-1 in three games giving up 11 goals.
This team, and Howard, looked like they were ready to make another cup run just a few weeks ago.
Now? Bums.
Second Bum: Cody Hodgson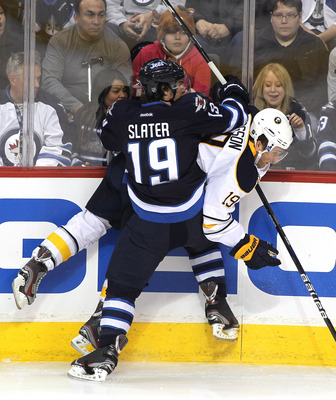 Marianne Helm/Getty Images
It seems more and more likely that Cody Hodgson wanted out of Vancouver. He was frustrated that he was not getting top six minutes or attention on a contending team.
He got his wish and got shipped out to Buffalo at the deadline. He's now getting more minutes and getting to play on a top-six line.
How's it working out?
Until tonight, he had yet to dent the stat sheet. Eleven games and now two assists for the guy who envisions himself a No. 1 center.
Bum.
First Bum: The Columbus Blue Jackets' Pylon Defense
It feels a little like piling on to pick on the Blue Jackets. After all, they've had a terrible season with bad decisions and bad luck dogging them all year.
But what we saw in Vancouver this past Saturday may define the Columbus Blue Jackets. Canucks defenseman Alex Edler is no slouch, but to let him glide from end to end without coming close to touching him is inexcusable.
Bums.
Keep Reading