2012 NFL Mock Draft: The Entire First Round and Correlating Questions
March 22, 2012

Christian Petersen/Getty Images
Peyton Manning signed with the Denver Broncos and Tim Tebow is thrust back into the headlines (Did he ever really leave, though?) after being shipped to the New York Jets. As the free agency frenzy simmers down, the NFL offseason continues to rapidly boil.
Does it ever actually stop? Not really.
Franchises now turn their attention to the fast-approaching draft scheduled for April 26-28. For some teams (cough, Miami Dolphins, cough), it is a chance to save an offseason that hangs on the edge of disaster. For others, it gives them that extra boost toward a deep playoff run. 
The clock is ticking, the pressure is on. 
1. Indianapolis Colts: QB Andrew Luck, Stanford
As the Manning dynasty officially ends, the Andrew Luck era begins.
Will Reggie Wayne be enough to ease the transition or are more targets necessary?  
2. Washington Redskins: QB Robert Griffin III, Baylor
Redskins fans will expect instant results from Griffin after the franchise traded away three first-round picks and a second-rounder to move into this slot.
Is it fair to place the expectations of four players squarely on Griffin's shoulders? 
3. Minnesota Vikings: OT Matt Kalil, USC
One of the better tackle prospects in years, Kalil surrendered a meager eight sacks in his junior season. For the first time in six years, each of the first three selections are underclassmen.
Can Kalil blossom into a better pro than older brother and Pro Bowler Ryan?
4. Cleveland Browns: WR Justin Blackmon, Oklahoma State
The Browns help out their quarterback by drafting the best receiver in college football. Thought to be a tad slow, Blackmon blazed a 4.46 40-yard dash at his pro day. Speed, size and production make him a lock here.
Who will be the quarterback throwing balls to Blackmon?   
5. Tampa Bay Buccaneers: CB Morris Claiborne, LSU
The Buccaneers recently signed Eric Wright and aren't done upgrading the secondary. Claiborne fills a need and is another step in the right direction.  
A busy offseason has the team thinking playoffs, but is becoming next year's version of the 2011 Philadelphia Eagles a possibility?
6. St. Louis Rams: WR Michael Floyd, Notre Dame 
Unflinching confidence in Sam Bradford was behind the Rams dealing their No. 2 pick. This selection gives him a toy to play with and fills a vacancy left behind by Brandon Lloyd. 
How long before Floyd makes the Browns regret their pick? 
7. Jacksonville Jaguars: DE/OLB Melvin Ingram, South Carolina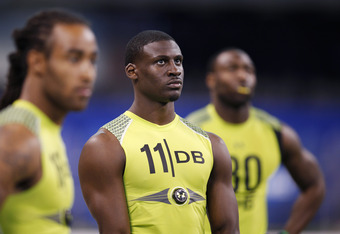 Joe Robbins/Getty Images
They will snag Floyd should he fall to them. If not, they'll turn their attention to the defensive side of the ball, specifically defensive end. Ingram is a big athlete capable of lining up in several positions and making plays.
How deflated are fans after hearing the news of Tebow's trade to the Big Apple?
8. Miami Dolphins: OT Riley Reiff, Iowa
Another swing and a miss has the Dolphins looking like Adam Dunn in the free agent market. They missed out on Manning, Matt Flynn and Alex Smith, but landed a bloop single in their final at bat with the acquisition of David Garrard. 
Reiff, a former tight end, can immediately step in to bolster an improved offensive line.
Can an unsexy selection like this turn boos into cheers? 
9. Carolina Panthers: DT Dontari Poe, Memphis
Poe's impressive combine performance has teams forgetting his on-field production in college was lacking at times. He clocked an unofficial 4.87 40-yard dash and lifted 44 repetitions of 225 pounds.
Will the astounding measurables finally translate on the gridiron?
10. Buffalo Bills: DE Quinton Coples, UNC
The re-signing of Stevie Johnson and addition of Mario Williams has Buffalo positioned for a playoff push. That's unique enough. Coples, alongside Williams, gives the Bills a dangerous pair of athletic ends. The postseason gets within sniffing distance.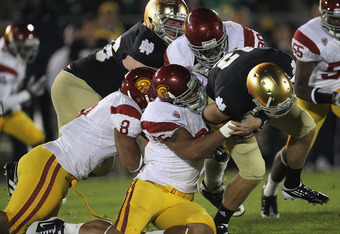 Jonathan Daniel/Getty Images
Will we be able to add up the total sacks between Coples and Williams without having to use a calculator? 
11. Kansas City Chiefs: OG David DeCastro, Stanford
Ryan Tannehil will be extremely tempting here. Nevertheless, DeCastro fills a need and can protect current quarterback Matt Cassel.
With the added bastion of DeCastro and health of surrounding cast, is this the season Cassel finally lives up to his paycheck?
12. Seattle Seahawks: DE/OLB Whitney Mercilus, Illinois
In a surprising move, the Seahawks draft Mercilus, a pass-rush specialist out of Illinois. He led the NCAA last season with 16 sacks and fixes a glaring weakness on Seattle's defense.
How quickly will people realize that Mercilus is a clone of Aldon Smith?
13. Arizona Cardinals: LB Nick Perry, USC
A real steal here, Perry makes the Cardinals' young defense even more talented. They need another receiver, but the draft is deep and that will be addressed later on.
Can the Cardinals defense put them in position to contend for the NFC West?
14. Dallas Cowboys: CB Janoris Jenkins, North Alabama
Jenkins comes with his fair share of red flags, but the potential reward is a shutdown corner and terrific punt returner. He's an instant starter able to succor the team's secondary woes.
Is this one of the few gambles that actually works out for the Cowboys?
15. Philadelphia Eagles: LB Luke Kuechly, Boston College
Kuechly was an absolute monster in college and backed up his production with a standout performance at the combine.
Who exactly is Kuechly: a product of an aggressive system at Boston College or a football player with great instincts?
16. New York Jets: OT Mike Adams, Ohio State
Wayne Hunter, to put it nicely, was awful last season. Adams is raw but has a lot of upside. He moves his feet well and excels in pass protection. 
Can Adams, who has struggled during the pre-draft process, rise above the doubts and become an anchor on the line?
17. Cincinnati Bengals: RB Trent Richardson, Alabama
Young, talented quarterback? Check, Andy Dalton made the Pro Bowl his rookie season.
Young, talented receiver? Check, A.J. Green looks like Megatron Jr.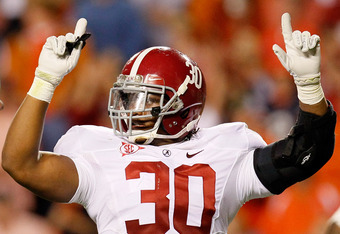 Kevin C. Cox/Getty Images
Young, talented running back? The Bengals can check that off their list, too. 
Does this pick make Cincinnati's three-headed monster (Dalton, Green and Richardson) the best in the entire NFL? 
18. San Diego Chargers: OG Cordy Glenn, Georgia 
Versatility is what makes Glenn such a valuable addition. Here's to keeping Phillip Rivers upright and giving him the time to make throws. 
Is this the sort of low-key pick that the Chargers need to meet their annual expectations of reaching the Super Bowl?
19. Chicago Bears: CB Dre Kirkpatrick, Alabama
Receiver is no longer a top need after trading for Brandon Marshall. It is now time to shore up a paper-thin secondary. Kirkpatrick was a stud for the Alabama defense and should make a smooth transition to the next level. 
Which rookie hazing will Kirkpatrick fear most: wearing a Pikachu backpack? Or having to cover the likes of Calvin Johnson, Greg Jennings and other NFC North receivers? 
20. Tennesse Titans: C Peter Konz, Wisconsin
A center in the first round? "Yawn." There's nothing exciting about this pick other than his ability to open up room for Chris Johnson and protect the team's quarterback. Maybe a "yahoo!" is more befitting.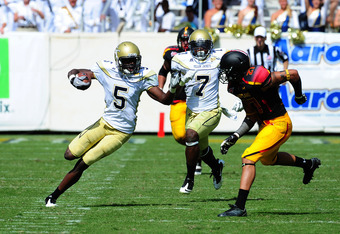 Scott Cunningham/Getty Images
How many steak dinners will Konz receive from his running back for all the lanes he bulldozes?
21. Cincinnati Bengals: CB Stephon Gilmore, South Carolina
Time to help out the defense, now. Gilmore is strong in both man and zone coverage, has good speed and is a sure-tackler.
Can the Bengals duplicate last year's success and make another playoff appearance?
22. Cleveland Browns: QB Ryan Tannehill, Texas A&M
The Browns land the quarterback they covet, and the competition begins. Tannehill is raw but has great size (6'4", 220 pounds), a lively arm and is very athletic. 
How many games will Colt McCoy start, if any, before the rookie takes over?
23. Detroit Lions: OT Jonathan Martin, Stanford 
I can now say this with a straight face: the Lions are for real. Martin is a steal here and will make sure Stafford stays on his feet. 
Is the next baby step for the Lions a first-round playoff win?
24. Pittsburgh Steelers: LB Dont'a Hightower, Alabama
The aging linebacker corps finds youth and another physical presence in Hightower. Starting multiple years for the Crimson Tide defense is a nice resume booster.
Is this the start of a youth movement?
25. Denver Broncos: DT Michael Brockers, LSU
A top-10 talent, Brockers can man the middle and apply pressure on opposing quarterbacks. He has a massive frame (6'6", 320 pounds), yet surprises with quickness off the line. 
Will Denver be the proud owners of back-to-back Defensive Rookies of the Year? 
26. Houston Texans: WR Kendall Wright, Baylor
Ran a slower than expected time at the combine, but tape reveals a burner and perfect fit in the slot. Andre Johnson can stretch the field and open things up for Wright underneath. 
How weird will it be to see the Lombardi Trophy return to the state of Texas, but land in Houston?
27. New England Patriots: DT Fletcher Cox, Mississippi State
Receiver was a need before the Patriots signed Brandon Lloyd, among others. Defense will be the overall theme of the Patriots' draft and Cox is one of best available. He has the strength, athleticism and versatility to play several spots on the line.
If Gisele Bundchen were in charge, would she draft a replacement for Wes Welker?
28. Green Bay Packers: RB David Wilson, Virginia Tech
The defense needs help (duh), but it will be hard to pass this guy. Wilson has 4.4 speed, great vision and reliable hands. Add another to the long list of weapons at Aaron Rodgers' disposal. 
Is it even possible to make this offense more dangerous?
29. Baltimore Ravens: LB Courtney Upshaw, Alabama
Upshaw embodies the importance of on-field performance over scouting combine measurements. He was a leader at Alabama and his outstanding instincts more than make up for a lack of top-end speed. 
Is Upshaw already an upgrade over pass-rush specialist Paul Kruger?
30. San Francisco 49ers: WR Stephen Hill, Georgia Tech
The 49ers are now fully stocked at the receiver position. Hill is a vertical threat, red zone target and dedicated blocker. Basically, he's a perfect fit. 
Will Randy Moss be a good or bad influence on the young receiver?
31. New England Patriots: DE Andre Branch, Clemson
Branch has the moves and quickness to terrorize quarterbacks, evident in his 10.5 sacks last season. He struggles at times against the run, but has the potential to get better.
How many defensive players will the Patriots draft in comparison to offensive players? 
32. New York Giants: TE Coby Fleener, Stanford
If he's not re-united with coach Jim Harbaugh, Fleener will land here. The Giants get one of the few things missing from their offense: a big-play tight end.
Now does it make sense why Peyton went to the AFC?