MLB Draft Watch: Keeping an Eye on the Top Projected Picks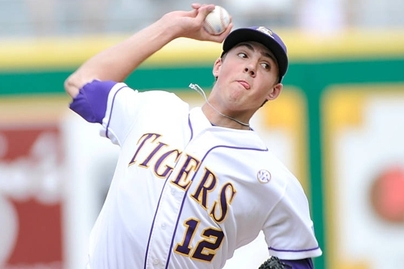 LSU ace Kevin Gausman has been nearly unhittable in five starts for the Tigers
The college baseball season is approaching the midway point, while high school ball is just getting started.
That means it's time to check in on some of the top projected picks in this June's MLB draft. Spurning the majority of projected top picks, including Stanford RHP Mark Appel—the likely No. 1—Arizona State SS Deven Marrero and Florida's dashing duo of LHP/1B Brian Johnson and C Mike Zunino, let's take a closer look at some of the other guys who are shooting up draft boards as we speak.
Last year RHP Trevor Bauer, LHP Tyler Anderson and RHP Taylor Guerrieri leveraged great early performances into first-round selections. I have little doubt that some of these players have that same potential.
Let's get started.
Begin Slideshow

»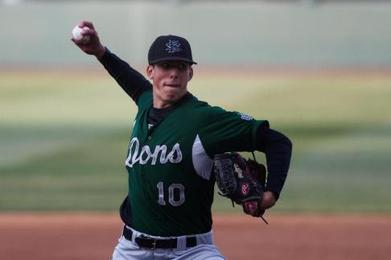 A little less than a month ago, Zimmer garnered some attention from Baseball America as a potential candidate for the No. 1 overall selection in June's MLB draft.
There's no denying that Zimmer has the tools, including a mid-to-high 90s fastball that has touched 98 miles per hour early this season, and a knee-buckling curveball. He also has the early results that teams normally look for.
Through five starts, Zimmer has mustered only one victory, but he's held down an impressive 2.10 ERA while racking up 36 strikeouts in 30 innings. His best effort came just a few days ago against Hawaii. The right-hander struck out 11 and allowed just three hits in a nine-inning complete-game shutout.
The start was impressive not only because it established him as one of the top starters in the state of California, but also because it came on the heels of his worst performance (6 IP 9 H 6 ER) of the season nearly two weeks ago against Fresno State.
Expect to see Zimmer's name rise up the draft board as we get closer to draft day.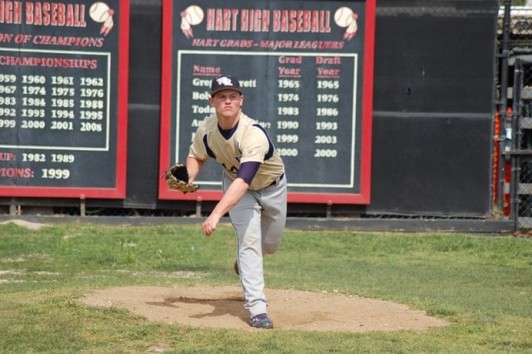 Last year the matchup between West Ranch High and Valencia HS was all about uber-prospect Trey Williams. Williams slugged six homers in three games against West Ranch, enhancing his draft status as a potential first-rounder.
This season, roles were reversed, and even if it was just for one game, the momentum swung in the favor of WRH left-hander J.C. Cloney, who held Williams to just one hit during his masterful performance of one of the top California high school squads.
Cloney, who verbally committed to Long Beach State last August, took a perfect game into the fourth-inning and struck out 11 on the night. He now has 29 punchouts in 20 innings and a 1.38 ERA.
Stats don't mean too much in high school, unless they're bad, so Cloney has a good chance at getting popped this June.
At 6'2'' and 225 pounds, he's got good size. He's also an incredible athlete who has seen time at first base and who moonlights with the football squad.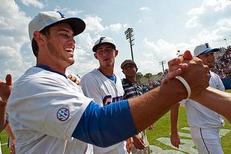 Tucker was recently honored as the SEC Player of the Week after an astonishing display that began with a three-run go-ahead homer against rival Florida State and ended with a solo shot in the final game of a sweep of the Vanderbilt Commodores.
For the week he hit .400 with three homers, two triples and nine RBI. On the season, he's now hitting .321. His eight long balls lead the squad, and he ranks second to Mike Zunino with 22 RBI. Like Zunino, another likely first-round selection, Tucker has yet to make an error in the field, assuaging concerns about his ability to survive in the outfield.
There's no denying the power in Tucker's bat. The senior hit 15 home runs last season, 11 the year before and 15 as a freshman.
He was drafted last year in the 16th round by the Rockies, but if he continues to prove to be as lethal with the bat, he's definitely going higher in 2012.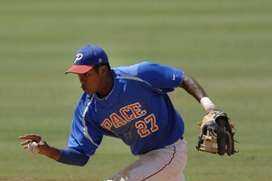 Russell came into the year slotted behind Gavin Cecchini, Carlos Correa and a couple of other shortstops from the high school crop, but his early season performance is really opening some eyes. And by the end of his senior season he, too, could be looking at a first-round selection.
Defensively, some questions remain about Russell. He's bigger than Cecchini and like Correa he could be destined for a move to either third or second base. According to Perfect Game, Russell has looked good at second in the past.
No matter the position, Russell is going to be drafted fairly high on the strength of his bat. It's already been on display this spring, with him homering in numerous contests. His most recent outing resulted in a two-homer, four-RBI outburst that pushed Pace High's record to 7-2.
As noted in this article, Russell has already been hounded by big-league squads, which saw 27 different teams in appearance during a contest a few weeks ago.
Once again, Russell didn't disappoint, slugging a solo homer in the seventh inning.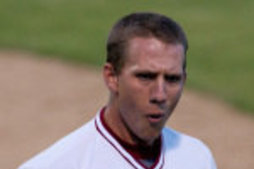 Stanford's Mark Appel gets all the love, but come draft day, he's not going to be the only Cardinal getting popped in the first round.
Piscotty, fresh off a stellar summer campaign in the Cape Cod League, where he led all batters with a .349 average, has carried over his play into his junior season, which has been a rousing success so far. He ranks second on the team with a .348 average and leads Stanford with three home runs and 23 RBI.
He's not necessarily considered fleet of foot, but he's the only team member with more than one triple.
In a class that appears to be light on impact college bats, Piscotty has a real chance to stand out this spring.
He, too, has been drafted before, in the 45th round out of high school back in 2009.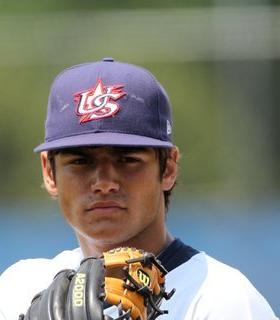 McCullers' talent has been discussed for several years now, dating back to when he reportedly fired a 97 miles per hour fastball as a 16-year-old.
Now 18, a senior in high school and one of the top pitchers available this June, McCullers is still lighting up radar guns and has emerged as a staff ace for one of the top teams in the country.
He was recently profiled as the No. 3 performer this spring by ESPN. In four starts, he has struck out 32 in 19.1 innings, while racking up four victories. His velocity has been as good as ever, and his breaking ball has looked sharp.
If anyone can use the season-ending injury to Lucas Giolito to their favor, it's McCullers, who will likely benefit from the extra attention.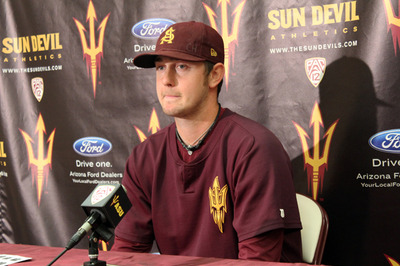 Rodgers was the unquestionable ace of the 2011 Sun Devils squad, and despite the presence of the more highly-touted Jake Barrett on the roster, it has once again been the diminutive righty who has emerged as the leader of the staff.
Through five starts, Rodgers has held down a 1.38 ERA and picked up three victories. He's racked up 33 strikeouts in 39 innings and walked just five batters. He's only allowed batters to a .206 average against, and he has yet to serve up a long ball.
Diminutive might not be the best word to describe Rodgers, but it's doubtful that he's really the 6'2'' that ASU has listed for him on their website.
Still, as numerous Pac-10 pitchers have proved over the years, including Trevor Bauer and Tim Lincecum, size doesn't matter as much as stuff.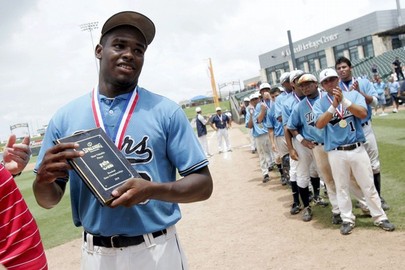 I've profiled Hawkins on numerous occasions, but have focused mostly on his prospects on the mound.
He's a legitimate first-round talent there, offering a mid 90s fastball and a curveball-changeup combo that would make several teams drool.
It's been his bat, however, that's been making noise this spring. As of a little more than a week ago, Hawkins was hitting .512 with four homers for Carroll HS in Corpus Christi, earning his way into "The Starting Nine" at ESPN.com, alongside several other prospects who could be tabbed in the first round.
The homers are no surprise, considering Hawkins has huge raw power. He's got decent speed and obviously has a cannon for an arm, so look for him to be quite the topic of conversation on draft day (hitter or pitcher?) if he keeps up his torrid pace.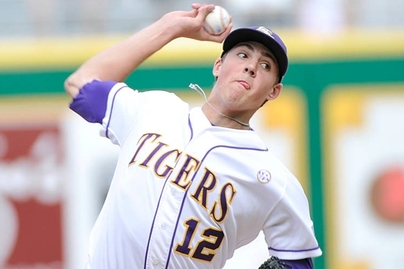 Coming off of a terrible year (by LSU standards), the Tigers have rebounded and emerged as one of the strongest teams in the SEC this season. Leading the charge is staff ace, draft-eligible sophomore Kevin Gausman.
Each time he pitches, Gausman is adding more gasoline to the fire that crackles that he should be the top overall selection in the draft. His most recent start was another brilliant example of how far ahead of his fellow classmates he really is. Against Mississippi State, the right-hander struck out 11 in 8.2 innings, allowing one run on four hits.
He's now struck out 11 batters in back-to-back weeks, and he has 42 on the season in just 36 innings. He's walked a mere six batters, and his performance against the Bulldogs lowered his ERA to 1.25.
If Gausman can keep this up, he'll see his name bandied about with Mark Appel and Kyle Zimmer.