John Elway's Perfect Disaster
March 20, 2012

Donald Miralle/Getty Images
Even when Tebow-mania was at its peak last season, former Broncos great and current executive vice president of football operations, John Elway, didn't seem like he was a believer.
This offseason, Broncos head coach John Fox came out and said that Tim Tebow would be the starter as they headed into training camp.
Notice he wasn't sold on Tebow being the starter come opening day of the regular season.
There was always very little faith in what Tim Tebow could do in Denver, despite the fact that all he did was put notches in the win column.
Denver was 1-4 with Kyle Orton under center, and including the playoffs, Tebow led them to a 8-5 record as a starter, including a dramatic win over Pittsburgh in the wildcard round.
Despite Tebow's low production at the quarterback spot, with the cult following he had developed—and becoming arguably the most recognizable Christian figure in the United States—Elway knew that he would be forced to keep him around, barring some sort of a miracle.
Enter Peyton Manning being released by the Indianapolis Colts.
It was the perfect disaster that John Elway needed to go his way. This was the only way he was going to be able to rid himself of Tebow, and be able to get away with minimal backlash.
How certain can Broncos fans and management be about Manning though? And why is there such little confidence in Tebow?
Sure, the Broncos won many late come-from-behind victories thanks to their defense and some fortunate mistakes by opposing teams (looking at you, Marion Barber), but all the guy did was win games.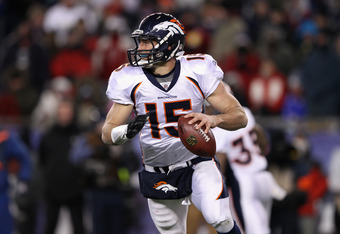 Elsa/Getty Images
It was just his second year in the league, and they were adjusting to a new offense. Let's not forget the lockout this past season; he didn't even get a real offseason to train with the new staff.
When the Broncos made the move from Orton to Tebow, there's no doubt that they built their new offense around the southpaw, customizing it to his strengths. It was a college based, option style offense that used Tebow's great running abilities to the max.
His completion numbers looked bad last season—there's no doubt about that—but he put up touchdowns and didn't give the ball away—two major key statistics.
He was responsible for 18 total touchdowns, six rushing and 12 throwing, with just six interceptions thrown on the season.
Those aren't terrible statistics for a quarterback. But let's be honest here, the league has become a passing one.
Everyone is infatuated with the numbers quarterbacks can put up now. Look no further than Drew Brees near record-breaking season two years ago, and his record-breaking season just this past year.
Should Tebow be attacked for his low production last season, with people saying he isn't a legitimate NFL starting quarterback?
In my mind, there's no doubt that the answer to that question is no. Listen, it's not like the guy can't throw the ball downfield efficiently.
In arguably the most NFL-style conference in the nation, Tebow—playing in the SEC—went on to throw for 88 touchdowns with 15 interceptions in his career at Florida. He also completed over 67 percent of his passes during that time span.
Getting back to his youth, this upcoming season will be just his third in the league. Aaron Rodgers, who some might argue is the top quarterback in the league today, didn't even start a single game until his fourth year.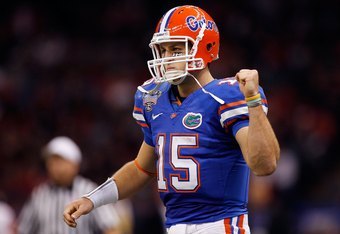 Chris Graythen/Getty Images
Now let's get to the guy they're replacing him with, Peyton Manning.
We all know the accolades, the multiple league Most Valuable Player awards, the Superbowl win, the legacy. We all know about the neck surgeries as well.
After four such surgeries, how comfortable do you feel if you're Denver putting all your eggs in one basket?
One very fragile basket.
Throwing the ball around to guys to show that you can still make all the throws is one thing; taking hits from 300 pound defenders aiming right for you, that's another.
Where is Denver if they find out that once Manning takes his first hit, his career is officially over with?
The logical thing to do would be to keep Manning and Tebow on the same roster until further notice, but it appears as though things won't shake out that way.
Denver has reportedly placed Tebow on the trade block, and according to some sources, aren't exactly looking for much in return. I've seen a fifth-round selection thrown out there as a possibility today. The Broncos may just be forced to take that.
If you keep Tebow around, you face the distraction of him standing on the sideline with a clipboard in his hands.
The locker room splits in two, and it becomes a locker room divided: some on Manning's side; others on Tebow's.
There are plenty of players in that locker room that I'm sure look at Tebow and appreciate what he did for this team. Like it or not, the players rallied around him last year and his leadership abilities. There's more to being a quarterback than just being able to read defenses and make all the throws.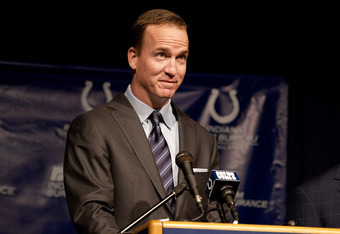 Joey Foley/Getty Images
Maybe just as much it's about getting the guys around you to believe that you can win. It's about being a leader. Which is why it confuses me as to why Elway doesn't get that. Manning is a leader, but the question marks around him are plentiful given his medical history the past year.
You treat Tebow like trash, and bet the farm that Manning is going to stay healthy. If he doesn't, where are the Broncos?
Years behind, that's where they are. In that case, it's entirely possible they may have an Indianapolis Colts-style plunge this season, and may just get the opportunity to draft USC quarterback Matt Barkley.
But young quarterbacks don't just come into this league and succeed right away every year. There have been a few recently, sure, but historically, the results just aren't there.
If Manning comes in, Tebow gets set free and the Broncos draft a quarterback next season, they just set the franchise back three to four years.
Can Elway and Fox survive that tenure until they possibly get better? Elway may just be able to do it given his history with the franchise, but Fox certainly isn't a guarantee for it.
So what can Denver do? One option would be to draft a quarterback in the early to mid rounds. If someone like a Ryan Tannehill falls hard and plummets all the way to 25, if I'm Denver, I scoop him up.
Taking someone like a Russell Wilson from Wisconsin in the mid rounds would make sense as long as you have a veteran starter for this season for him to learn behind.
If Manning is that guy and can stay healthy, then so be it, it's a great move for Denver.
But if not, and they inevitably do move forward and move Tebow this offseason, then those Broncos fans that adored Elway all those years ago may turn on him.
The lines are about to be divided: We will see who are truly Broncos fans—and who are strictly Tebow fans.
At least we officially know two men who aren't Tebow fans.