2012 Fantasy Baseball AL-Only Outfielder Rankings
March 20, 2012

Jonathan Ferrey/Getty Images
Here are the 2012 LestersLegends outfielder rankings for AL-only leagues.

1. Jose Bautista, Toronto Blue Jays 
Bautista followed up his 54 HR campaign with another 43 long balls. Just as impressive was his batting average improvement to .302 (1.055 OPS).

2. Curtis Granderson, New York Yankees 
I was high on Granderson last year and he delivered to the tune of a .262-136-41-119-25 season. If he could improve the average he could challenge for the top spot in AL-only leagues.

3. Jacoby Ellsbury, Boston Red Sox 
I'd say you were lying if you said you saw the power coming. Ellsbury slugged 32 HRs in 2011. With a .321 average, 119 runs, 105 RBI and 39 SB, he was easily one of the most complete outfielders last year. He's just 28, so there is no reason to think he'll fall off.

4. Josh Hamilton, Texas Rangers 
Let's go with a little risk/reward play. Hamilton can flat out rake. He could be the top option if you didn't have to worry about injury or his addictions.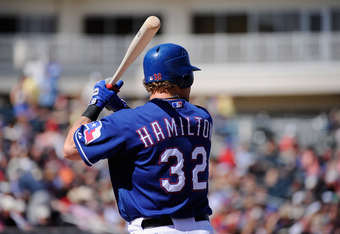 Kevork Djansezian/Getty Images

5. Carl Crawford, Boston Red Sox 
Crawford crashed and burned in Boston, and could miss the start of the season. I feel he is too talented not to bounce back, though.

6. Alex Gordon, Kansas City Royals 
After four mostly disappointing seasons, Gordon finally figured things out. He posted a .303-101-23-87-17 line. With his pedigree, he should be able to build on his success.

7. Adam Jones, Baltimore Orioles 
Jones does a bit of everything, as evidenced by his .280-68-25-83-12 line. Assuming he can get his run total back around 80, he should be a solid No. 1 AL-only fantasy outfielder.

8. Ben Zobrist, Tampa Bay Rays 
Zobrist is nice because you can also use him at second base. Aside from his average, his .269-99-20-91-19 line is rock solid.

9. Nelson Cruz, Texas Rangers 
Cruz can mash (84 HRs over the past three years), but can he stay healthy (130 missed games over the same span)?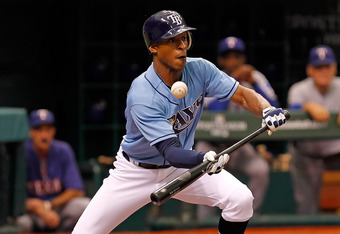 J. Meric/Getty Images

10. B.J. Upton, Tampa Bay Rays 
He continues to struggle with his average (.241, .237, .243 over past three years), but he has 52 HRs and 120 SBs over the span.

11. Shin-Cho Choo, Cleveland Indians 
Choo was limited to 85 games last year, but he has been a solid across the board contributor the past 2.5 years.

12.  Desmond Jennings, Tampa Bay Rays 
In 63 games he hit 10 HRs and stole 20 bases. His upside is off the charts.

13.  Ichiro Suzuki, Seattle Mariners 
Moving to third in the lineup will likely mean fewer stolen bases, but he could still steal 25-plus. You know the average will be there. The runs could decrease, but he'll have the opportunity to drive in more runs.

14.  Nick Swisher, New York Yankees 
Swisher has averaged 26.1 HRs over the past seven seasons.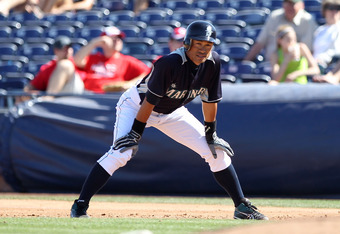 Christian Petersen/Getty Images

15.  Brett Gardner, New York Yankees 
Gardner has averaged 48 stolen bases over the past two seasons.

16.  Yoenis Cespedes, Oakland A's 
I know he is a bit of the unknown, and not playing in a potent offense, but the power potential is huge.

17.  Vernon Wells,, Los Angeles Angels 
Wells has combined for 56 HRs over the past two years. The Angels could move him, but he should be productive wherever he ends up.

18.  Josh Willingham, Minnesota Twins 
Willingham smacked 29 HRs last year and has averaged 21.8 long balls over the past six seasons. Coming to Minnesota could sap his power, but he still should approach 20 or more.

19.  Nick Markakis, Baltimore Orioles 
He does a bit of everything, he just doesn't excel in any category.

20.  Torii Hunter, Los Angeles Angels 
Hunter has averaged 24.3 HRs over the past 11 years.
2012 Fantasy Baseball First Base Rankings
2012 Fantasy Baseball Outfielder Rankings
2012 Fantasy Baseball Starting Pitcher Rankings
Additional 2012 Fantasy Baseball Outfielder Options
2012 Fantasy Baseball Sleepers