2012 NFL Free Agents: Top Colts for Denver Broncos to Pair with Peyton Manning
March 20, 2012

Scott Halleran/Getty Images
The Denver Broncos have completed step one in their quest to collect underpants return to Super Bowl contention, coming out on top in the Peyton Manning Sweepstakes on Monday, much to the chagrin of Tim Tebow.
Now comes the task of surrounding Manning with talented and familiar faces to make him as comfortable as possible in his new digs.
And what better way to acclimate Peyton to the Mile High City than for John Elway to go out and sign some of Manning's old teammates with the Indianapolis Colts, many of whom have hit free agency as part of Jim Irsay's Extreme Makeover: NFL Franchise Edition.
Of all the Colts out on the open market, these three should sit comfortably atop Denver's wish list.
Dallas Clark
Reggie Wayne would've made for a perfect pea in Manning's new pod at Mile High, though he opted instead to stay in the Circle City and serve as Andrew Luck's first professional security blanket.
Dallas Clark, on the other hand, has no such commitments after the Colts cut him loose. The two-time Pro Bowler has struggled with injuries over the last two years, but, if healthy, he still represents a significant upgrade over the likes of Daniel Fells, Dante Rosario and Virgil Green, who combined to catch 29 passes for 397 yards and three touchdowns last season.
Joseph Addai
Elsewhere in the passing game, Manning could also use a running back with good hands to throw to when Willis McGahee isn't in the game.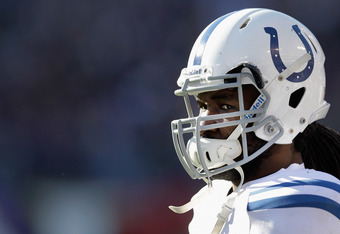 Rob Carr/Getty Images
Enter Joseph Addai, who, like Clark, has seen injuries limit his effectiveness in recent years, though his mitts still far outstrip those of McGahee on any given Sunday.
The Broncos could use some depth in the backfield anyway, considering McGahee's age (he'll be 31 in October) and past leg problems.
Jeff Saturday
And what would Manning be on Sundays without Jeff Saturday snapping the ball to him?
Manning's spent just about his entire career with his hands place precariously close to Saturday's hindquarters, ever since the center joined the Colts as a free agent in 1999 after going undrafted the year prior.
Surely, Saturday, a five-time Pro Bowler and four-time All-Pro, would merit inclusion ahead of incumbent center J.D. Walton, particularly if Peyton snaps his fingers and deems it so.