NFL Trade Speculation: 5 Teams That Make Most Sense for Tim Tebow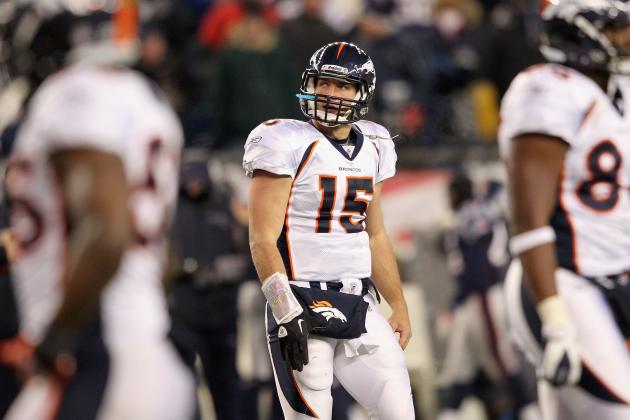 Jim Rogash/Getty Images

With Peyton Manning choosing Denver according to ESPN's Chris Mortensen and Adam Schefter, it appears as if Tim Tebow will have to find himself a new home in the NFL. Tebowmaniacs may not like it, but if the Denver Broncos are going to go in this direction, now is the time to trade him while he still has upside and marketability.
There are no teams that provide an ideal fit for Tebow—whoever gets him will have to make considerable changes to their offensive system.
Here are the teams that would make the most sense as a fit for Tim Tebow.
Begin Slideshow

»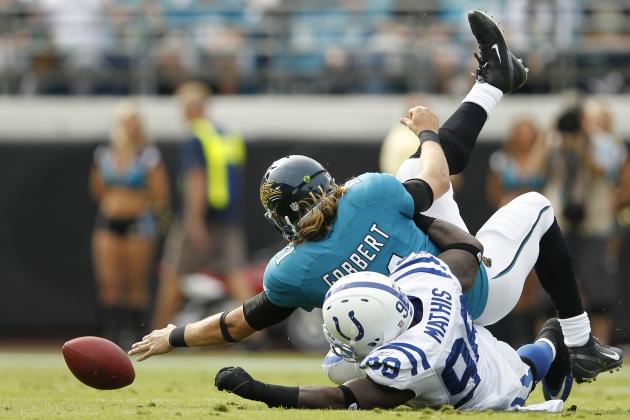 Joe Robbins/Getty Images

Why It Makes Sense
Jacksonville, by their own admission, knows they need to make their team more marketable. Tebow sells wherever he goes, but going back to his hometown would create an instant buzz that would be certain to sell tickets.
For a team looking to avoid relocation, this is an instant cure for their ticket sales woes.
Why It May Not Work
Simply put, there just isn't any room for him on the roster. As of now, Blaine Gabbert is the starter, and recently signed Chad Henne will compete for the job.
That leaves Tebow as the third quarterback.
Tebow may have the skill more suitable for a third quarterback, but all he will do is create a distraction. If the Jaguars are ever going to bench Gabbert (which is certainly in the realm of possibility), they paid Henne a healthy amount to be his replacement.
Diehard Tebow fans will clamor for him to start and cause nothing but a huge PR headache for the Jaguars' coaching staff.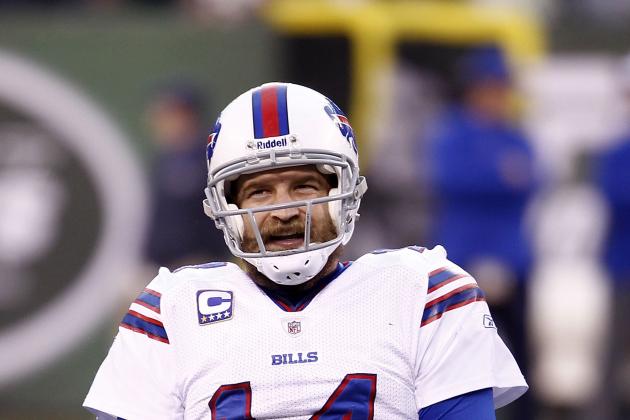 Jeff Zelevansky/Getty Images

Why It Makes Sense
Injury may have been a factor, but after the Bills gave Ryan Fitzpatrick a big extension in the middle of the season, his play took a steady nosedive.
He could rebound, but the Bills need to have a backup plan in case Fitzpatrick's fast start was somewhat of a fluke.
In any case, Tebow can sit on the bench for a team that has a very quarterback-friendly system. It is also worth noting that the Bills were reportedly interested in drafting Tebow with their early second-round pick two years ago (per NFL.com's Vic Carucci).
Why It May Not Work
The Bills seem committed to Ryan Fitzpatrick. To bring in a guy like Tebow would send mixed signals to a team that has a lot of momentum after their big signing of Mario Williams.
The whole idea could be a bit superfluous.
Jason Miller/Getty Images

Why It Makes Sense
The Browns cannot be too confident in giving Colt McCoy another season at the helm. Unless they plan on making a move for Ryan Tannehill in the draft, the Browns don't have a lot of options.
Tebow can at least provide a spark for a team that has been anything but exciting for a very long time.
Why It May Not Work
Tebow is just not a good fit for what the Browns want to do on offense. The Browns want to have a precise, timing-based offense that has the quality of a traditional West Coast offense.
Tebow is anything but a timing-based passer. Just about the only thing he does well throwing the ball is heaving a quality deep ball.
If the Browns want Tebow, they have to be willing to change their philosophy.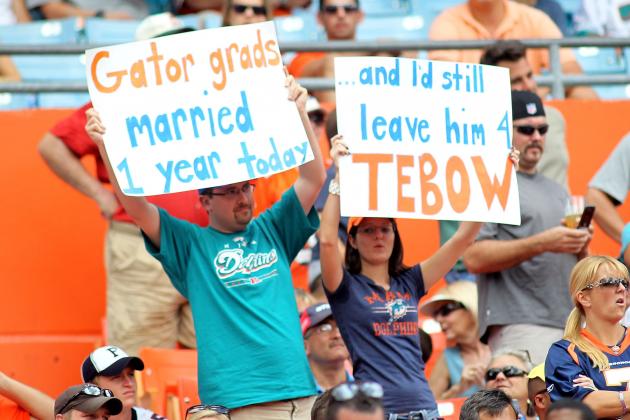 Marc Serota/Getty Images

Why It Makes Sense
The Dolphins are clearly in the market for a quarterback, even though I personally think they are massively underrating Matt Moore. Their owner loves star power and needs to start selling tickets.
From a football perspective, the Dolphins don't have any kind of direction to begin with, so if any team is going to play 1960s-style football, it's the Dolphins.
Connect the dots, and it makes the most sense out of any team on this list.
Why It May Not Work:
With the signing of David Garrard late Monday (reported by the Associated Press' Steven Wine), Stephen Ross seems to have ignored the star power of Tebow yet failed to get himself a quarterback who can win long-term in the NFL.
I'm not sure if Joe Philbin is thrilled about the prospect of dealing with Tebowmania in his first head coaching gig, either.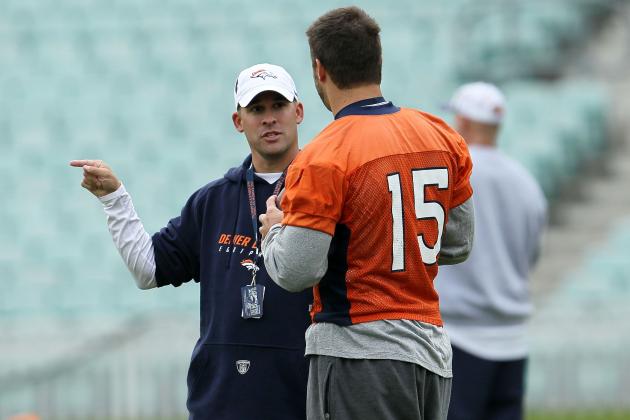 Chris McGrath/Getty Images

Why It Makes Sense
First, there is the obvious connection between Tebow and offensive coordinator Josh McDaniels. Bill Belichick has apparently found a new hobby of loading up his backup quarterback chart with prospects.
Who knows? Belichick, well-known for changing a player's position, may be more interested in having Tebow as an H-back.
Why It May Not Work
The Pats just don't have any room on their depth chart. Brian Hoyer and Ryan Mallett make up a fine set of backups for Brady.
For those who think Tebow could be used in certain packages, just think: Why would the Patriots ever want to take Tom Brady off the field?